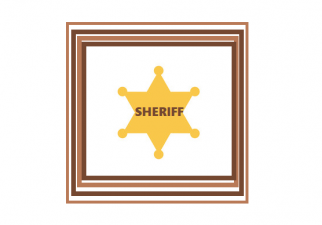 South Georgia had a number of contested Sheriff's races decided Tuesday but there were very few upsets outside of the races where a Sheriff's Office is soon to be vacant.


By and large, counties where an incumbent opted not to run again, the Sheriff's pick did not prevail, but if the incumbent was running for re-election, the victory was easily ascertained with only two exceptions. Additionally, in at least two rural Georgia counties, the picks of the retiring Sheriff were handily defeated.
In Bryan County, Mark Crowe prevailed outright in a 5-way Republican primary. Though retiring Sheriff Clyde Smith did not publicly proclaim a pick, it was well known in the community that he preferred Mike Fordham who ultimately garnered less than 12% of the vote. Crowe will face Democrat Alfonzo Hagan, who ran unopposed in the primary, in November. 
In Emanuel County, Chief Deputy Rocky Davis lost to Jeffrey Brewer in a three-way Republican primary. Brewer yielded 59.59% (3,024) to Davis' 32.06% (1,627) and John Ashley Riner's 8.35% (424). Sheriff Tyson Stevens, who has served almost four decades, endorsed Davis during the primary. Brewer will face the winner of the Democratic primary runoff between Allen Durden (48.01%) and Johnny James Smith (35.75%) in November. 
In Appling County, Sheriff Mark Melton defeated Republican Leon McKinney with more than 76% of the vote. He'll face Democrat Clint Bass in November but the county leans Republican. 
Bulloch County's Sheriff Noel Brown defeated fellow Republican Keith Howard 84.69% to 15.32%. Brown will face former BCSO deputy and Democrat Rey Rodriguez in November. 
In Candler County, Sheriff John Miles had no primary opposition but will square off against Democrat Kris Storey in the General Election. Candler is predominantly Republican and primary election numbers left Miles' primary votes at 1,440 and Story's at 297.
Jenkins County's Sheriff Robert Oglesby won a three-way Democratic primary with just over 60% of the vote against Hank Whiters (33.07%) and Howard Young (6.26%). There is no Republican opposition. 
Continuing his long tenure, Screven County Sheriff Mike Kile defeated challenger Bruce Rowell 56.40% to 43.60%. Kile garnered 1,154 votes over Rowell's 832 votes. 
Toombs County Sheriff Alvie Kight prevailed over Lyons Police Chief Wesley Walker with a final tally of 77.73%-22.27%. There is no Democrat contender.
The sole outlier for defeat was in Liberty County where incumbent Sheriff Steve Sikes lost the Democratic primary to Will Bowman in a 61.31%-38.69% split.
Wayne County also yielded unique results with Sheriff John Carter garnering just 38% of the vote in a 4-way Republican primary. He and Robert E. "Chuck" Mosley (23%) will continue on to the runoff on August 11th. Democrat Kevin Johnson awaits the winner for a General Election challenge. 
In Evans County, Sheriff Randall Tippins is retiring, but primary races were not contested. Mac Edwards ( R), Felton "Duck" Brewton (D), and Virgil DeLoach (I) will face off for the spot in the General Election. All three are currently employed with the Evans County Sheriff's Office. 
In Effingham, Long, and Tattnall counties, Sheriff Jimmy McDuffie, Sheriff Craig Nobles, and Sheriff Kyle Sapp ran unopposed and face no General Election contest.