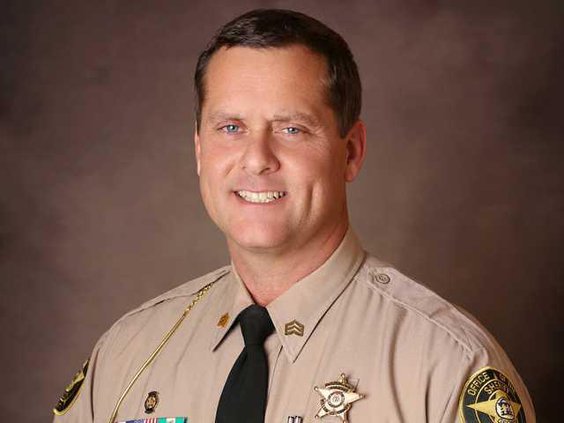 Sheriff Noel Brown announced last month that he plans to seek re-election amid announcements that he will have two challengers come election time – Republican Keith Howard and Independent Rey Rodriguez. At a reception at the Belle House, Brown touted a number of accomplishments ranging from equipment upgrades and training for deputies to double school resource officer personnel and jail improvements – all of which he campaigned on four years ago.

In 2016, Brown ran on a platform of 'eye-to-eye interactions' with a heavy, visible presence in the community – something he says he's held to over the last three years in office. Nearly every day, he spends half of his day patrolling or networking with civic groups and community networks. "People are giving me good feedback," Brown said in his interview AllOnGeorgia this week
Through the forfeiture programs, deputies have upgraded firearms and the office implemented new body cameras and facilities for personnel and inmates are currently in the improvement process thanks to SPLOST dollars. He also praised the newly-launched Explorers program, a youth-based initiative led by the School Resource Officers (SRO), which connects teens with a local chapter of a national organization that focuses on career development, well-rounded skill sets, and community leadership. The program, in its first year, has already resulted in the hiring of a dispatcher. 
Though he has accomplishments to credit, Brown says his long-term plan for the public safety system in Bulloch County is far from complete.
Expansion of the Jail & Jail Operations
A number of renovations and construction projects are currently underway on the county property where the Sheriff's Office and jail currently operate, including a training building, a vaulted building for evidence for the Criminal Investigations Division (CID), and a new home for CID altogether. Additional changes coming down the pipeline also include additional parking in front of the Sheriff's Office and a reorganization of the traffic flow for bringing inmates to the soon-to-be-expanded facility.
The jail intake area is slated to be redesigned, something Brown talked about in his 2016 campaign, and the existing jail reception area that currently hosts intake and out processing will only handle outprocessing. The jail will also be able to house juvenile inmates, which Brown says will cut down on transport time to other facilities like Claxton. An increased number of multi-person holding cells is also slated as part of a classification system to direct for inmates based on medical needs, observation needs, and inmate type. Brown says the hope is for the entire project to be under construction, if not completed, by the end of the year.  
Brown cited an increased level of care for inmates by around the clock access to medical providers to the jail, who are now on-site 24/7 instead of 16 hours each day and accompanied by jailers any time they are with an inmate. But Brown said the long term plan includes a dedicated 'escort team' which would be responsible solely for moving inmates, searching cells, and accompanying the medical personnel.
But the jail operations are much more forward facing than in years past. Brown says his plans stretch seven to ten years down the road to reach the full potential of his vision. 
Overtime
During Brown's tenure, his administration has garnered headlines for the use of overtime, but Brown has long held that its a reality of the lacking personnel, the growth of the county, and the expanded services of BCSO.
Transport accounts for a great deal of overtime, Brown said in his interview. "They're running early mornings going to get people. They may leave on a Sunday and come back Monday. In special circumstances, we do go outside the state, depends on what that warrant's for…but I'm not going to leave someone out there if they sure enough need to come back here to court," Brown said explaining that transports can be as close as a neighboring county but can span to correctional facilities and jails areas much further away.  
Brown also said he is unwilling to leave a shift understaffed if deputies on a shift are out sick or off for another reason, so other deputies are called in. "I'm not going to leave the shift uncovered. That's your safety that's on the line and it's the safety of these deputies."
Maintenance at the jail has come under fire for overtime, but Brown says there's been additional savings elsewhere because the Sheriff's Office is no longer contracting with more than a dozen vendors to have outside work done at increased costs. Instead, the maintenance supervisor is doing most work in house. He says it more than offsets the increase for overtime, estimating at least $200,000 in savings on contracts. Overall, the in-house work also limits the number of people coming in and out of the jail, an obvious win according to Brown.
The chief deputy as well as the division commanders, which are of the rank of captains, are salaried. Brown said the upcoming budget year will show the impact of making those changes from hourly pay. 
Traffic Enforcement
One of Brown's opponents has proposed implementing a Traffic Enforcement Unit with dedicated deputies who aren't assigned to responding to other calls, much like in Effingham and Treutlen counties. But Brown says it just isn't an option for Bulloch County right now.
"Where are you going to get the personnel to run it? And until you get one of the main concerns out of the way – like where you're going to house all the people the unit generates, you can't implement something like that…I'm in here now. I know how it works," Brown said.
"We're already doing the best we can and we're doing concentrated patrol," Brown said. "We want to have more traffic enforcement, but when you're running a shift with six people, they're answering calls." Brown said deputies still work hands-free and other traffic-related initiatives, sometimes with other agencies in the county. 
Regional and Inter-agency Partnerships
The working relationships between the BCSO and the other agencies in the county are positive, according to the sheriff. Brown reports that he has a monthly call with the agency heads of the Statesboro Police Department and the Georgia Southern Police Department as well as the president of the college to discuss needs and trends of crime and calls, but he says the front line deputies are the ones who have the most interaction with other officers on a day to day basis.  Brown said of the agencies working together, particularly to address violent crime, "We're always exchanging information. We have a network of information and we're documenting it."
BCSO does not presently partner with any regional task forces – drug or otherwise – and is not part of the Governor's Office of Highway Safety (GOHS) Initiatives – a multi-agency program that partners municipal and county agencies for various traffic enforcement campaigns and opens the door for traffic enforcement-related grants. "Not with the amount of people we have," Brown shared. "We definitely are lacking in manpower right now." Brown said that GOHS campaigns can mean that deputies are traveling out of the county for court appearances on citations and arrests related to those campaigns, which would mean more time away from regular shifts. He also cited increased burdens from paperwork on already overworked deputies. 
"We're not against the idea, we just don't have the resources."
Personnel Shortages
In 2016, Brown posited that each shift needs more patrol deputies, an initiative he said he's pushed for but has been limited on implementing due to budget constraints. The repetitive narrative, Brown says, is simply due to the fact that the county does not have enough deputies to keep up with the growth of the county. He said the next Census will be telling in showing the true growth over the last decade. 
While each shift has approximately six people working, that includes supervisors. Instead, Brown's ideal shift would have eight deputies, one corporal, one sergeant, and one lieutenant for a total of 11 per shift. Brown says that would allow for better coverage of the ~700 square miles, while allowing the supervisors to focus not only on their supervisory duties but float to different quadrants of the county and provide relief when necessary.  
Debunking Rumors 
Elaborating on the claims of an ongoing conflict with county commissioners, Brown says the federal inmate issue arose because there was an understanding that the Sheriff's Office was going to take on the camp [behind the office]. Caught up in the dispute, however, was more than a million dollars in funding for housing federal inmates that went to the General Fund and the expansion of the jail. He said the point of contention arose when the Sheriff's Office was being considered a department within the county government as opposed to a separate and independent office. 
At his campaign kickoff, Brown told supporters not to listen to some of what's being circulated in the community. "We work together to do one thing. Sometimes we agree to disagree, but in the end, we come up with a good, happy medium to take care of y'all," he said in December, and echoed that sentiment in his interview. 
Brown also says he didn't threaten to sue the county and there was no threat of filing a Writ of Mandamus either – it simply came up in budget discussions. A writ of mandamus is a court order issued by a judge compelling someone to execute a duty he or she is legally obligated to complete. While the Sheriff's budget is set and approved by the county commissioners, he is a constitutional officer within the state of Georgia and legally bound to uphold certain duties, such as peace and public safety. Sheriffs who have filed writs in the past on similar issues, compelling county legislative bodies to untie the strings attached to funding, have been successful in court.  
And the sometimes controversial Crime Suppression Team (CST) is still operational and never stopped working cases. Brown says the Statesboro Police Department and GSU PD pulled out of the partnership, but five team members are assigned to CST and are dedicated to making cases. Brown said they are focused on quality cases as opposed to a quantity of cases.
Advantages Over Opponents
Brown said he respects his opponents for their offering themselves to run for office, but he believes his vision for the public safety infrastructure is the best path forward. "Realism has hit me…the process of what you have to get where you want to be. I know what it takes. You take it in order of importance to the safety of the public and the guys in this office." 
"I truly didn't know the battles that would be here in trying to make all of the things a reality. Had I not weathered the storm and stood my ground, we wouldn't see the successes we have."
Optimism Looking Ahead
Despite the hurdles and the overall changes in law enforcement as a whole, Brown says he has nothing but optimism about where the Office is going. He says he prides himself on the transparency of the office, the relationship with the public, and the hard work and dedication of everyone employed by the office.
"You don't come into this office to make deals or ask for favors," Brown said of how he runs the office. But Brown says that doesn't mean he hasn't or won't sit down with anyone who wants to voice concerns or ask questions. 
"I'm going to treat everyone the same and I'm going to tell the truth. I might lose a voter, but I'd rather not be here and know that I tried to do the right thing than be here and have done nothing or the wrong thing," Brown shared. "I care too much about the people in this office. These things are what they need."
In the meantime, Brown plans to continue the implementation of one additional SRO in each school system each budget year and to push for an increased number of deputies on the road – all in the effort of keeping the public safe. 
"I still run to work, roll up my sleeves, and I want the opportunity to keep serving this community," Brown said of his love of his job.
The Republican primary is set for Tuesday, May 19, 2020. Early voting begins April 27th. The General Election is Tuesday, November 3rd.
AllOnGeorgia has scheduled candidate interviews with both of the other candidates in the Sheriff's race. The organization does not endorse candidates in primary or general elections.