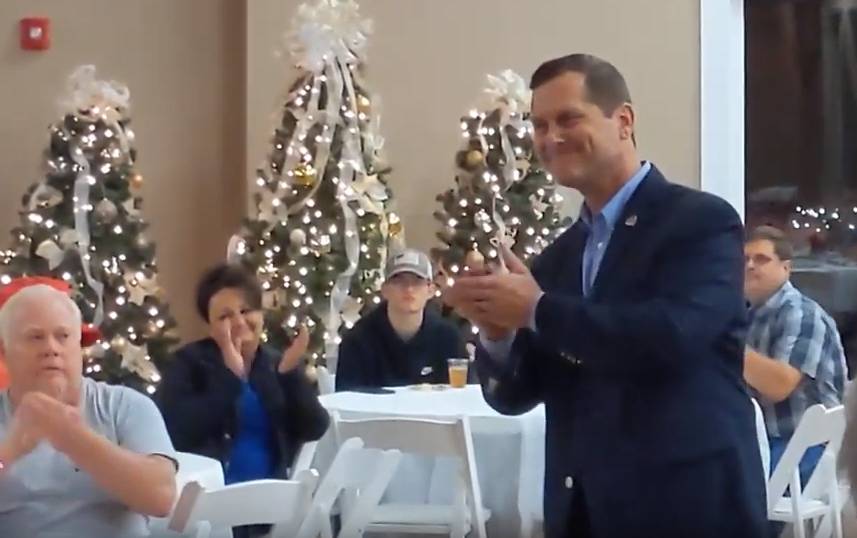 Bulloch County Sheriff Noel Brown and his campaign team gathered Tuesday night with friends and supporters in Statesboro as he announced the kick off of his re-election campaign.

Brown, who was elected in 2016, touted a number of successes over the last three years in office.
"Words cannot describe the amount of support I see here tonight. It is an honor, that's a statement made full of humility from what I see here today. It about makes you emotion…because this is what it's all about," Brown told the room crowd at the Belle House. "I've said so many times, as your Sheriff, I'm only one person, I'm only one vote, I'm only one voice. But all of y'all are strength in numbers."
Brown went on to say that the men and women of the Bulloch County Sheriff's Office are the reason he is able to stand in front of the public. "There's so much pride in my heart that I know we're standing together, arm in arm, shoulder to shoulder," he shared as he also including the Statesboro Police Department, Georgia Southern's Department of Public Safety, the Georgia State Patrol, and the judicial system. "All of us work together to serve and take care of you."
Sheriff Brown touted expansions at the Sheriff's Office building on Highway 301 with SPLOST dollars and improvements to the Sheriff's Office as a whole, including more specialized training at the Sheriff's office, in Forsyth, Ga, and at other agencies across the state, the doubled number of school resource officers in the county schools, and better and more modern equipment for deputies. Citing seized funds, Brown said a considerable portion of the improvements have been done at no cost to taxpayers. 
"We are busting at the seams. This county is growing at an unreal rate. Look around at all the subdivisions. I accept the challenge to keep you safe from that along with the men and women of the Bulloch County Sheriff's Office."
Brown also touted a positive working relationship with the Bulloch County Commissioners. "Do not listen to some of what you hear. We work together to do one thing. Sometimes we agree to disagree, but in the end, we come up with a good, happy medium to take care of y'all," he said.
"I need you to stand with me again because as tonight, I am letting you know that Noel Brown is running for re-election for Sheriff of Bulloch County because there is no greater honor than to serve each and every one of you."
Brown has drawn two opponents – former Bulloch County Sheriff's deputy Rey Rodriguez and former Georgia State Patrol Trooper Keith Howard. 
The primary election will take place in May 2020 and the general election is set for November 3, 2020. 
You can watch the full speech below: