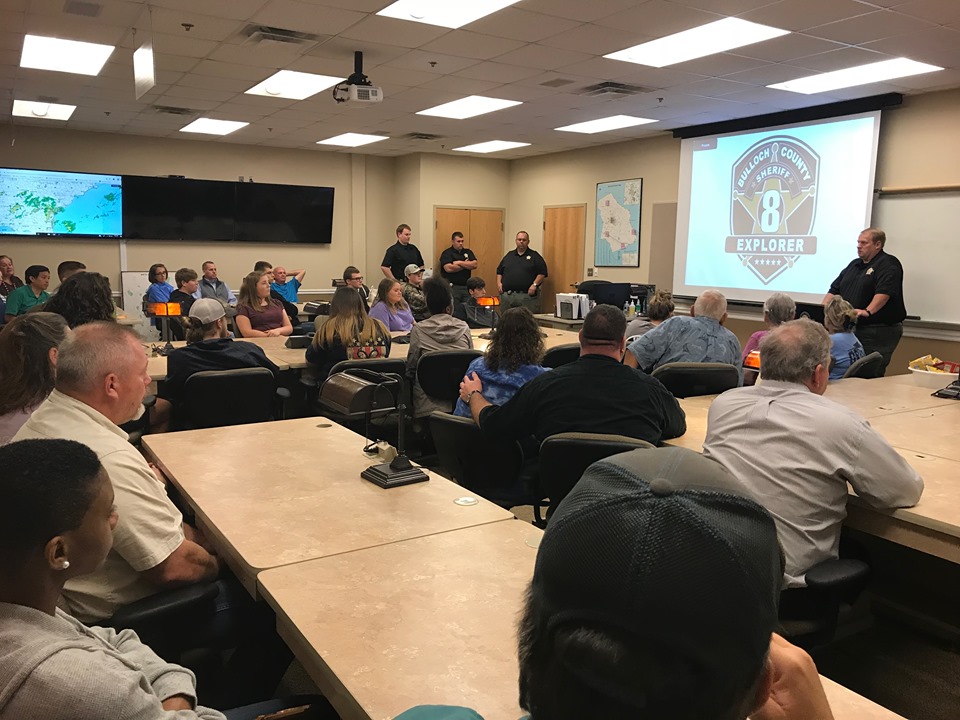 It was an exciting night at the Bulloch County Sheriff's Office 911 Center as youth gathered Tuesday to hear the details of the inaugural Explorers program. 

Bulloch County Sheriff's Office deputies James "Bubba" Revel, who will serve as the Post Advisor, and Jimmy Billings greeted a room of eight boys and six girls, as well as their parents, who were present for the kick-off of a program that has been a long been a work in progress. Portal SRO Will Craig, Southeast Bulloch SRO Ross Newman, and Langston Chapel SRO Randy Garmon are also advisors, all of whom have been raising money to launch the program before they even had a student roster. 
The Bulloch County Explorers Post is donned 'Post 8' in honor of fallen BCSO Sgt. Wilbur Berry – Badge #8, who died in the line of duty in 2001.
The program is connected with the Boy Scouts of America and together the organizations will focus on career development, offer opportunities to associate with professionals already in the industry, develop well-rounded skill sets, and make leaders in the community. The participants, each who have an interest in some aspect of law enforcement, will participate in statewide and national level competitions and participation automatically qualifies students for college scholarship opportunities. Explorer programs are available for participation until age 21. There is a firm reliance on good grades and adequate attendance in school, too. 
But the hard work starts now.
The team is already scheduled to compete at a state competition in July – just three months from now. That means the youth will receive crash courses in scenario-based training, hands-on learning, and interactions with regional law enforcement officials. 
"There's going to be a lot of challenges and we're going to teach you to work through them," Revell told the class. "You will be held to high standards … for performance and personally. Let's work and enjoy the ride."
In the mean time, Explorers will be issued a Class A uniform with a badge with an Explorer Patch and will venture to the Explorer Academy in June, a weeklong course at the Georgia Public Safety Training Center for basic academy training. 
Youth will fundraise in the community to help offset the costs associated with the program and scholarships through the Bulloch County Sheriff's Foundation are available to help as well.
.