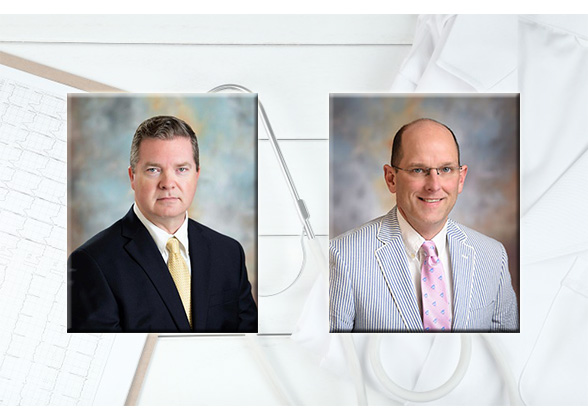 What to know about surgery during the pandemic from East Georgia Regional Medical Center, and some words of advice from Dr. Kenneth Walton and Dr. Joseph Hathaway.


The thought of having surgery for a nagging injury or lingering pain can make some patients feel uneasy. But, as many experts have said over the last few months, it is extremely important not to neglect medical needs during the pandemic.
Patients can feel confident seeking the medical care they need at East Georgia Regional Medical Center. Numerous steps have been put in place to keep patients safe during their visits, including:
Screening all visitors for COVID-19 exposure and symptoms before they are allowed to enter;
Visitor restrictions reduce the number of people inside to enable social distancing and keep patients and employees safe;
Facemasks are worn by everyone inside the hospital – patients, employees and physicians;
Caregivers are using appropriate personal protective equipment and washing hands before and after caring for every patient;
Cleaning protocols have been enhanced with extra measures and increased frequency, including disinfection of frequently touched surfaces and all patient care areas; and
Furniture in waiting areas arranged to support social distancing
"If not addressed in a timely manner, lingering injuries or pain can lead to long-term health problems," said Dr. Kenneth Walton, East Georgia Medical & Surgical Associates surgeon, Cedar Surgical Associates. "I have seen an increase in the number of patients with more significant health issues because they delayed care. I highly recommend anyone who is experiencing health concerns to contact their physician, without delay."
Pre-surgery COVID-19 testing is required for patients undergoing procedures involving general anesthesia or aerosolizing procedures. Patients are asked to self-quarantine after receiving the test and before arriving at the hospital. Care for surgery patients is delivered in a non-COVID care zone in which all patients have tested negative for COVID and provided by a dedicated group of staff who only work in this area.
"Delays in seeking healthcare can put you at increased risk for disease progression and adverse outcomes," said Dr. Joseph Hathaway, East Georgia Medical & Surgical Associates gastroenterologist, Gastroenterology Institute. "During this pandemic, we have created a safe environment in our endoscopy suites for both patients and staff, so we can continue to deliver the highest quality GI care for our patients. I encourage patients not to delay addressing any health issues or concerns because of fear."
East Georgia Regional Medical Center offers a range of surgical services in almost every medical specialty – everything from surgery to treat colorectal, breast, and other cancers, gastroesophageal reflux and hernias, to minimally invasive surgical options in specialties of gynecology, thoracic, vascular, bariatric weight loss and general surgical procedures.
---
To learn more about what surgical services offered or to schedule an appointment with a surgeon or another specialist, visit www.EastGeorgiaMedSurgAssociates.com. For more information about the hospital's safety plan, visit our COVID-19 information page.