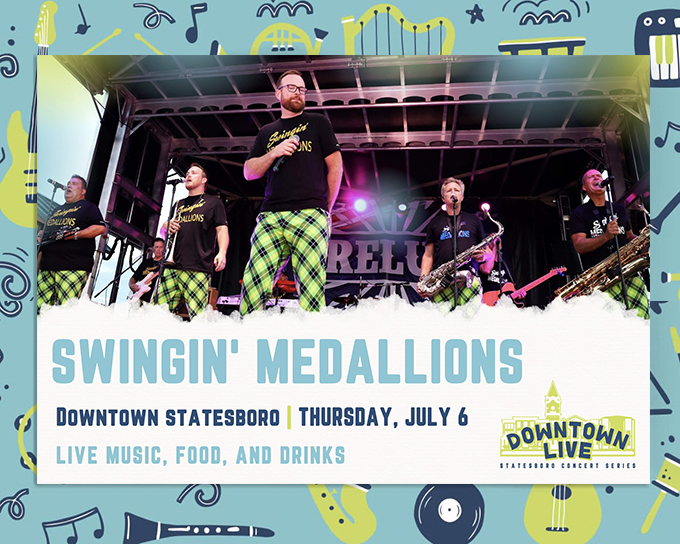 Statesboro's new summer concert series, Downtown Live, will feature The Swingin' Medallions this Thursday, July 6, 6:00 pm, on East Main Street in front of the courthouse.


This is a community sponsored free event, and is family friendly for all ages. Food trucks and beverage vendors will open at 5:00 pm.
About Downtown Live: The Downtown Live Statesboro Concert Series runs from June to July with two concerts per month on select Thursday nights at 6:00 p.m.
About The Swingin' Medallions: Tradition is defined as "The handing down of a belief, legend, or custom from generation to generation". The Swingin' Medallions, a Southern tradition since 1962, are a living definition of the word.
How does a band endure the generations? The group's signature high-energy style delights audiences of all ages. Their act, as well as their music, is indeed timeless. The band was founded in 1962 by John McElrath and now includes his sons, Shawn and Shane; plus, Joe Morris, the original drummer, who makes as many shows as he can!
Featuring an ever-popular horn section, the group effectively blends the sounds and music of yesterday and today. The band has performed throughout the nation in thousands of venues.  Their diverse repertoire has made them overwhelming favorites with college audiences as well as the more mature rock and rollers.
The band was made famous by its 1.5 million selling hit album, "Double Shot of My Baby's Love", in 1966. It remains the signature song of the band. The song, in fact, continues to demonstrate its timeless quality on radio, television and in motion pictures. "Double Shot" was followed with another hit, "She Drives Me Out of My Mind", in 1967. In 1969, they released yet another hit, "Hey, Hey Baby", the song featured at their 2004 Gator Bowl Half-Time Show performance.  The band released countless other singles through Capitol and Smash Records.
Lewis Grizzard (Southern humorist and writer) labeled the Medallions as "THE PARTY BAND OF THE SOUTH", a moniker that has become forever synonymous with the Medallion name. 
Read more about The Swingin' Medallions on their website HERE. Visit their Facebook page HERE.
---
Upcoming Downtown Live Shows: