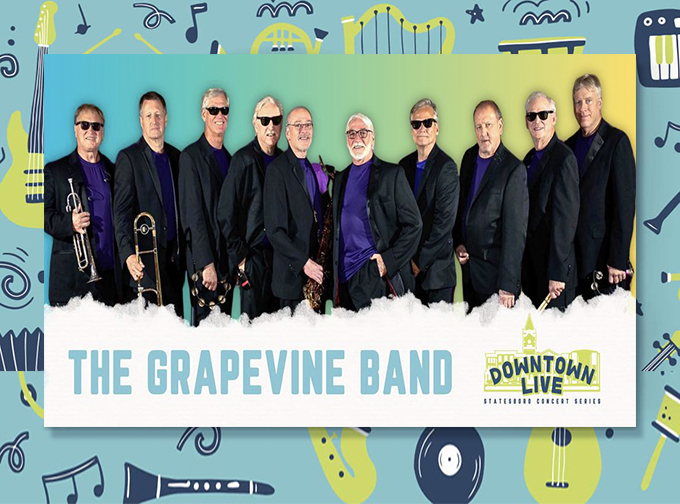 Statesboro's new summer concert series, Downtown Live, will feature The Grapevine Band this Thursday, June 29, 6:00 pm, on East Main Street in front of the courthouse.


This is a community sponsored free event, and is family friendly for all ages. Food trucks and beverage vendors will open at 5:00 pm.
About Downtown Live: The Downtown Live Statesboro Concert Series runs from June to July with two concerts per month on select Thursday nights at 6:00 p.m.
About The Grapevine Band: The Grapevine Band was founded  in the "heart" of soul and rock and roll music, Macon, Georgia. Today, the band is recognized throughout Georgia and  the southeast as" The Premier Party Band"! Since 1987, this band has been electrifying corporate events, conventions, wedding receptions, class reunions and other events. In 2000, The Grapevine Band received the prestigious Band of the Year award from the Atlanta Society of Entertainers. Its recent 30th year reunion was celebrated by the Macon Magazine.
The Grapevine's musical heritage was shaped by the member's early high school and college fraternity party bands, as well as local and national soul, blues, beach, rock and roll bands and musicians from the 1960's forward. The Grapevine Band has performed with many well-known recording artists to include Sam and Dave, Percy Sledge, The Temptations, The Spinners, The Four Tops, the Average White Band, Grand Funk Railroad, The O'Jays, The Spinners, the Ohio Players, The Tams, The Swinging Medallions, Chubby Checker, General Johnson & The Chairman of the Board, and many others. Today, the band offers a broad genre of music that can be tailored to any event. We specialize in playing your favorite hit songs that bring back memories and entice our audience to participate on the dance floor.
The Grapevine Band provides fun music as part of its complete show! The band is comprised of experienced, professional musicians performing on horns, drums, guitars, keyboard, vocals, as well as the Grapevine dancers/percussionists. This group of talented band members truly enjoy being together performing and interacting with audiences. This unique camaraderie and exceptional musical talent enables The Grapevine Band to provide our audiences a rare party experience characterized by entertaining music, energy , showmanship, and overall professionalism. You are invited to come party with the award-winning The Grapevine Band! A night with The Grapevine Band is truly an unforgettable experience!!
---
Upcoming Downtown Live Shows:
JULY 6 – The Swingin' Medallions