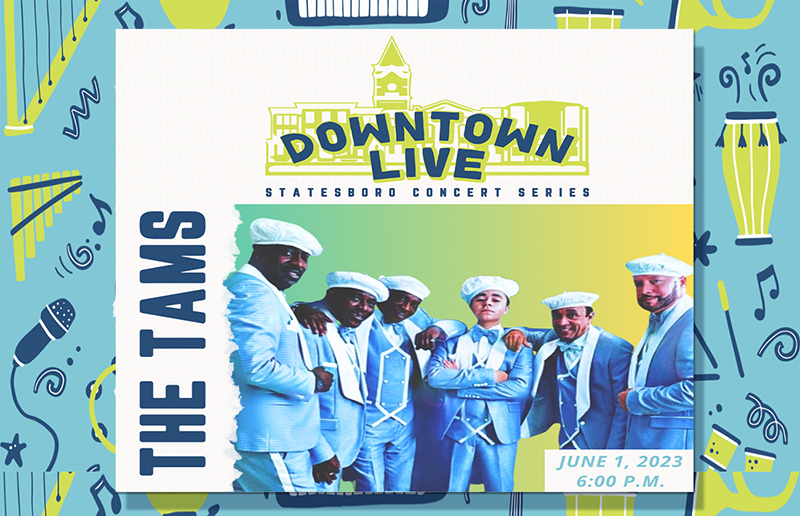 Statesboro's new summer concert series, Downtown Live, will feature the Tams this Thursday, June 1, 6:00 pm, on East Main Street in front of the courthouse.


This is a community sponsored free event, and is family friendly for all ages. Food trucks and beverage vendors will open at 5:00 pm.
About Downtown Live: The Downtown Live Statesboro Concert Series runs from June to July with two concerts per month on select Thursday nights at 6:00 p.m.
About The Tams: THE TAMS have been entertaining and thrilling audiences for over 50 years! Known for such hits as "Be Young, Be Foolish, Be Happy", "What Kind of Fool", "I've Been Hurt" and "Untie Me #12 on the R&B Charts", The Tams have had Several Gold Records, and 1 Platinum Single. "What Kind of Fool" hit #9 on the Billboard charts, and #6 on the R&B charts. "Hey Girl Don't Bother Me" hit #1 in the UK in 1971. While "Be Young, Be Foolish" only hit #26 on the Top 40, the single sold over 1,000,000 copies, sending it to Platinum status. In 1986, "Ain't Nothin Like Shaggin' " hit #6 in UK Billboard charts, before being banned due to the UK's definition of "shag". Though their style of music has historically been referred to as Beach Music which they have had many Beach Music hits, it can be also classified as a mixture of Smooth Soul, and R&B.  Their show is fun, fresh and exciting and appeals to audiences of all ages and musical tastes. 
---
Upcoming Downtown Live Shows:
JUNE 29 – The Grapevine Band
JULY 6 – The Swingin' Medallions