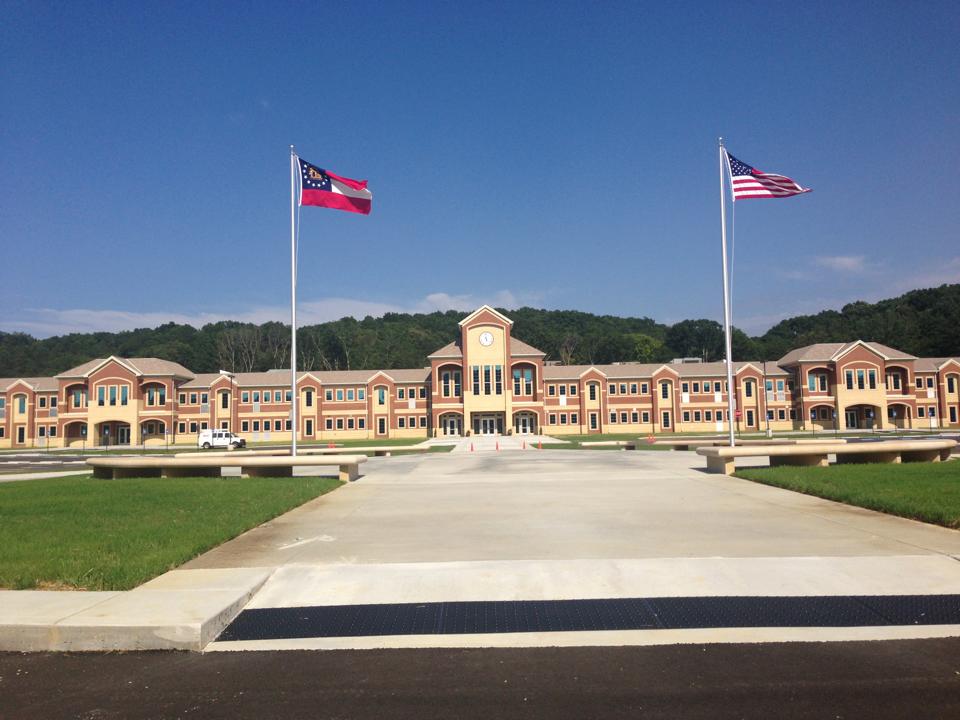 Four of Georgia's public schools and one public university have been named National Green Ribbon Schools for 2018 by the U.S. Department of Education.

Charles R. Drew Charter School in Atlanta Public Schools, Godley Station K-8 School in Savannah-Chatham County Public Schools, Lanier High School in Gwinnett County Schools, Saddle Ridge Elementary/Middle School in Walker County were all honored with the Green Ribbon designation, which recognizes schools and districts that exercise a comprehensive approach to creating "green" environments by reducing environmental impact, promoting health, and ensuring a high-quality environmental and outdoor education for students. Georgia Southern University was also honored.
Saddle Ridge was one of only 46 schools named a Green Ribbon School by the U.S. Department of Education in the nation. "We received this honor because of our commitment to reducing environmental impact and costs, for improving health and wellness, and for offering effective sustainable education. We are very proud that we are able to provide students with a high performance, healthy school in which they can learn and play," a spokesperson from Saddle Ridge said.
In Georgia, a partnership between the Georgia Department of Education, Lt. Governor Casey Cagle, the Captain Planet Foundation, the Turner Foundation, the U.S. Green Building Council of Georgia, and the University System of Georgia helps schools compete for the national award.
"On behalf of the Georgia Department of Education, I congratulate the schools who received this national acknowledgement of their innovative, student-focused work," said Keisha Ford-Jenrette, GaDOE Recognitions Program Manager. "It's hard to even begin to summarize all the new ideas and smart solutions this year's Georgia Green Ribbon Schools are putting into place: they're hosting Walk to School Days, receiving LEED and ENERGY STAR designations, providing National Wildlife Foundation-certified wildlife habitats onsite for student learning, and offering outdoor kindergarten. They're irrigating athletic fields with reclaimed stormwater and well water, piloting a student-led composting program, and repurposing water bottles into floral works of art for cancer patients. Each of these schools is doing great work on behalf of their students and the recognition they've received is well-deserved."
Lt. Governor Casey Cagle added, "In these challenging times, school systems across the state are embracing innovative ideas to reduce costs and focus resources on the classrooms where students learn. I'm proud to stand behind the National Green Ribbon Schools contest to recognize Georgia schools that are implementing groundbreaking tools to reduce their energy costs. This will allow us to redirect precious financial resources towards direct instruction, will create a healthier learning environment for our children, and will give our students career-relevant, first-hand experience in one of our state's emerging industries."
"The commitment from the Georgia Department of Education to support and promote the Green Ribbon Schools program in Georgia is one of the reasons our state is a national leader in providing students with high performance, healthy schools in which to learn and play," said Leesa Carter-Jones, Executive Director of the Captain Planet Foundation. "Captain Planet Foundation is proud to have provided award grants to Green Ribbon Schools over the past seven years and we hope to for many more years to come. Congratulations to the deserving winners of 2018!"
The list of all selected schools, districts, colleges, and universities, as well as their nomination packages, can be found here. A report with highlights on the 58 honorees can be found here. More information on the federal recognition award can be found here. Resources for all schools to move toward the three Pillars can be found here.​
​​​​​​​​