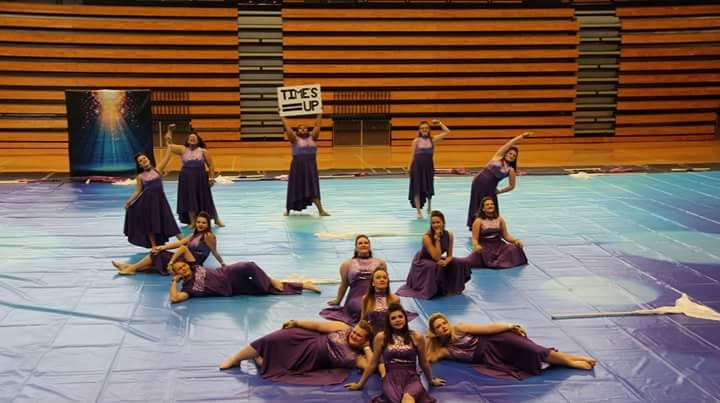 Lafayette High School's Visual Ensemble 2018 Production, "HERE I AM!", has been wowing audiences and judges alike this season as the team has collected three first place wins. Music for the production is from the Dream Girls Movie and Beyonce's "Listen!". "Our show is about empowerment of all people with a "Time's Up" message at the end," Director Undra Finley said.
This is just the second season for Lafayette in the Southern Association of Performance Art SAPA Circuit and the Ramblers are dominating with three first place wins.
First Place Wins:
01-20-18 Etowah High School in Woodstock, GA 1st place out of 11 giards
02-03-18 Alpharetta High School 1st place out of 16 guards
02-24-18 The Gold Rush Invitational at Villa Rica High School 4th place out of 14 guards
03-10-18 Art of the Warrior at LFO 1st place out of 13 guards
Lafayette Ensemble Team:
Directors: Undra C. Finley and Brandon Self
Staff: Larry Bostick and Robert Robinson
Commanding Officers: Hannah Elliott Tori Lowrance and Casey Ramey
Members: Alee Kimbell, Heather Mitchell, Chyna Burnett, Kristen Weaver, Jon Farmer, Cassidy Haskett, Kristen Helton and Destiny Wright and Ashley Cavin.
"The staff are so pleased with the growth of our team. The team is basically 50% vets and 50% rookies. The learning curve and their performance excellence has exceeded our expectations," Finley said.
When asked what defines the team this season Finley replied, "a quote we think defines our season: 'Nothing can dim the light which shines from within', by Maya Angelou."
The Ensemble team will be hosting the Rambler Winter Showcase on Thursday, March 22nd at Ridgeland High School starting at 7 pm. Several local guards and indoor drum lines will be performing. The public is invited to attend entry fee will be $5 per person and children under 5 are free. This is great time to come out support all the local pageantry and competitive arts of the local area.
The SAPA CHAMPIONSHIPS will be held April 7 and 8, 2018, at the UTC McKenzie Arena in Chattanooga, TN with over 130 guards competiting.