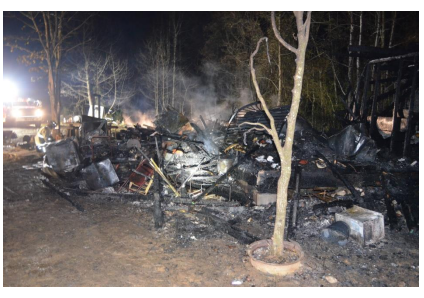 Fire Investigators with the Insurance and Safety Fire Commissioner's Office are currently searching for information regarding a November 18 house fire that occurred around 4:05 P.M. in Clayton, Georgia. 

"The home, located at 103 Speed Hollow Lane in Clayton, Georgia, was completely destroyed by the blaze. Due to the severity of the damages, we are not yet able to determine a cause," said Safety Fire Commissioner John F. King. "The residence was 25 years old and around 1,900 square feet. The two occupants were not at home when the fire occurred. This fire is still under investigation at this time." 
The fire has not been ruled arson, but anyone with knowledge about this fire should call the Fire Investigations Unit at 1‐800‐282‐5804. 
Rewards are offered of up to $10,000 for information that leads to the arrest and conviction of an arsonist. Calls are taken 24 hours a day and callers can choose to remain anonymous. Investigators with the Safety Fire Commissioner's Office are assisting the City of Clayton Fire Department and the Rabun County Sheriff's Office with this investigation.