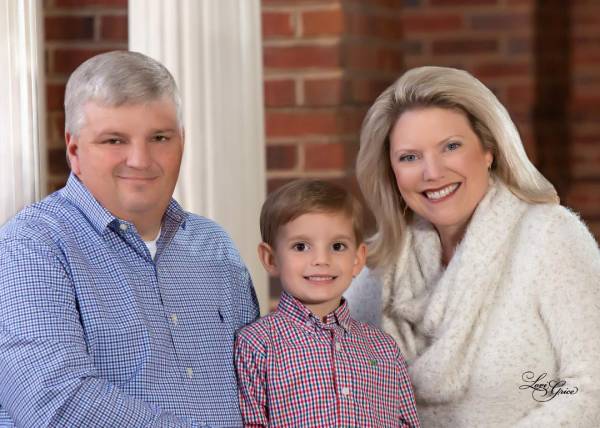 Due to the social distancing guidelines, we have converted our traditional AllOnGeorgia candidate video interviews into short questionnaires. Each candidate in the race was provided an identical questionnaire with the same deadline. Answers were not edited in any way.


The Primary Election was moved to June 9th.
The last day to register to vote in the primary is May 11th.
Early voting begins May 18th.
To sign up to volunteer as a poll worker, click here.
---
Please provide a brief bio on yourself.
I have been a lifelong resident of Tattnall County, having been reared in Glennville,  the son of Danny Anderson and the late Susan Bradley Anderson. A graduate of East Georgia College in 1995 with an Associate's Degree in Business, I began my journey to become a funeral director when I enrolled in Gupton-Jones College of Funeral Service and graduated in 1997. My desire to serve has allowed me to work with over 3,400 families during my 23 years of being a licensed funeral director. I feel that serving families during the most difficult time of losing a loved one is a true calling that God has placed in my life. Therefore, I understand the need for compassion and understanding, as the position of coroner requires one to work with families under very stressful circumstances.
Over the years, I have also been blessed to serve in more ways than just the funeral business. I currently am a certified police officer, a member and past president of the Greater Tattnall County Chamber of Commerce, a member and past president of the Reidsville Lions Club, member of the Glennville Chamber of Commerce, Chairman of the Reidsville Housing Authority, a Mason, former fireman with the Reidsville Fire Department where I received the Fireman of the Year award, and member of the Reidsville United Methodist Church and attend the Glennville First United Pentecostal Church. I am also a graduate of Tattnall Leadership.
While my profession has been rewarding, I am further blessed with the family God has given me. I am married to Ashlea Rogers Anderson, the daughter of the late Eddy and Martha Rogers, and we have one son, Edward "Ward" Bradley Anderson. Ashlea works as the Executive Director of IT Service and Delivery at Georgia Southern University, and we live on Ashlea's family farm in Glennville.
What experience do you have that properly equips you for the position of Coroner?
As a licensed embalmer, I am trained in anatomy and physiology. As a licensed funeral director, I am trained in grief and loss. As a post certified law enforcement officer, I am trained in investigations. All of this combined is the basis of a Coroner's job. My previous experiences have prepared me for this, and I will be ready and equipped to do the job from day one.
How do you view the day-to-day role of the Coroner? (The balance between managing the office, working with other elected officials, and general public servant work; duties and responsibilities; etc.)
As a funeral director, I have made myself available to my community 24 hours a day/7 days a week for this entire time.  The office of the Coroner will also require this level of availability.
As a small business owner, I have experience with developing operational procedures, building partnerships within the community, problem-solving and most importantly the ability to prioritize these tasks as necessary.  I believe these to be necessary skills for the office of the Coroner.
How can the Tattnall County Coroner be more efficient?
Operational efficiencies are critical in personal finance, business enterprises, and especially governmental spending.  Currently, there is no "open bid" process for various tasks and supplies needed by the county Coroner's office.  Utilizing free bid platforms like the Georgia Procurement Registry will be an avenue to explore the possibly of lowering operational costs of the office. 

How can the Coroner's Office be more transparent about activities and finances?
Privacy of the deceased and the families they leave behind are of utmost importance.  With that said, many aspects related to case specific incidents cannot be disclosed.  However, financial transactions and a report thereof should always be readily available for public dissemination.  At a minimum, I will report (so that it can be in an official record) the expenses, with full detail, to the Board of Commissioners at regular intervals.  This public reporting will help to ensure that citizens know exactly how funds are being utilized within the office of Coroner.
Will any other employment or business venture in which you are vested present a conflict of interest for you as Coroner? Please explain your answer.
As mentioned previously, for the past 23 years I have been a licensed funeral director and owned a funeral home for the past 19 years.  During that period of time, I was (and still am) a post-certified law enforcement officer, most recently serving as Chief of Police in Collins.  Throughout this entire time, I viewed my positions as completely separate and non-affiliated, one with the other.  In no way have I ever allowed a personal business interest to interfere with the duties I swore under oath to uphold and protect.   My guiding principals and ethics, as anyone that knows me will attest, are the fundamental values upon which I live my life.  

Why do you want to be the next Coroner of Tattnall County?
My love for my friends and neighbors in Tattnall County is evident in all that I do.  Since graduating from high school, I have sought ways to "give back" to my community.  Furthering my education and returning home to help build my community was important to me.  Early on I joined with multiple civic groups to fill voids in our social fabric.  Later, in business, I worked to expand employment options for citizens in the County and offer internships to work base learning students.  I think that any elected position is one in which the office holder should be heavily involved in the community.  A community leader makes the effort to reach out and get to know the people that trust you with the office.    

Is there anything else you would like the public to know about you? (This area may also be used to include a bio and offer information on where people can learn more about you?)
Whether it's hosting a community fish fry, teaching a Bible School class, or being trusted to handle funeral arrangements for a beloved family member, it has been my mission to be here for my county in both the good times as well as the bad.  My dedication doesn't end at 5:00!  I love my County and my Country, and I am honored to serve.