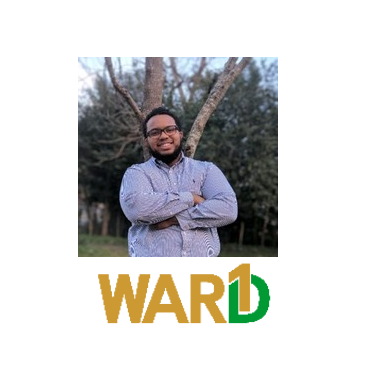 During a special-called meeting, the Glennville City Council voted Monday night to go on the record and distance itself from controversial comments made by a councilman on social media last week.  All council members were present, with the exception of Councilman Dennis Strickland who was out of town, as was City Attorney Hugh McCollough. 

The meeting was scheduled late last week following the fall out from a social media post made by Councilman Micah King regarding a local business, a homeowner in Tattnall County, and a USPS worker in which King mistakenly associated a business with an incident that occurred at a private residence. 
Last Monday, King posted in the social media group 'Tattnall Against Racism' that a local USPS employee had a gun drawn on her at Folsom's Farmhouse, a restaurant on Highway 301 S just south of the Glennville city limits. King called for a "COMPLETE" boycott of the
restaurant as well as assistance organizing a protest in front of the restaurant. In his post, he said he made the post 'as a concerned citizen and by virtue of the seat I was elected to hold.'
The group has over 700 members and at least six group administrators, including King, so the news about what purportedly happened to a USPS worker spread quickly Monday night, even as details emerged refuting the claims as stated by King. King later updated his post, reportedly after speaking with the Sheriff, who helped clarify the facts as reported by the USPS worker to a Tattnall County Sheriff's Office deputy on Monday night, but activists held firm on a continued effort to boycott the restaurant unless the restaurant owners made a statement on the incident.
The specifics of the updated post are not clear as anyone associated with AllOnGeorgia was removed from the 'Tattnall Against Racism' group after the article was published last Tuesday and can no longer view the posts. 
On Monday, King issued a formal statement on his 'Micah King Glennville City Council Ward 1' Facebook page. King did not apologize for the initial post, but did call it 'incorrect,' 'a mistake' and referenced a quote by George Washington relating to errors. He then thanked the people who rose to defend him before asking people to focus on the purpose of his post: to draw attention to the fact that a woman (referring to the USPS worker) would not be alive today if not for good fortune.
King concluded his lengthy statement Monday with, "We also question whether when we venture out of the confines of our own community, will we be unjustly treated or sentenced to an irrevocable punishment for doing nothing but trying to live with the skin that God blessed us with."
You can read King's full statement as published ahead of the meeting below.
Story continues below. 
The council on Monday was present to vote on whether to approve the statement as read by Mayor Bernie Weaver. City
officials said a number of citizens had contacted city hall with regard to the matter, particularly the statements about the local business. Some called for his resignation or his removal by his fellow council members.
Under the city's charter, the council is not authorized to remove a council member for speech-related matters, but under the city's Code of Ordinances (Sec. 2-105 & 2-106), a citizen of King's ward could file an ethics complaint against King for consideration by the city's ethics committee. If the committee deems the complaint substantiated, the council could then issue a formal public reprimand of King or request his resignation.
The called meeting agenda was specific to the one line item pertaining to King and, per the standard of special meetings and in line with the public comment policy for all council meetings in Glennville, did not allot time for public comment. Persons wishing to address council can request to be placed on the agenda for the next regular council meeting, scheduled for the first Tuesday in August.
The statement was approved 4-0, with Councilman Strickland voting via Zoom. It is below.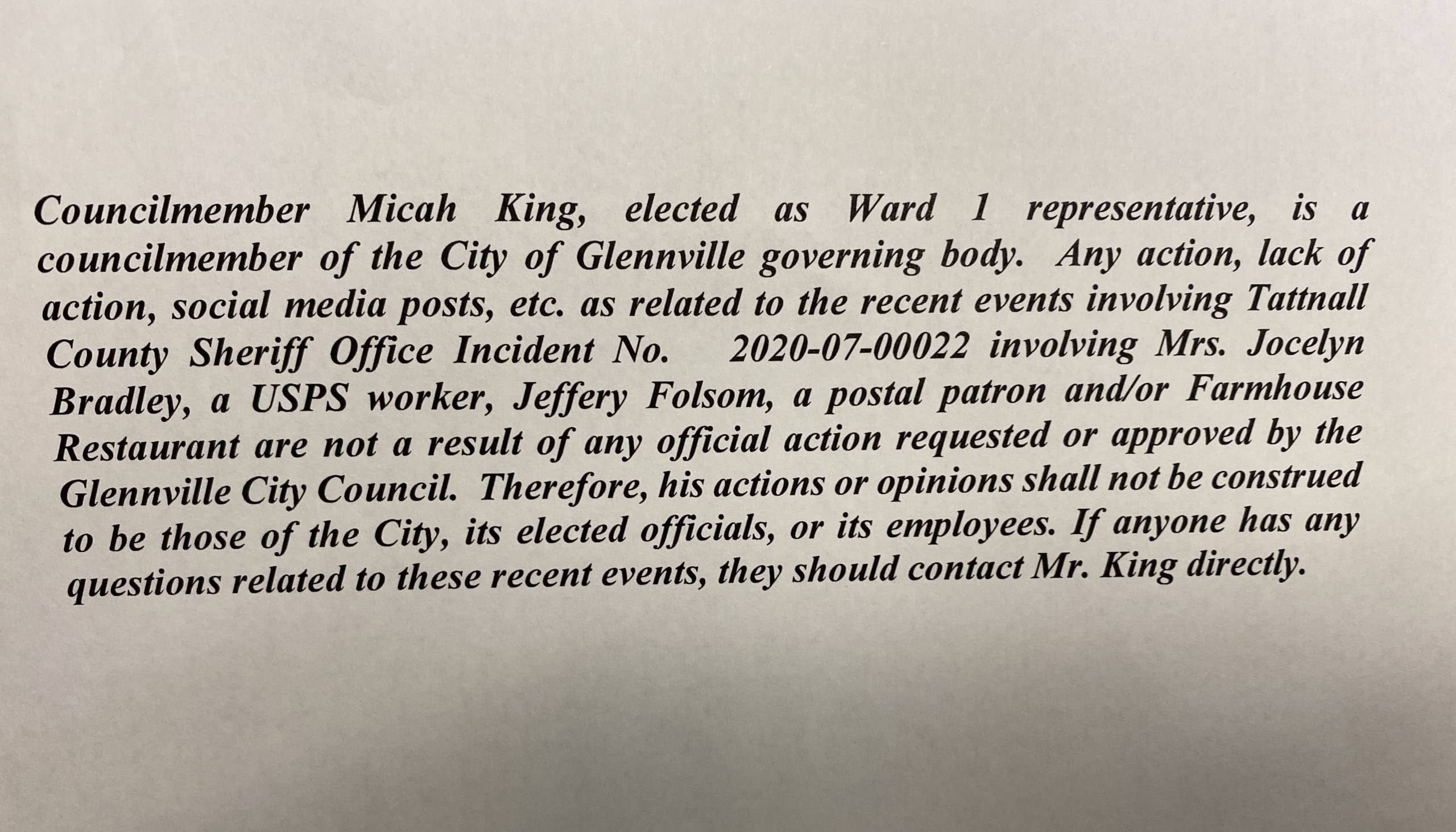 You can watch the very brief meeting, which includes the response by Councilman King, here.
King told approximately 15 members from the public and his colleagues that he would answer questions about the incident and the post if people wanted to contact  him by email or phone. 
"Sometimes in a, I don't want to say haste, but when you feel propelled to do something, you have to go ahead and act and do what you feel is right. Now, I'm only six months in, I don't think this will be my legacy on the city council, but as far as the citizens of a Glennville, no matter your class, color, creed, clan, whoever you are, I will act on your behalf and will continue to act on your behalf and that goes for everybody in the city of Glennville….I will say that I did not create the divide. I may have pulled the bandaid off, but we can make a decision, to just sit and watch the city bleed, or we can go in with surgical precision and figure out what the problem is and sew the divide that has been ailing this city for many, many years."
King was sworn in in January 2020 after winning the election in November 2019 when he defeated incumbent Dorothy Berry. Glennville is located in the south end of Tattnall County in southeast Georgia.