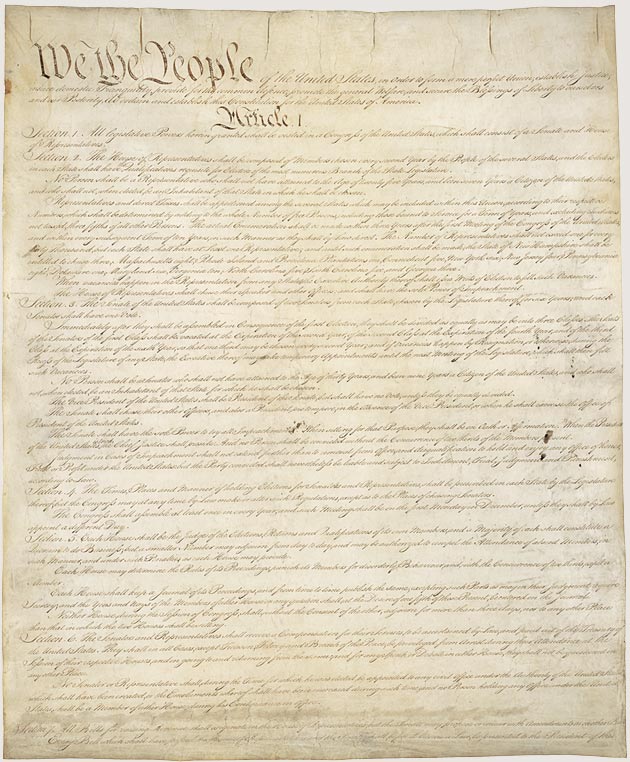 As our nation prepares for Constitution Day on September 17, Americans struggle to identify key components of the guiding document that governs our country. Each September Constitution Day is celebrated to recognize the adoption of the Constitution and those who have become U.S. citizens. Yet Americans have trouble recalling elements of the Constitution, according to a survey conducted earlier this year by the Woodrow Wilson National Fellowship Foundation, which aimed to find out what American's know about the country's history.
Only 15% of those surveyed knew when the U.S. Constitution was written, even on a multiple-choice exam similar to the citizenship exam, with most incorrectly thinking it occurred in 1776. Twenty percent of New Yorkers answered the question correctly, the highest percentage of any state; West Virginians came in last, with only 9% knowing that the Constitution was written in 1787.
Only 25% of Americans knew how many amendments there are to the U.S. Constitution. Montana residents topped the country with 30% of residents able to identify the correct answer, and Hawaii rounded out the list with just 17% able to identify that there are 27 amendments in the Constitution.
In addition, when given a multiple-choice question about the First Amendment, 25% of Americans didn't know that freedom of speech was guaranteed under the First Amendment. Others identified the right to "bear arms" (11%) and "no one shall be deprived of life, liberty, or property" (8%), when in fact those are in the Second and Fourteenth Amendments, respectively. Wyoming residents did the best on this question, with 85% identifying this correctly. New Yorkers were the worst in the U.S., falling well below the average with only 66% answering this correctly.
Woodrow Wilson Foundation Chief Strategy Officer and Director of the WW American History Initiative Patrick Riccards sees an opportunity to support our students in new ways. Riccards said, "As students head back to school, we need to take a serious look at what our students care about, how to best engage them and meet them where they are."
The Foundation has raised concerns about the waning knowledge of American history and considers this to be one of the greatest educational challenges facing the U.S. As a result, the Foundation will launch a major national initiative to transform how American history is learned today, providing high school students with an interactive digital platform intended to make American history more interesting and appreciated by all learners, particularly those who do not see the importance history plays in the now and tomorrow.
The survey is available for anyone to take at woodrow.org/americanhistory/. Since the release of the survey, more than a half a million people have taken the test.
Lincoln Park Strategies conducted the poll for the Foundation. It involved 41,000 interviews among adults nationwide. The margin of error is approximately ±1.0%.
Information from the Woodrow Wilson National Fellowship Foundation