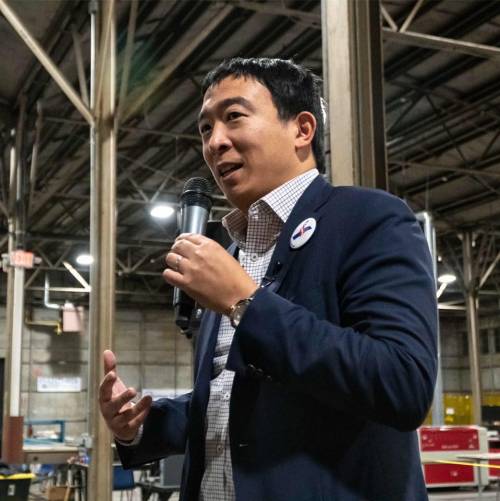 Former Democratic Presidential candidate Andrew Yang has launched a new organization to 'advance the mission and vision of his 2020 presidential campaign.'
Humanity Forward is a 501(c)4 nonprofit organization with "an official mission to "build the movement to rewrite the rules of our economy and society to make it work for us, the people, and create a human-centered America."
Andrew Yang's presidential campaign platform focused on universal basic income, human-centered capitalism, and data as a property right — things he says he is taking beyond the campaign trail.
In a press release this week, Yang said:
Humanity Forward will bring together Americans from all walks of life: leaders from the tech industry, Washington D.C. officials, entertainers, journalists, academics, and—most importantly—everyday Americans who will be most impacted by the technological and economic shift that's just beginning.
The team at Humanity Forward will launch "Humanity First" ideas into the mainstream, activating new participants in the democratic process and leading a wave of new thinking in American politics.
It will do this by:
Launching and supporting projects and pilots that demonstrate the power and practicality of our ideas in real life; 

Providing resources to political candidates who embrace Universal Basic Income and other aligned policies at every level; and 

Activating new voters and the politically disengaged, particularly young people and the economically marginalized.
A number of big names from technology and entertainment have thrown their support behind the new organization, including comedian Dave Chappelle, actress Teri Hatcher, entertainer Ken Jeong, and founder of Reddit / Initialized Capital Alexis Ohanian.
Andrew Yang himself has committed to give one early donor $1,000 a month for an entire year, his signature policy proposal, to demonstrate the power of these ideas as he launches the new movement. In addition, Humanity Forward is proud to announce a pledge to give $500,000 in Universal Basic Income to residents in one town in New York State as part of an initial pilot program.
Specifically, Humanity Forward looks to immediately fund a few special projects, including:
Engaging the Disengaged

Programs and organizing initiatives to bring new voters out in 2020 and beyond, including young Americans, Asian-American voters, independents, and individuals who have not been engaged in the political process.

Andrew Yang Podcast

In a long-form podcast format, Andrew Yang will discuss new ideas to solve the greatest challenges of our time with innovators, celebrities, politicians, journalists and regular Americans.

"Future of Work" Summit

Humanity Forward will bring together leaders from technology and Washington D.C. to publicly discuss and collaborate on the future of work and vision for a human-centered economy.

"Forward Thinking" Seed Funding

Grants and funding for pilot programs, candidates and initiatives that are bringing Humanity Forward policies and vision to life. This would include universal basic income pilot programs, funding for candidates that support the Humanity Forward platform, and testing innovative ideas like Democracy Dollars and Data as a Property Right.
"Our campaign grew so much because we had a clearer diagnosis of the problems that face our country and a real vision for how to solve them. We're in the midst of the greatest technological and economic transformation in the history of the world, and we need real solutions to make the economy work for us, the people. Those problems haven't gone anywhere, and neither have we. The movement we have built has just begun and will now evolve," Andrew Yang said.
You can learn more about Humanity Forward at www.movehumanityforward.com.