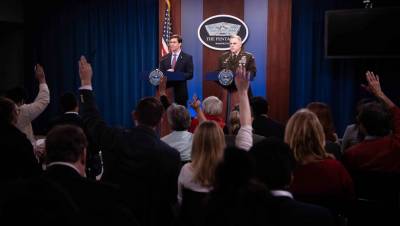 The $738 billion defense spending bill signed into law by President Donald J. Trump funds the largest pay increases in a decade.
According to Department of Defense officials, service members and families will benefit from a $19.5 billion increase of the DOD's 2019 funding, including a 3.1 percent pay raise for military and civilian personnel and paid parental leave for civilians.
"This is a well-deserved pay raise for the men and women of the military, who continue to make great sacrifices for the nation as they stand watch all over the world to protect America," said Defense Secretary Dr. Mark T. Esper. "It will also ensure that we continue to recruit our country's best talent into the armed forces."
The fiscal year 2020 budget gives the DOD a $622.6 billion base budget, $70.6 billion for overseas contingency operations and $1.8 billion in emergency funding. The overall defense budget also includes funding in separate authorizations for military construction and $8.1 billion in emergency defense funds.
Esper said the new bill also supports taking care of military Families. Included in the law are: programs to offset the costs of professional licenses for military spouses; reforms to privatized base housing; and provisions to increase childcare capacity on military installations — including $110 million across the services for child care programs.
"These are all very important to the readiness of the force and follow through on our commitment to take care of our service members and their families," the secretary said.
Basic Allowance for Housing rates will increase an average of 2.8%, Basic Allowance for Subsistence rates will increase 0.9%, and Basic Pay will increase 3.1% over the entire force.
For Basic Allowance for Subsistence, enlisted members will now receive $372.71 per month (an increase of $3.32) and officers will receive $256.68 per month (an increase of $2.29).  Specific Basic Pay rates are expected to be released via Executive Order shortly.
Information from the US Army Corps of Engineers.