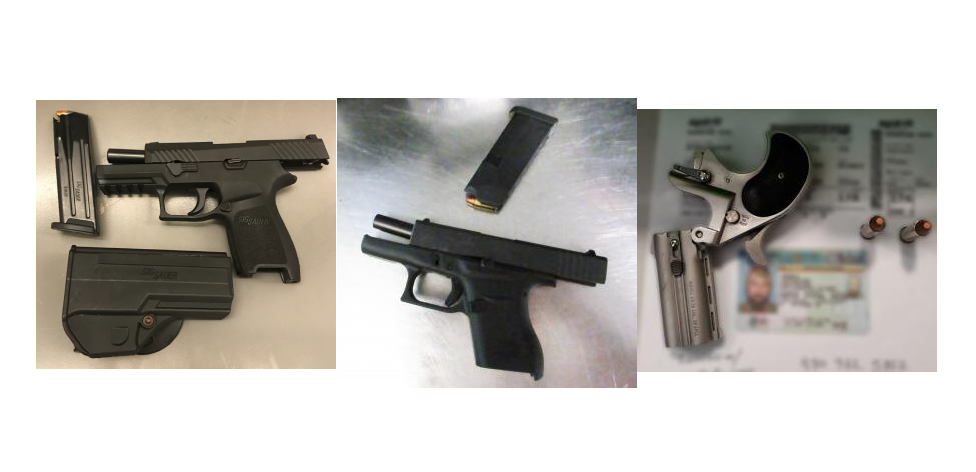 The Transportation Security Administration (TSA) shows broad variations in how the agency enforces firearms prohibitions enforcement at airport security checkpoints, press releases issued by the agency show.
Travelers face different penalties for bringing firearms through security checkpoints, ranging from confiscation and loss of Pre-Check status to temporary detainment and arrest, depending on the airport at which they are traveling and the local and state laws. TSA also has the authority to assess civil penalties of up to $13,333 for weapons violations, with the first violation being a $4,000 fine.
The TSA reports on their website that they intercepted more than 4,200 firearms in carry-on bags in 2018, or 11 per day. The agency also includes in every press release that 86% of firearms found at checkpoints are loaded, 34% of which have a bullet in the chamber. 
Having a license elsewhere does not provide legal cover for possession of a firearm in other states, like New York. The Federal Firearm Owners Protection Act is only valid when traveling in a vehicle, most recently upheld in 2013 when the US Court of Appeals, ruled that the federal FOPA does not apply to airport travel.
The TSA reported Tuesday that a North Carolina grandmother was arrested at LaGuardia Airport for having a firearm in her carry-on baggage. The airport has been cracking down and even seized a 3D printed gun at the beginning of the month.
In Pennsylvania, a man was stopped for having a handgun in his carry-on bag. He was detained by local police, and the gun was confiscated, but no other action was taken.
Meanwhile, on Friday, a woman was stopped at Baltimore's airport checkpoint with a .40 caliber handgun loaded with 10 bullets. She told TSA officials that she forgot that she had her loaded gun with her. They let her catch her flight, but she was cited on weapons charges by the Maryland Transportation Authority Police and had to leave the gun behind.
A man who lives in the U.S. but was traveling to London via JFK Airport was arrested Tuesday for his attempt to take a .38 caliber handgun with 7 bullets on his flight.
A Florida man at a West Virginia airport was detained for questioning and had his gun confiscated when he went through the checkpoint on Sunday, but a woman who went through Yeager Airport on July 3rd was cited on weapons charges before her revolver was confiscated. She was permitted to fly, however.
Two cases in Idaho have been turned over to the county prosecutor for consideration to pursue.
Al of these cases have been reported by TSA in the last 15 days.
Travelers are permitted to travel with firearms in checked baggage if they are properly packaged and declared. Firearms must be unloaded, packed in a hard-sided case, locked, and packed separately from ammunition. 
In a press release from TSA, the agency call the trend of firearms at security checkpoints 'disturbing,' saying "Disturbing because TSA would prefer to see the trend go in the opposite direction with fewer travelers bringing their guns to checkpoints."