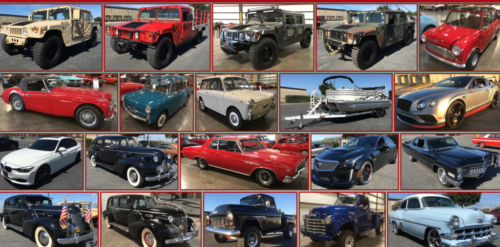 Vehicles for sale include classic muscle cars, luxury vehicles and antiques from the 1920s and 1930s
The U.S. Marshals are holding a live auction in Woodland, California, at 9 a.m. PDT Saturday, Oct. 26, for approximately 149 classic, luxury and performance vehicles from a federal civil case involving the owners of the defunct DC Solar company in the Eastern District of California.
The auction will be held at Apple Towing, 550 N. Pioneer Ave., Woodland, CA 95776. The auction will also be simulcast on the web, so people can participate without having to attend in person.
An auction preview will take place from 8 a.m. to 4 p.m. Thursday, Oct. 24, and Friday, Oct. 25, at the same location as the auction. Prebidding is currently underway via the Apple Auctioneering Company website, www.appleauctioneeringco.com.
"It is rare for the U.S. Marshals to hold an auction of such a stunning collection of vehicles," said Chief Deputy U.S. Marshal Lasha Boyden with the Sacramento office of the U.S. Marshals. "We've got classic 1960s Ford Mustangs, 1990s Humvees, a 1960 Austin-Healey, and even a 1978 Pontiac Trans Am that was owned by Burt Reynolds as a memento of the car he drove in the movie 'Smokey and the Bandit.'"
The vehicles are being sold pursuant to an interlocutory sale order in the federal case United States v. 2011 BMW 328i, et al., case number 19-mc-00053 in the Eastern District of California.
For more information and photos: auction website: www.appleauctioneeringco.com
The Department of Justice Asset Forfeiture Program is a key component of the federal government's law enforcement efforts to combat major criminal activity by disrupting and dismantling illegal enterprises, depriving criminals of the proceeds of illegal activity, deterring crime and restoring property to victims. The U.S. Marshals Service plays a critical role in identifying and evaluating assets that represent the proceeds of crime as well as efficiently managing and selling assets seized and forfeited by DOJ.