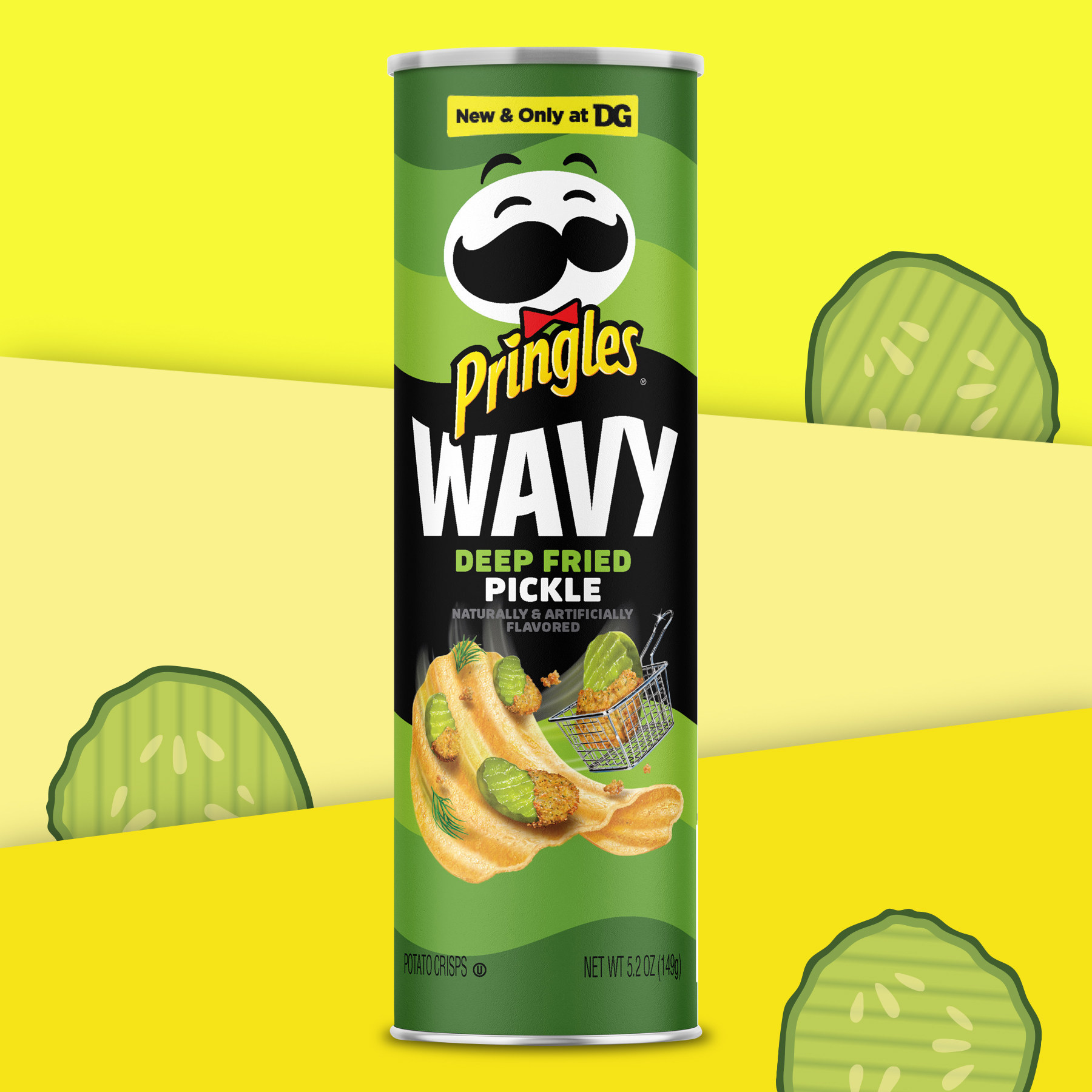 The Kellogg Company has announced a new limited-time flavor of Pringles Wavy, Deep Fried Pickle, available at Dollar General beginning this month.

The flavor masters at Pringles are stepping up once again — this time giving one of America's iconic snack foods and appetizers, Deep-Fried Pickles, a crispy makeover.  New Pringles Wavy Deep Fried Pickle brings all the dill-icious, batter-coated flavor of the restaurant classic into an easy-to-eat crisp.
New Pringles Wavy Deep Fried Pickle flavor packs dill-pickle tanginess and savory-fried satisfaction into each crisp for a bold crunch with every taste.  Each bite boasts a thick, wavy texture to deliver a craveable and delicious flavor. This flavor is the perfect way to add an acidic and sour taste to your favorite Pringles Flavor Stack, including the Fried Pickle Cheesy Ranch Stack – a combination of new Pringles Wavy Deep Fried Pickle, Pringles Cheddar Cheese and Pringles Ranch.
"The Pringles brand prides itself in delivering insanely accurate flavor combinations that are both familiar and delicious," said Gareth Maguire, senior director of marketing for Pringles. "With the debut of Pringles Wavy Deep Fried Pickle, fans can experience their favorite, iconic fried appetizer flavor in an entirely new, easy to snack form. Paired with other Pringles staples, these snackable, stackable crunchy crisps are an absolute must-try."
The limited-edition Pringles Wavy Deep Fried Pickle will be available at Dollar General stores nationwide beginning in April 2021, while supplies last. For more information, follow @PringlesUS on Instagram, @Pringles on Twitter and check out Facebook.com/PringlesUS.
---
SOURCE Kellogg Company