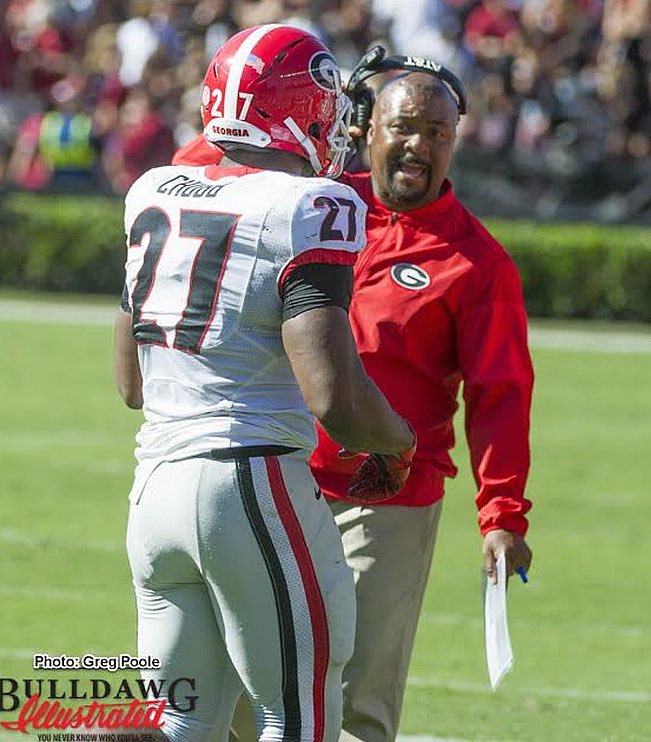 Unless there's an unforeseen derailment, University of Georgia assistant head coach Dell McGee is on the fast track to becoming a Division I head football coach and when he does he will be the first to come out of a Muscogee County high school in nearly 100 years.

The last local product to become the head coach of a major university was George "Kid" Woodruff in 1923. A wealthy businessman in Columbus, the former Bulldog quarterback coached at Georgia for a dollar a year — a far cry from the $350,000 a year McGee now receives as a member of Coach Kirby Smart's football staff.
Through the years, several local high school coaches have become college assistants. That unofficial list would include Sam Mitchell, Frank Sadler, Joe Pate, Jim Pyburn and Joe Sparks. But no one other than Woodruff has ever been hired as a head coach — and that was admittedly a quirky hire.
McGee played football at Kendrick High under Coach Buzz Busby at a time the Cherokees were statewide contenders. He was a star defender at Auburn and then spent two NFL seasons on the roster of the Arizona Cardinals.
Back home in Columbus, the former defensive back was hired as the head coach at Carver High School in 2005. He spent seven impressive seasons with the Tigers compiling a 88-19 record and winning the 2007 state title. He spent one season as an analyst on the staff at Auburn then took a job as running back coach at Georgia Southern University.
Coach Willie Fritz promoted him to assistant head coach and when Fritz left for a spot at Tulane GSU made McGee the interim head coach for the 2015 Go Daddy Bowl. He guided the Eagles to a 58-27 victory over Bowling Green.
Fritz recommended McGee as his successor, a suggestion that many GSU alumni applauded and the administration ignored. He was about to take a spot on Fritz staff at Tulane when Smart took over at Georgia. It was a wise move for McGee has quickly earned a reputation as one of the top recruiters in college football.
During the off-season, he was promoted to assistant head coach, given a contract extension and had his salary bumped to $350,000 a year.
McGee, 44, is in his coaching prime. If the Bulldogs good fortunes continue so will his.
Woodruff was a quarterback at Columbus High School. He went on to play for the Bulldogs in 1907 and was team captain. He graduated from Georgia in 1912. He returned to Columbus and after serving in World War I, he became successful (and wealthy) in insurance and real estate.
In his spare time, he was head coach at Columbus High for one year going 4-0-2.
By 1923, the Bulldogs were on the decline on the field and at the turnstiles. To support his alma mater, Woodruff agreed to coach the football team for one dollar a year. He earned every penny for he had four winning seasons of out five. In 1927, his final season, the Bulldogs finished 9-1. He was succeeded by assistant coach Harry Mehre.