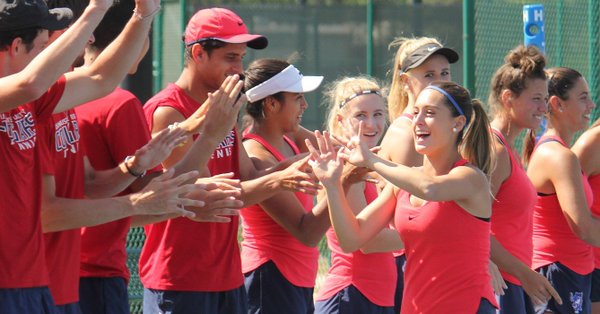 The third-ranked Columbus State University women's tennis team jumped off quickly for a 5-1 victory over No. 6 St. Mary's on Tuesday as the NCAA Round of 16 began play in Surprise, Ariz.
The victory sends Columbus State (24-2) into the national quarterfinals for the sixth time overall and the fourth time in the last five years. CSU will take on the winner of the match between Northeastern State and Indiana (Pa.) at 7 p.m. on Wednesday. looking to advance into the national semifinals for the first time in program history.

"I'm proud of the way we played today," head coach Evan Isaacs said. "It was great to get a win under our belt out here and we'll have a chance to do something tomorrow that this program has never done before."
The Lady Cougars opened Tuesday with another strong showing in doubles play. Noa Davico and Beatriz Lopez jumped on the board with an 8-2 win at No. 2, followed shortly thereafter by an 8-2 victory for Marleen Tilgner and Giorgia Vitate at No. 3.
St. Mary's (19-3) grabbed its lone point of the match at first doubles, winning 8-5 over the Cougars' Natalia Kattah Paz and Candice Paya.
Singles action was dominated by Columbus State, as all six Cougar ladies took the opening sets. Luise Sachs was the first to finish, winning 6-3, 6-4 at No. 6 singles to make it 3-1. Davico immediately added another tally with a 6-2, 6-2 victory at second, and Lopez clinched the match with a 6-3, 6-2 win at the top spot.
Singles competition
#9 Beatriz Lopez (CSU-W) def. #13 Kaylin Kruseman (STM) 6-3, 6-2
Noa Davico (CSU-W) def. Tyra Timm (STM) 6-2, 6-2
Giorgia Vitale (CSU-W) vs. Ally Maciel (STM) 7-5, 3-2, unfinished
Candice Paya (CSU-W) vs. Paulina Torres (STM) 7-5, 4-2, unfinished
Marleen Tilgner (CSU-W) vs. Alex Corder (STM) 6-3, 2-1, unfinished
Luise Sachs (CSU-W) def. Abigail Csengery (STM) 6-3, 6-4
Doubles competition
#2 Tyra Timm/Kaylin Kruseman (STM) def. #31 Candice Paya/Natalia Kattah Paz (CSU-W) 8-5
Noa Davico/Beatriz Lopez (CSU-W) def. #43 Paulina Torres/Isabelle Bergman (STM) 8-2
Marleen Tilgner/Giorgia Vitale (CSU-W) def. Ally Maciel/Alex Corder (STM) 8-2