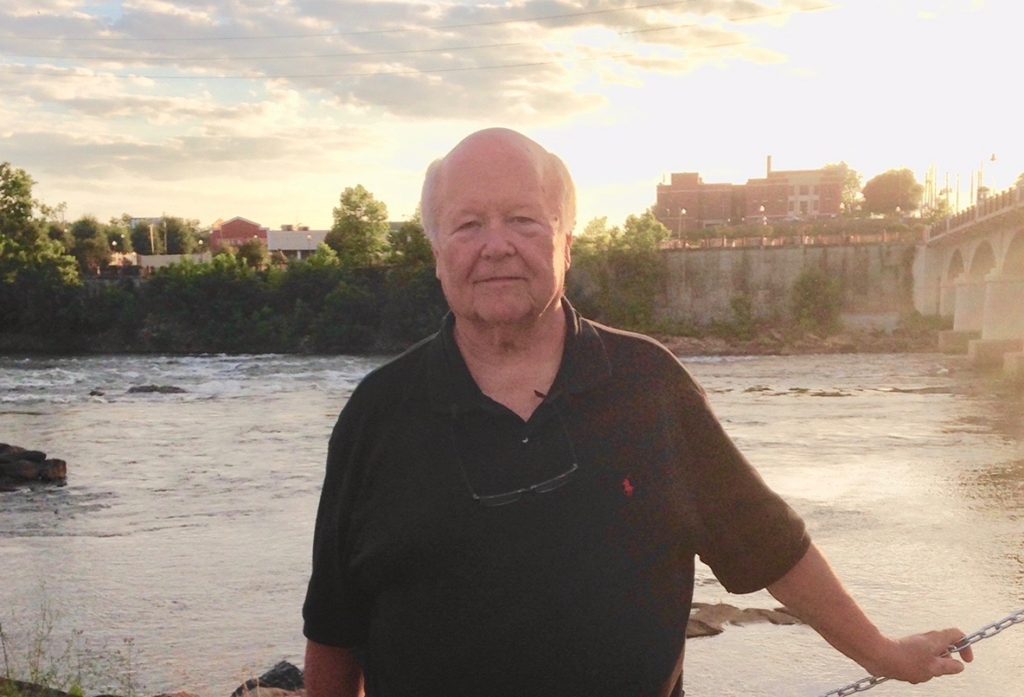 If I had to tell you the most memorable college football game I ever saw in person it would be one I saw at Sanford Stadium in 1971. The Bulldogs were hosting Auburn, and many people will tell you that was the game where Pat Sullivan sewed up the Heisman Trophy.
Sullivan was magical and so was the atmosphere. Both teams were unbeaten. Both were highly ranked. On hand were 62,891 delirious fans celebrating the 75th meeting between two old rivals. That was the day that the Auburn quarterback threw for four touchdowns in a 35-20 victory over Georgia. It was big enough for that Deep South classic to make the front page of the Sunday sports section of The New York Times.
Until Wednesday, I would have told anyone who asked that I remembered every tiny detail about that Saturday spectacle from 47 years ago. I changed my mind on Wednesday, when I heard about the death of Andy Johnson.
Johnson was the quarterback who wore red. And as it would be during much of his career at Georgia, he was the other quarterback. Sullivan could pass. Johnson could run. Sullivan was All-SEC. Johnson wasn't. Sullivan was a darling of headline writers. Johnson was quiet and humble though he would be named the conference's Sophomore of the Year that season.
As good as he was at running Vince Dooley's run oriented offense, I remember other things about him … how as a child as young as 6 he was a star of YMCA football in Athens … how he starred in basketball and baseball … how later, at Athens High School he engineered a 26-26 tie with powerful Valdosta in a classic state championship game played on the Wildcats' home field.
But until I read about it in his obituary on Wednesday, I didn't remember that he was Georgia's quarterback in that memorable game against Auburn.
What a great game he had against Sullivan, Beasley and friends — including a 67 yard run that set up a touchdown.
Nor did I remember Andy Johnson the person even though as a sports writer assigned to college sports at the Constitution in Atlanta, I went to Athens every week to cover football practice.
I can't remember conversations with the Bulldogs' star quarterback — and that's a little strange.
Friends say he was introverted. The word humble has come up often this week.
"He never bragged about himself," former Athens sports editor Billy Harper said after Johnson's death at the age of 65. "He was very modest, very popular. And he may be the best all-around athlete to come out of Athens."
Not bad when you consider that NFL legend Fran Tarkenton also came out of Clarke County. Yet, when people today talk about great Bulldog athletes of the past, Johnson's name is seldom mentioned.
As a sophomore, he led the Bulldogs to a 11-1 record and a victory in the Gator Bowl over North Carolina, coached by Vince Dooley's brother Bill. Injuries dogged him his final two years and UGA never won a Southeastern Conference title during his tenure, which probably taints his legacy in some people's eyes. He finished college with nearly as many rushing yards as he did passing yardage.
He played in a time when college football teams weren't televised every week. There was no ESPN and no Internet. No video on your smartphone. Players like Johnson had to rely on newspaper guys who gravitated toward the colorful and the glib shopping for just the right quote to insert in their story. That wasn't Johnson and, really, that wasn't Sullivan either.
Neither was blessed with a creative PR machine that was used to touting individual stars. Dooley hadn't blossomed as a national figure in the coaching ranks yet so he didn't have the ear of national writers. That 1971 season was Dooley's finest hour at that time.
Looking back, that afternoon at Sanford Stadium in 1971 was a turning point for both quarterbacks. Sullivan and his strong right arm grabbed the spotlight and a few months later he went to New York City to pick up his Heisman. Johnson, with all his talents, never became a major headliner at the college level.
Pro football was another matter.
Sullivan and all his records and headlines was drafted by the Atlanta Falcons. Johnson was a fifth round pick of the New England Patriots. Sullivan's star quickly faded in the NFL but Johnson played seven seasons as a running back with New England plus one year in the old USFL. He rushed for 2,017 yards and 13 touchdowns and caught 161 passes for 1,807 yards and nine scores.
Those low-key quarterbacks from the past were gentlemen who were loved and respected by their teammates. And for many years, each has suffered the private pain of cancer. Thinking back on that afternoon in Athens so long ago, I wonder how different life might been for Pat Sullivan and Andy Johnson if the results on the scoreboard had been different.