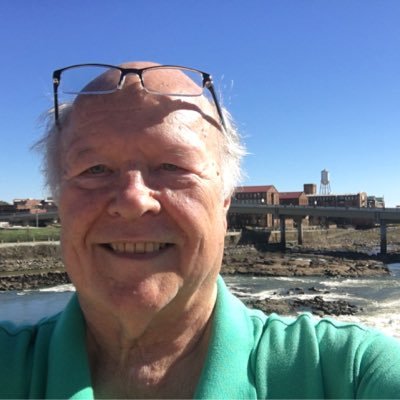 Sixty-one games into a grueling season Scott Miller's scratchy throat was in need of rest and relief. There was still baseball left to be played so Thursday night the 63-year-old play-by-play announcer sequestered himself in his hotel room while Columbus State University's road weary group went out in search of food, knowing they would end up in a chain restaurant where the grub tastes just like the place they ate last week.
Miller understands this better than most folks. He's on a road trip that began in 1977, riding shotgun with four head coaches for 41 years and more than 2,000 baseball games. Players from the Cougars' starting lineup that first season qualify for AARP and might be the third baseman's grandpa. But with his favorite team two victories away from a second NCAA Division II World Series trophy, Miller was in a hotel room in Cary, N.C. nursing a voice that has never let him down.
No one is happier that the veteran broadcaster is in North Carolina than Greg Appleton. The affable head coach of the Cougars is the only coach at the World Series who travels with his own play-by-play guy. At this point in his career, Miller is almost a novelty, but he's a novelty appreciated by the coach and a roster of players who know very little about AM radio.
"But they listen to his calls and they appreciate his calls," said Appleton, who has headed the Cougars baseball program since 1997. "They think it's pretty cool that we have our own announcer and that's he's on our side."
Yes, he is on their side.
For in a profession where sportscasters aren't supposed to cheer in the press box and wear neutrality like a badge of honor, Miller is an unabashed "homer." He has never ripped a double down the line or swished a three-ball from the top of the key but he thinks of himself as a Cougar whether the season is baseball or basketball.
Known as Uncle Scotty, he was a rock 'n' roll DJ when he came to Columbus in 1977. FM radio was emerging and fresh out of Athens, Ga., he became the morning man on WCGQ giving him a license to be as wild and goofy as the law would allow. 107Q had the big signal and big sound and Miller became the big man on the dial.
Other things were also on his mind. Columbus College (as it was known) was minutes away from the radio station and the school had a budding athletic program. What they didn't have was a media presence. So without bothering to mention this to Chuck McClure, his boss and the owner of McClure Broadcasting, Scott made an appointment to visit campus and introduce himself to Sonny Clements and Charles Ragsdale — the basketball and baseball coach, respectively.
From those introductions grew a broadcast relationship that thrives after more than 40 years. And the deepest relationship he fostered would be with the late Herbert Green — CSU's men's basketball coach for 25 years. The coach and the announcer became roommates on road trips and Miller was the voice of Green's 481 victories.
"They were almost brothers," Appleton says. "They thought the same. They liked the same things. They were together for the highs and lows and the good and the bad. Their friendship got them through those tough moments. Herbert was also a big baseball fan. He manned a grill and cooked hamburgers at our games and even took road trips with the team."
In 2002, Green joined the Cougar baseball team in Montgomery, Ala. for the College World Series. He was their biggest cheerleader. Miller was behind the microphone and many believe it was his finest hour. His body of work is preserved on a CD and which Appleton says is his most cherished possession.
"I still get nervous listening to it," Appleton says.
Every member of CSU's championship team was presented a copy of that classic CD. "I'll bet during baseball season those guys still get that CD out and listen to it," the veteran baseball coach says.
There was drama and excitement and Scott Miller captured it all on radio, as announcers have been doing for decades. It is common for new listeners to comment on his talents and how he is too good for a market this size. Appleton believes he stayed because he wanted "to put family over career," meaning wife Peggy and daughter Lauren.
His time has not always been joyful.
In 2003, the Cougars were on a roll led by high-scoring backcourt star Jed Bedford. At a Sunday afternoon practice session at the Lumpkin Center, the team captain died on the court after draining a long jumper. Green was never the same and Miller reflected his friend's lingering sadness.
But the worst was yet to come for Miller, the university and the community. Retired from coaching, Green was director of the Columbus Sports Council. On a summer night in 2015, word sadly spread that the beloved coach had died of a heart attack.
His funeral service was held at the Lumpkin Center, the scene of many exciting moments. His remains laid in state near mid-court — not far from where Bedford's body hit the floor with a thud.
The primary eulogist that afternoon was Scott Miller. His poignant remarks had the rhythm of the play-by-play of an overtime thriller.
The announcer's trademark catch phrase — repeated during games he calls on News Radio 540 — urges listeners to "find their lucky spot" when victory is on the line. During his best friend's eulogy, he talked about the Hall of Fame coach finding his ultimate lucky spot.
Everyone concerned knows Herbert Greene would have been in North Carolina this week to support the Cougars and Appleton in the College World Series. Miller took along a favorite portrait of Green that he has aken to every game so Green could cheer the Cougars.
Friday at 1 p.m., CSU plays Florida Southern University for a second straight day. The winner plays for the championship on Saturday. Raspy voice or not, Miller will be behind the microphone as he has been for more than 2,000 other Cougar baseball games. He'll grit his teeth, talk about that lucky spot and hope for a repeat of that previous World Series appearance 16 years ago.
After their long partnership, Gregg Appleton understands the value of what Scott Miller does when the game is on the line. The head coach smiles when he hears opposing fans say: "That radio guy you've got is really good." Appleton has watched Miller do his job out in the sunshine under a makeshift tent using his cell phone and seen him perform in air-conditioned press boxes.
Despite the crappy food and bad hours, this is still his moment.
"He still gets a charge out of the games," Appleton says, "and he's still good at what he does."