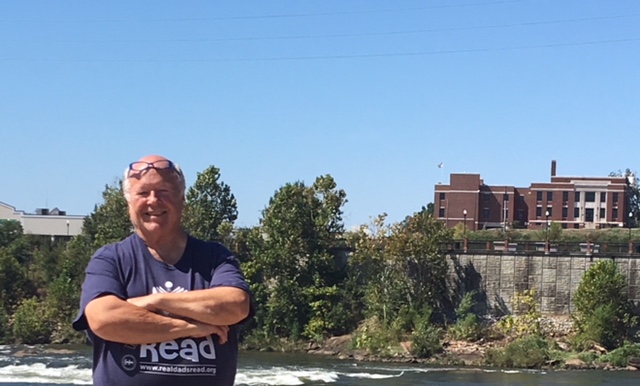 Give Phil Marino a well-deserved standing ovation.

He has been head football coach at Columbus High School for almost a decade. His service is more impressive when you realize that other than the Blue Devil headman the only active coach in town with more than three years of service at the same school is Hardaway's Michael Woolbridge (2016-2018).
Marino has been in coaching nearly 40 years and his approach to the game takes you back in time. He has weathered some of the city's most dismal years at a magnet school that celebrates good test scores and winning baseball. Not football.
The Columbus High football coach had something to talk about in 2015 when his Blue Devils went 7-4 and won a region title — the school's first in 25 years. But the Indiana native and Ball State grad is still grinding. His overall record at CHS is 23-68, and that 2015 success story is the only winning season in his tenure.
Through it all, Marino keeps fighting and so do his teams during a time when high school football in Muscogee County is at one of its dreariest stages. Marino and Woolbridge somehow hang on, but five of the other six public schools in the community will have new head coaches when the 2018 season begins — though three of them come out of the recycle bin.
The names of the five newcomers follows:
Corey Joyner at Carver

Joe Kegler at Jordan,

Andre Slappey at Kendrick,

Dave Nurnberg at Northside

Justin Newman at Spencer.
Since the glory days of Carver's Dell McGee (2005-2012) and Shaw's Charles Flowers (1992-2005), few local coaches have stayed in one place long enough to build meaningful programs, much less contend for trophies.
The challenges really begin at Jordan, where victories continue to be as scarce as a finished road project in Columbus.
The Red Jackets haven't had a winning season since Randy Bishop shocked the city in 1993. However, former coach Justin Newman's 2-18 performance at Jordan was enough to earn him a job across town at the new Spencer High. Newman replaces Pierre Coffey who became assistant principal at Baker Middle School.
The Red Jackets hiring of former Carver coach Joe Kegler is promising. He was the head coach at his alma mater for three seasons after serving three years as offensive coordinator under McGee. Kegler's record was 28-7 and his 11-2 record in 2013 earned the Tigers a berth in the state quarterfinals. For the past two years he was an assistant coach at Stewart County. If Kegler can even transform Jordan into a .500 team, he will be a keeper.
At Northside, Morgan Ingram stepped down after five seasons with the Patriots. His successor, Dave Nurnberg, returns to town after seven years in two states — including a stint as head coach in Winterboro, Ala. Nurnberg was at Jordan from 2009 to 2011, and the Red Jackets went 0-10, 3-7 and 4-6.
Veteran coach Al Pellegrino struggled in his first year at Shaw going 1-9. The Raiders, once a state power under Hall of Fame coach Charles Flowers, haven't had a winning season since Kyle Adkins went 6-5 in 2012.
Woolbridge came home to his alma mater in 2016, inheriting a 1-9 team at Hardaway. He became the Hawks' 15th head football coach since the school opened in 1965. In two years, Woolbridge has recorded a 9-10 record.
Coming on the heels of the school being a state football power, Carver has had four head coaches since Kegler departed in 2015. The Tigers now turn to Corey Joyner, a longtime head coach at Doughterty County High. In six years at the Albany school he compiled a 10-48 record but took the Trojans to the playoffs in his final two seasons. Joyner played college football at Georgia Southern University and professionally for the Montreal Alouettes of the Canadian Football League.
Kendrick continues to struggle. The Cherokees have won only one game in each of the past two seasons and they haven't made it to post-season play since 2013. Kendrick has hired Andre Slappey, a longtime assistant coach at his alma mater, Americus-Sumter High School. Slappey is a graduate of Albany State, an All-American lineman and the 1997 Player of the Year in the Southern Intercollegiate Athletic Conference.
Citywide Athletic Director Jeff Battles is a former head coach at Hardaway and Pacelli. He cares. He really cares. But what about the school superintendent, other citywide administrators and members of the school board? And what about local football fans … do they still care … and if they don't care anymore, what can be done to rekindle their interest?
Consider these questions about the state of high school football?
Is there a way to slam shut the system's revolving door of coaches?

Is the problem poor attendance?

Is the problem a lack of financial support?

Is there a reason Muscogee County hires few quality coaches from out of town?

Is it because our coaching salary supplements can't compete with other counties?
So do something … before it's too late.
Flowers and McGee were able to find some answers in their generation. Maybe those two coaching legends and others who found success here should be brought home to help Muscogee County find new answers for today. College football coaches in the region might welcome a chance to get involved for improved high school programs in this area would help their cause.
If stakeholders don't do something, winning games and winning records might soon be out of the question— other than in very isolated situations. That's why Jeff Battles and the eight public school football programs in Muscogee County need help.
Is anyone listening?
###
Muscogee County Football at a Glance
Three New Coaches Look Very Familiar:  Joe Kegler — Carver and Jordan; Dave Nurnberg — Jordan and Northside; Justin Newman — Jordan and Spencer.
One-and-Done Coaches:  Joe Arnold of Carver (2017); Dremail King of Carver (2016); Brian Barnhill of Columbus (2008); Scott Frederick of Columbus (2000); Robert Dorch of Hardaway (2001); Gerald Turner of Jordan (2008); Tony Graziano of Jordan (2007); Craig Fitts of Shaw (2006).
Recycled Head Coaches:  Calvin Arnold (Carver and Spencer); Joe Kegler (Carver and Jordan); Morgan Ingram (Hardaway and Northside); Oliver Davis (Kendrick and Spencer); Paul Cates (Columbus and Northside); Julian Newman (Jordan and Spencer); Dave Numberg (Jordan and Northside); Dwight Jones (Hardaway and Northside).
A Contemporary History of High School Coaching

CARVER
Corey Joyner 2018
Calvin Arnold 2017
Dremail King 2016
Joe Kegler 2013-2015
Dell McGee 2005-2012
Wallace Davis 1976-2004
COLUMBUS
Phil Marino 2009-Present
Brian Barnhill 2008
Paul Cates 2001-2007
Scott Frederick 2000
Bobby Howard 1990-1999
HARDAWAY
Michael Woolbridge 2016-Present
Jeff Battles 2008-2015
Morgan Ingram 2006-2007
Mike Glisson 2002-2005
Robert Dorch 2001
Dwight Jones 1995-2000
JORDAN
Joe Kegler 2018
Justin Newman 2016-2017
Jim Brown 2012-2015
David Numberg 2009-2011
Gerald Turner 2008
Tony Graziano 2007
Leo Ellerbee 1995-2006
KENDRICK
Andre Slappey 2018
Cedric Ware 2015-2017
Jerry Dukes 2008-2014
Ahmand Tinker 2003-2007
Oliver Davis 1994-2002
NORTHSIDE
Dave Nurnberg 2018
Morgan Ingram 2013-2017
Paul Cates 2008-2012
Nathan Laney 2006-2007
Dwight Jones 2004-2005
SHAW
Al Pellegrino 2017-Present
Chuck Stamey 2015-2016
Kyle Adkins 2012-2014
Jamie Fox 2010-2011
Scott Newman 2007-2009
Craig Fitts 2006
Charles Flowers 1992-2005
SPENCER
Justin Newman 2018
Pierre Coffey 2015-2017
Calvin Arnold 2013-2014
Oliver Davis 2007-2012
Richard Reese 2005-2006
Collins Jones 1990-2004