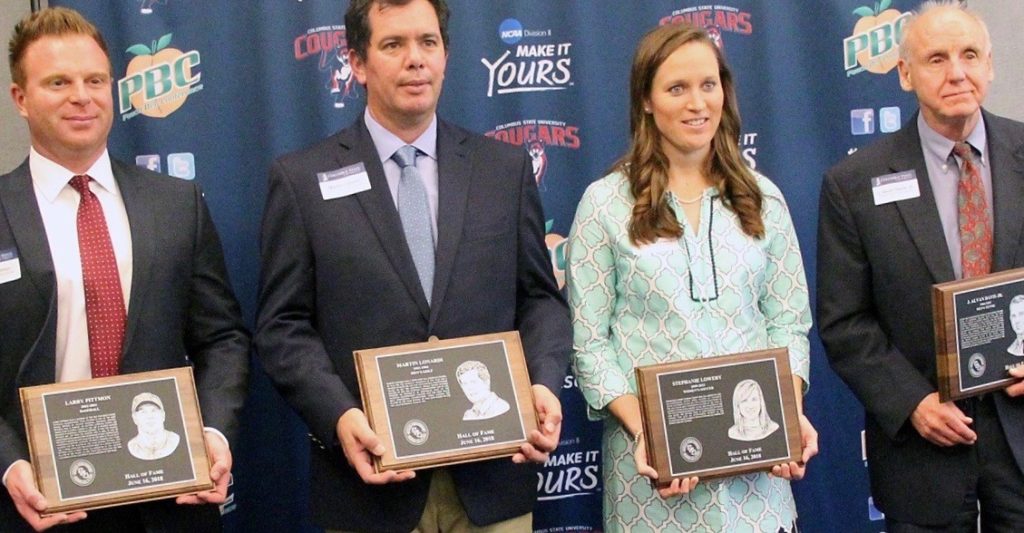 Four new members recently joined the Columbus State University Athletic Hall of Fame in ceremonies held on campus at the Frank G. Lumpkin Center.
The hall of fame's Class of 2018 represents several generations of men's and women's sports at CSU. The latest inductees are:
Men's tennis player Jay Alvan Davis Jr.
Men's golfer Martin Lonardi
Women's soccer standout Stephanie Lowery
Baseball player Larry Pittmon
"This was a special day and a great event," CSU Hall of Fame President Scott Miller said. "Each of these student-athletes were very deserving and we are glad to welcome them into the CSU Hall of Fame."
A standout more than 50 years ago, Davis Jr. competed at the junior college level at then-Columbus College in 1964 and 1965. He became the first student-athlete in school history to compete at a national tournament in 1964, going undefeated in Georgia State Junior College conference play. Davis Jr. won the GSJC singles and doubles titles to reach the National Junior College Tournament, where he advanced all the way to the finals.
A three-time All-American, Lonardi will go down as one of the school's most outstanding golfers. The 1992 National Freshman of the Year, Lonardi helped the Cougars to national championships in 1992 and 1994. He set the individual single-round scoring record at the 1992 National Championship and was the 1993 national individual runner-up. Lonardi won the first ever Peach Belt Conference Championship in 1992, was PBC Player of the Year and an All-PBC selection in 1993 and 1994.
One of only two three-time All-Americans in CSU soccer history, Lowery is one of the most decorated Lady Cougars to come through the program. She earned All-American and All-Conference status in each of her three seasons at Columbus State, and was 2010 PBC Player of the Year. Despite playing just three years, Lowery ranks in the top five in CSU history with 43 goals and 105 points and holds the record with 19 game-winning goals. She was also strong in the classroom, garnering NSCAA Scholar All-American status in 2011.
A member of the 2002 Columbus State baseball national championship team, Pittmon was one of the best power hitters in Cougar history. A career .345 hitter, he hit 36 home runs in a three-year career, ranking seventh in program history. Pittmon's senior season in 2004 was one of the best in CSU history. He hit .392 with 21 homers and 75 RBIs to earn PBC Player of the Year and All-American honors. His 21 home runs are tied for the fourth-most in a single season by a Cougar.
In addition to the hall of inductions, CSU handed out a pair of special awards.
Long time supporter John Shinkle was the recipient of the Herbert Greene Golden Cougar Award — the highest honor bestowed upon a donor by the CSU Athletics Department. Shinkle is branch manager of Stifel, a brokerage and investment banking firm in Columbus.
CSU also honored Bruce Walker and Schuster Enterprises with the Sonny Clements Athletic Director's Award, given to a person that has helped create a stronger foundation for the Columbus State Athletics Department.