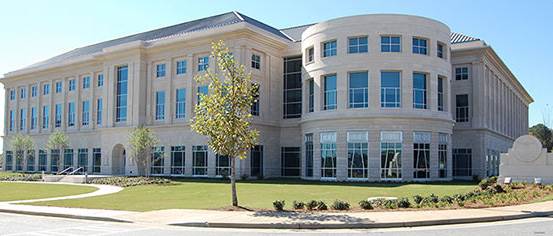 In his time, T. Hicks Fort was a force of nature. He was a swashbuckling attorney who specialized in major murder trials. He was a notable judge on the Chattahoochee Judicial Circuit and a loyal member of the Muscogee County School Board for more than 30 years, serving as chairman from 1924 to 1941.

His contributions are almost forgotten now, but the local school that bears his name will honor his memory on Friday as the Fort Service Learning Center celebrates its 40th anniversary at a 12 p.m. ceremony that features honored alumnus Daniel Blackman as the keynote speaker.
Fort helped organize and found the Columbus Water Works and led the bitter struggle for a bond issue. He was also active in separate political campaigns that helped build  the Dillingham Street Bridge, City Hospital and the 14th Street Bridge
At one point, he represented 13 straight clients in capitol cases who did not get the death penalty.
Blackman, a veteran of 10 years in public and intergovernmental affairs, will be the honored guest on Friday as the middle school celebrates service to scores of young people in northeastern Muscogee County that began in 1978.
The property at 2900 Woodruff Farm Road was originally donated to the school district by the T. Hicks Fort Family Foundation in 1978 to be used as a junior high school. It became a middle school in 1992. Resolutions from the city and state noting those landmark events will be part of this week's program.
Blackman has served a variety of agencies and organizations, including the Environmental Protection Agency, U.S. Green Building Council, the Georgia Conservancy, U.S. Department of Agriculture, U.S. Department of Energy, and the City of Atlanta's Office of Sustainability.
He was appointed by the Chairman of the National Wildlife Federation to serve on an Environmental Policy Commission co-sponsored by members of the United States Congress to address renewable energy and public health issues in disadvantaged communities throughout the country.
The Fort graduate was named a 2010 Outstanding Atlanta recipient, is a member of the 2011 Institute for Georgia Environmental Leadership and 2012 LEAD Atlanta class, and was appointed by retired Chief Justice Leah Ward Sears to the Georgia Supreme Court Commission on Children, Marriage and Family Law.
Blackman serves as the Senior Vice President for Environmental Affairs and Sustainability for Capital Fortitude Business Advisors where he manages client relationships which include business and political leaders, religious leaders, government allies of the U.S., corporate social responsibility, intergovernmental affairs, and other public affairs organizations.
The program will conclude with a candlelight ceremony in memory of the school's namesake, Judge  T. Hicks Fort, and former principal, Paul Jones.
# # #
For more information, please contact the Muscogee County School District's Office of Communications at 706.748.2034 or communications@muscogee.k12.ga.us.