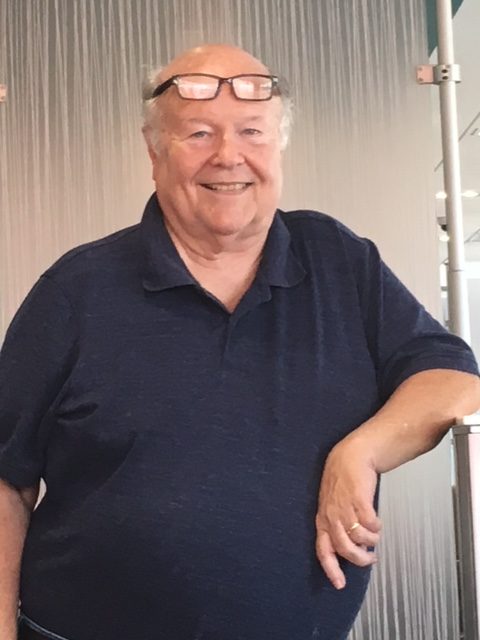 The furnishings in that little room were over the top, like a parlor in a funeral home where folks sit up with the dead. I'm in one uncomfortable chair and this fellow with a cheesy mustache and cackling laugh was across from me, an expensive hairpiece siting on top of his head like a crown. To give us a quiet place to talk, we had been escorted upstairs to that out-of-the-way corner of the Springer Theater, a historic opera house where generations of high-class actors had performed.

Burt Reynolds was in Columbus and he was about to join that iconic list of performers. But we were not talking about his craft or the fact that he was a big time Hollywood movie star. We had been talking about an obscure high school football coach who turned out to be a mutual friend.
"So you know Bobby Nellums," he says, laughing that laugh of his at the thought of his old teammate at Florida State University. "I can't get over that. What a guy he was. You ever noticed his hands? He has the biggest pair of hands I've ever seen."
Reynolds still couldn't believe that I knew Nellums, the head football coach at Columbus High School from 1983 to 1986, leaving the Blue Devils with a 20-21 record. He wanted to know what I knew and I was trying to find out what he knew.
I told him I remembered reading that Nellums used to play fast-pitch softball and that he pitched for some pretty high-class teams around here. Reynolds told me that his rugged old friend was the MVP when they were at FSU in 1956 and 1957. He played offense and defense and was a talented pass catcher for Coach Tom Nugent.
And yes, Lee Corso was one of their Seminole teammates. A future college head coach, he was also Reynolds' roommate at FSU. When we were talking in 1991, Corso and Gameday on ESPN were not as popular as today. Few people at that time talked about what kind of headgear Corso had donned on Saturday morning.
Looking back on our conversation, I realized that despite his arrogant demeanor, Burt really didn't have to talk about himself or his stardom. He was more comfortable talking about a person few people had ever heard about or asking questions of the fellow with the notebook whose job it was being nosy.
Whenever I mentioned "The Longest Yard," he wanted to talk about a pass he caught against Georgia. If I steered the interview back to "Deliverance," or "Smokey and the Bandit," or how many other films he had made here in Georgia, he would ask me what it was like being a sports writer.
"Did you know Bill McGrotha?" he asked. "He was sports editor in Tallahassee."
Mostly, we talked about Bob Nellums and how huge his hands were.
"He still lives here, doesn't he?" Reynolds suddenly blurted out. I said I thought he did, and that's when the actor sent one of his people off to get a Columbus telephone directory. Back from the theater office, the aide handed the phone book to Reynolds who looked up Nellums' number.
Reynolds said he was going to call the retired coach and educator and ask him to come down to the Springer. He was appearing there for two nights, and he was going to leave some tickets at the box office for his former teammate.
Seventeen years later, I really don't know if the two old Seminoles ever hooked up.
HEY BURT, THEY REALLY LIKE YOU!
My mind was visiting somewhere else Thursday afternoon when my cell phone started beeping. Glancing at the screen, there was a news bulletin that said Burt Reynolds was dead at the age of 82. My thoughts immediately went back to 1991, and that hidden little room at the Springer Theater.
I thought of Bob Nellums and his unusually large hands. I discovered out that he died in 2015 and that at FSU he had played both ways as end, fullback and linebacker. In the spring, he threw the discus. I knew he was a coach at Columbus High, but was reminded that he also served as an assistant principal.
I never knew how Burt Reynolds came to be on the stage of the Springer, so I called Paul Pierce. He did not know that the charming actor had passed away and when he heard that unexpected news the stories began to flow.
"I heard about his show from Robroy Farquhar at the Flat Rock Playhouse, the State Theater of North Carolina. He said it was a memoirs show and that Burt had premiered it up there. He told me the show was amazing and that we were interested he would give me Burt's phone number," said Pierce, the Springer's producing artistic director for more than 30 years.
Pierce remained skeptical.
"Robroy told me this isn't what you think it is," Pierce said.
The fee was reasonable. Dates were available. Reynolds was a huge movie star but more than that he was a theater guy who loved being on stage. He also understood what it would take for him to come to the Springer.
When Reynolds got to town, he was more like a kid from Waycross than a star from Hollywood. He didn't make unreasonable demands and he treated everyone in the building with respect. Tickets went fast and the town was buzzing.
Alone on stage on opening night, Burt Reynolds was charming and warm. He seemed at home. He was a master storyteller who made the audience feel as if he was an old friend who had welcomed them into the living room of his home.
Then he stopped.
Near the end of the first act, he apologized to the audience for how warm it was in the theater.
"I know you guys are hot and tired. I'm going to take a break and when I come back we'll cut this thing short," he said, in dialogue that was not in the script.
Pierce hurried backstage, straight to Reynolds' dressing room. The door was ajar. The star was sitting with his back to the door, facing the mirror. A bottle of Chivas Regal sat on the dressing table. Pierce was looking at Reynolds' reflection in the mirror.
They began to talk and Pierce realized he was meeting a brand new Burt Reynolds, hardly the person whose personality dominated television talk shows with his cocky demeanor and charming wit. Pierce told him love was in the air.
"These people would stay here all night," he said.
"Really? They really like it," the actor said.
Pierce thought he was talking to every insecure actor he had ever met. "Burt Reynolds was like a 21-year-old in his first play," he said.
One of his assistants rushed into the dressing room. Reynolds explained that she was at every one of his performances and that at intermission she always went into the ladies restrooms and listened to what people were saying about the show.
"So how's the bathroom review?"
"You're a hit," she said.
Burt Reynolds was a hit at the Springer and a huge movie star in the 1970s and 1980s. But some of his friends have since told Pierce that the insecurity he observed in Columbus was common and real when the cameras were off. Legendary actor Hal Holbrook, a frequent visitor to the State Theater of Georgia, was a co-star with Reynolds in the popular TV series "Evening Shade."
"He was uncomfortable on the set and he was always showering the cast and crew with lavish, expensive gifts," Holbrook said. "I finally had to tell him: 'You don't have to do this to make them like you."
Once the announcement of Reynolds death was made Thursday afternoon, former college roommate Lee Corso issued a poignant statement about the passing of his dear friend of 64 years. A wisecracking video in which Corso laughs about Reynolds' ability to attract beautiful women was posted on YouTube later in the day.
"We would send him out for bait. He would go to the student union and bring two girls back. One was gorgeous and the other one was ugly. He always took the beautiful girl and gave me the ugly one. But you know what I found out early? Burt Reynolds ugly girlfriends were better than anything I could get on my own."