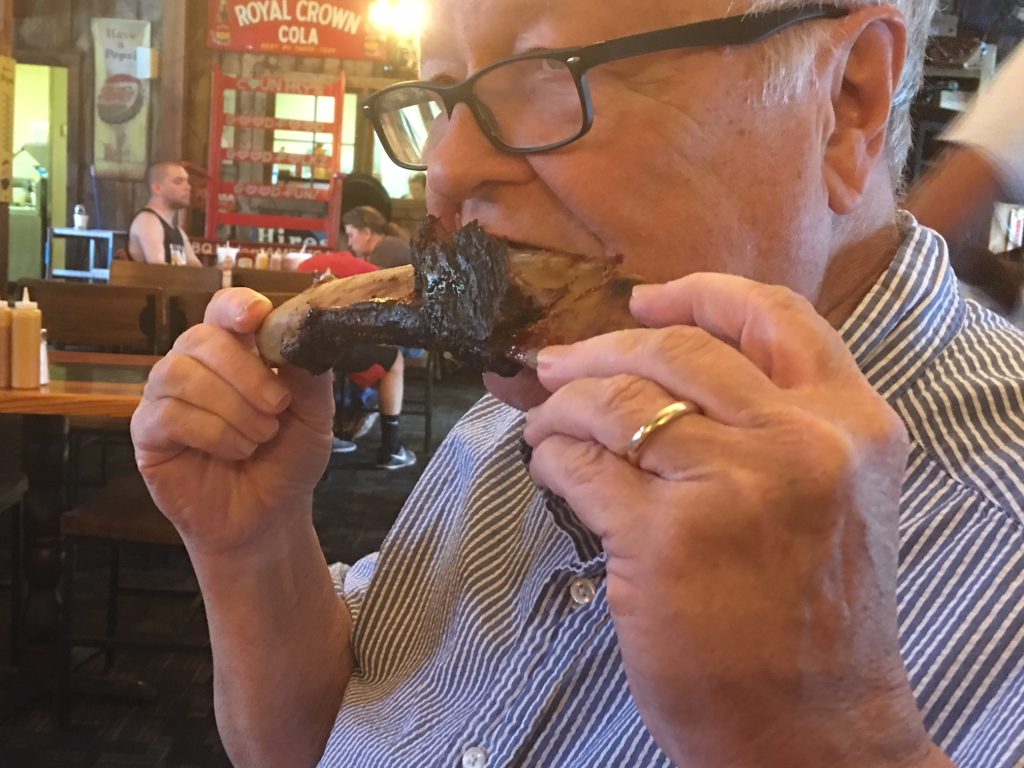 Over the past 40-something years I have eaten more meals prepared in one of Jim Morpeth's many kitchens than I have my own — and the bearded grill master never expects me to clear a table or wash a dish.

I've dined at his places all over Columbus, Phenix City and Auburn. I have had ribs and chicken that was fried, grilled, barbecued and cooked with wads of dumplings. Even fried chicken livers. I've had smoked turkey and country-fried steak like Mrs. Weaver used to serve.
I've ordered corn on the cob, corn off the cob, creamed corn and corn casserole with jalapenos. I've even enjoyed pastrami sandwiches that were tastier and taller than the ones they serve at Jewish delicatessens in Manhattan.
When he's traveling, Jim eats in restaurants all over the country — whether they have a wood-burning grill out back or not. He picks up ideas for new dishes, then he comes home and adapts. I usually try them. Most of them I order more than once. Some I never want to taste again.
His latest is The Lone Bone — available as a platter or a sandwich. (I can't picture it between pieces of bread though.) I asked our server if any of her customers had ordered one and she said about five on Saturday alone.
"What's it like?" I said. "Is it big?"
She made a slicing motion across her elbow and said it was about as large as her arm — from the elbow to the tips of her fingers.
That sold me.
"Bring it on," I said.
So she did. With two sides. And a special sauce.
I've never seen a beef rib as large as that before. No wonder they advertise that they have to leave it on the fire for 12 hours. It was a monster.
The sauce was a dark colored mixture that tasted vaguely familiar. Country's calls it their shoop sauce. That's a tasty recipe originally concocted for Buck & Clyde's, a restaurant Jim opened out on Woodruff Road several years ago that should have been a keeper. He named the place after two dogs that his wife Marsha had when they married.
I took before and after photographs of The Lone Bone so that you could see just how large it was. I really didn't need a camera. Two big blobs of sauce on the front of my shirt were also souvenirs I took home.
It is Country's special for the month of May. When you try this dish, don't think you're going to pick up the rib and gnaw on it like you would a plate of Baby Backs. You start with a manly knife and a fork. I recommend dipping the meat in the sauce instead of pouring the sauce on top. But be careful, so you don't decorate what you're wearing like I often do.
My sides were corn casserole and French Fries. But it doesn't really matter what dishes you chose. You are too busy doing curls with that big ole bone to care. The cost is $15.95, so it's not cheap.
Near the end of my meal, when I thought no one was looking, I did pick up the bone and chew on it, not wanting even a bite of gristle to go to waste. (That's when you need a roll of paper towels and a bottle of dishwasher detergent to care for your hands and face.)
My rib bone was pristine when I finished eating. Nothing had been wasted. Then I hated to just leave the bone alone on my metal platter. Surely, Jim and his crew can think of a viable use for those used rib bones.
I enjoyed the meal, but fried chicken remains our meal of choice. We usually get the all-breast platter ($9.99) and a veggie tray ($6.99) so we can share the sides. (My backup is the rib and fingers combo $11.99.)
With large iced teas, of course. Extra lemons, please.
The Lone Bone won't replace fried chicken. And when summer veggies are in, we'll be in front of the line for creamed corn by the jug. I will order another Lone Bone before they go away. But I do wish Mr. Morpeth would consider including a roll of paper towels with my order and a complimentary cleaning bill for my shirts.