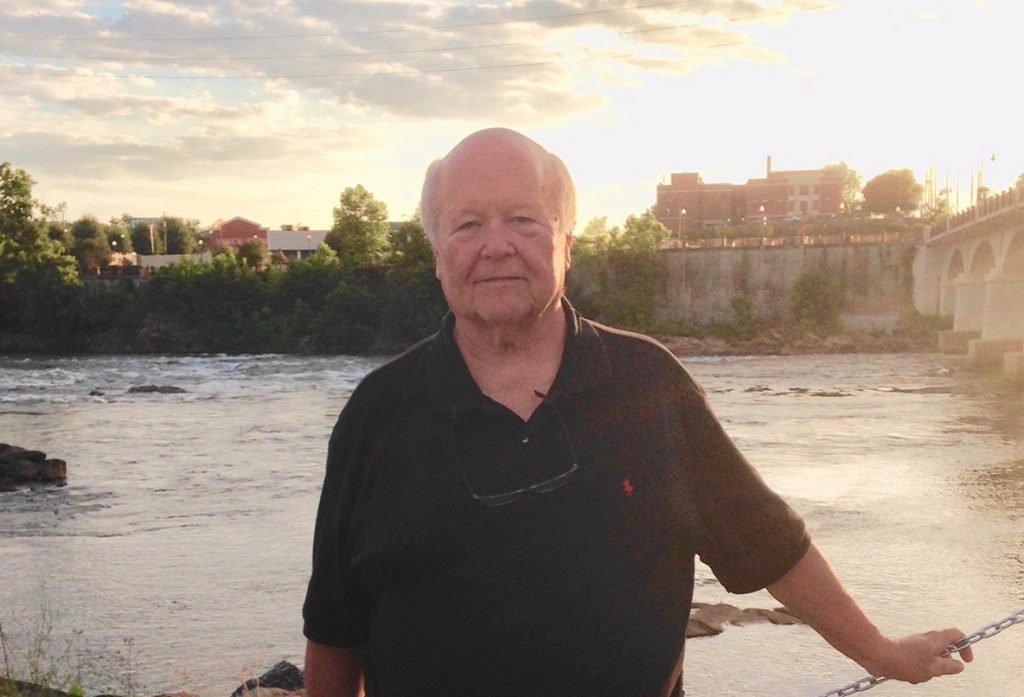 Inside his flag-draped burial vault was an empty Army uniform with stripes on the sleeves and a name tag on the chest, The jacket was decorated with medals and ribbons appropriate to a war that history sometimes forgets. But SFC James Silas Streetman Jr. was never forgotten, thanks to a relentless mother who refused to forget and for 68 years forced others to remember a son who never came home from war.
The patriotic atmosphere at McMullen Funeral Home and Crematory on Friday night would have warmed Lillian Vondula Hurtt Streetman's soul. She died in 2005 when her 97-year-old heart grew tired of waiting for his return. Her family knows she has been there in spirit this week and that she has appreciated the welcome her son has received.
At every stop, there was honor and respect.
The Patriot Guard, a band of veterans on motorcycles greeted people at the door of the funeral home. Inside that door stood a handmade cross that was crafted from tree limbs. Certificates from a government that honored the Korean War veteran's service were on small pedestals. An Army chaplain quietly ministered to the family. Old photos were displayed, including one of a teen-aged Streetman in uniform that was always in his mother's living room.
Most of his surviving siblings were there along with relatives that he never got to meet. When their mother passed away these loved ones picked up her dream and offered their DNA to a project that was founded to identify the remains of unknown soldiers from the past.
Like her mother, Sharon Streetman Ray, fought to see her big brother — the one who used to rock her to sleep — come home to Georgia.
"I knew he was out there," she says. "I could feel it."
He was killed in action in 1950. His remains were listed as unrecoverable in 1956 and remained in Korea until Streetman was one of 847 unidentified Americans whose remains were sent to Hawaii for interment in the National Memorial Cemetery of the Pacific.
In 2017 the Defense POW/MIA Accounting Agency requested disinterment of 10 Korean War unknowns for possible identification. Streetman was miraculously identified and after decades in foreign soil his unusual journey home began.
It was a journey that would not have been possible without the sergeant's 5-foot-1 mother who never stopped believing and for decades wrote the government at least one letter a year asking for information about her son.
"Granny never gave up," says great niece April Mae Smithwick.
In 1994, when Streetman was deemed KIA, the family secured a resting place for him at the Fort Benning Main Cemetery. A service was conducted and though his remains weren't there that spot became be a place his mother could visit and bring flowers.
"Even then she didn't stop hoping," Smithwick says.
####
Growing up in Columbus, James Silas Streetman's seven brothers and sisters called him Junior. He attended three different elementary schools and he was a student at Baker High School during World War II. He was also a paperboy, spending the hours after school was dismissed delivering the Columbus Ledger to people all over his neighborhood.
He was several months shy of his 17th birthday when one of his aunts helped him fib about his age so he could enlist in the U.S, Army in 1946. He served 18 months before being discharged, spending a lot of his time in Japan.
"He came home but there were no jobs here in Columbus. A recruiter put some money in his pocket and he reenlisted in 1948," his brother Bobby recalls.
He went back to Japan and his infantry unit was one of the first ordered to Korea. It was called a police action but it sounded like war. Streetman was near the town of Taejon, Republic of Korea in 1950 when he was killed in action on July 22, 1950.
Information about his death was sketchy and his remains were not recovered which gave his mother hope that he might be a Prisoner of War. She reached out to some of his Army buddies looking for clarity.
Letters from his best friend, Lt. Joseph Guzniczak, gave her a glimpse of Army life. He told her about a young Japanese girl teaching her son to dance and about how Streetman was the star pitcher for a championship softball team:
While in Japan, Jimmy and I were in the same platoon, both Sgt's, and shared the same room and military service, when out in the field, pitched and shared the same pup tent and on maneuvers the same fox hole. As far as his military life was concerned – he was above average, his knowledge of the various subjects relating to the Infantry and its weapons. He took pride in everything that he did and did it well. As far as personal appearance was concerned, there were few that could equal him. He saw to it that all his clothes were tailored and kept them pressed at all times. I just kidded him as to how he could move with his clothes so tight. To sum it up, all in all, as far as the Army was concerned, he was a good "sharp" soldier and a credit to the service, which can be proven by his efficiency reports that have to be made out from time to time.
He also wrote about the day that his buddy died.
Around 5:00 PM while going forward to help knock out a machine gun blocking the road and preventing our trucks from passing – I saw Jimmy sitting in a truck with some other wounded – Didn't have time to talk much as an officer was shouting for our party but did manage for a few minutes of talk. He was sitting up and looked alright except he said he got light-headed when he stood up – asked for some water and a cigarette and he was calm and had no trouble drinking or managing his cigarette. He inquired where I was going and jokingly said to hurry up and get rid of that machine gun nest and that when he was back in Japan in a hospital on nice, white sheets he'd think of me and might even send a postcard. Well, Mrs. Streetman, that was Jimmy himself – but knowing him as I did, that bantering talk conveyed much more. So, with the officer yelling for me and my men we parted with "take it easy", "watch yourself", and "I'll have a beer on you in Japan."
That was their last conversation. Guzniczak described his friend's wounds and said they didn't seem serious. The last time he saw Jimmy Streetman, he was sitting up in back of that truck. That offered renewed hope to a mother who desperately wanted to believe her son was alive. After he got out of the Army, Guzniczak — who signed his letters "Pollack" — came to Columbus to meet the Streetman clan. He brought along his sister.
Years later, after her mother passed away, Sharon Streetman Ray became the keeper of the family flame. That wasn't a chore to her for though she was a baby when her uncle first enlisted she remembers when he was discharged and came home.
"I loved him," she says. "He took care of me."
She is also old enough to remember the night a telegram arrived informing her mother that her second oldest child was missing. Ray and her siblings would be at their mother's side through the years of waiting.
Ray worked with various government agencies to identify her brother's remains and to bring him home though she wondered if she would live long enough to enjoy that moment. She was determined that one day he would be buried in his native soil. She didn't even want him interred at Fort Mitchell on the Alabama side of the Chattahoochee River. She wanted him to be at Fort Benning.
Her work has not always been pleasant.
The government sent stark reminders of war such as descriptive documents and graphic photographs. "There was a picture of his skeleton. 'You don't want to look at this that one,' I was told. My answer was 'Yes, I do.'"
####
This week her brother finally came back home.
He arrived in Atlanta aboard an American Airlines jetliner. Similar scenes were being repeated around the country as the unknowns made it back to the USA. This was a moment the Streetmans always believed would come. Ray was waiting on the brother she never got to know under the wing of the aircraft. She was accompanied by Army Casualty Officer SFC Brandon Wood, funeral director Allen McMullen and the driver of the hearse.
Joining them was an Army detail, members of airport security and representatives of the Georgia State Patrol. All of them would link up with a motorcycle unit from the Patriot Patrol that was waiting for them in the cargo section preparing for the ride to Columbus.
Ray described the scene on her Facebook page:
All of the military personnel stood at attention, and we with our hands over our hearts, saluted his American flag covered coffin. A lot of the employees of the airlines stood outside in the rain with us, showing their respect and patriotism. It was a very moving ceremony for all of us. Then we all rode over to a cargo area, to meet with our motorcycle escorts. These brave, devoted men rode about a hundred miles in the driving rain, keeping our formation and guarding the hearse carrying my brother and his Army escort. No other vehicles were allowed near him and the Interstate was mostly cleared around us. Just before we got into Harris County, where one of their sheriffs joined us with more blue lights blazing, one of the motorcycles between our van and the hearse, began to veer off the road. He went into the wet, grassy median and lost control of his bike, while trying to correct his path out. The motorcycle flipped and threw him facedown in the grass yards away. We were afraid for him, and almost stopped, then saw that the two riding with him, along with the security behind us had stopped to assist. SFC Wood made the decision to keep our formation and follow our soldier. Those in the front of the hearse did not know about the accident. We heard later that the rider would be all right. We all pray that is true. Joining us at the Muscogee County line were more sheriffs who had all of the on ramps blocked until after we had passed. This continued on into Columbus with the county and the city of Columbus law enforcement officers guarding us all the way to McMullen Funeral Home and doing a drive through of the parking lot in salute. The flag in front of McMullen's is at half mast. There was another ceremony in removing my brother, my personal Hero, from the hearse and taking him inside to the Azalea Room, where he will rest until Saturday, when he will go on his final ride home to rest in peace among fellow soldiers.
Saturday afternoon, following a traditional memorial service at the Infantry Chapel, SFC James Silas Streetman Jr. was buried at Fort Benning's Main Post Cemetery — the place his family wanted him to reside.
He received full military honors and his family received the traditional folded flag, a hand salute and a warm thank you from a grateful nation. They also received medals that the soldier earned but never got to accept.
Captain Joel Kelley, an Army Chaplain assigned to the Casualty Assistance Office, officiated at the service. He had presided at many military funerals but never under such extraordinary circumstances. He adapted his usual remarks to fit the long-awaited homecoming.
Sharon Streetman Ray helped plan the service for her big brother. She didn't begin to give the program serious thought until they were certain that Streetman was really coming home. She selected a song: "Don't Cry for Me," and a poem: "Bury Me With the Soldiers."
The Rev. Charles R. Fink is the author of the poem. Before taking his vows as a Roman Catholic priest Fink served as a sergeant with the 199th Infantry in Vietnam. The words of his powerful poem were appropriate and piercing:
We'd come from different worlds
To live in one where no one belongs,
I didn't even like them all;
I'm sure they'd all agree.
Yet I would give my life for them,
I know some did for me..
So bury me with soldiers, please,
Though much maligned they be.
Yes, bury me with soldiers, for
I miss their company.
We'll not soon see their likes again;
We've had our fill of war.
But bury me with men like them
Till someone else does more.