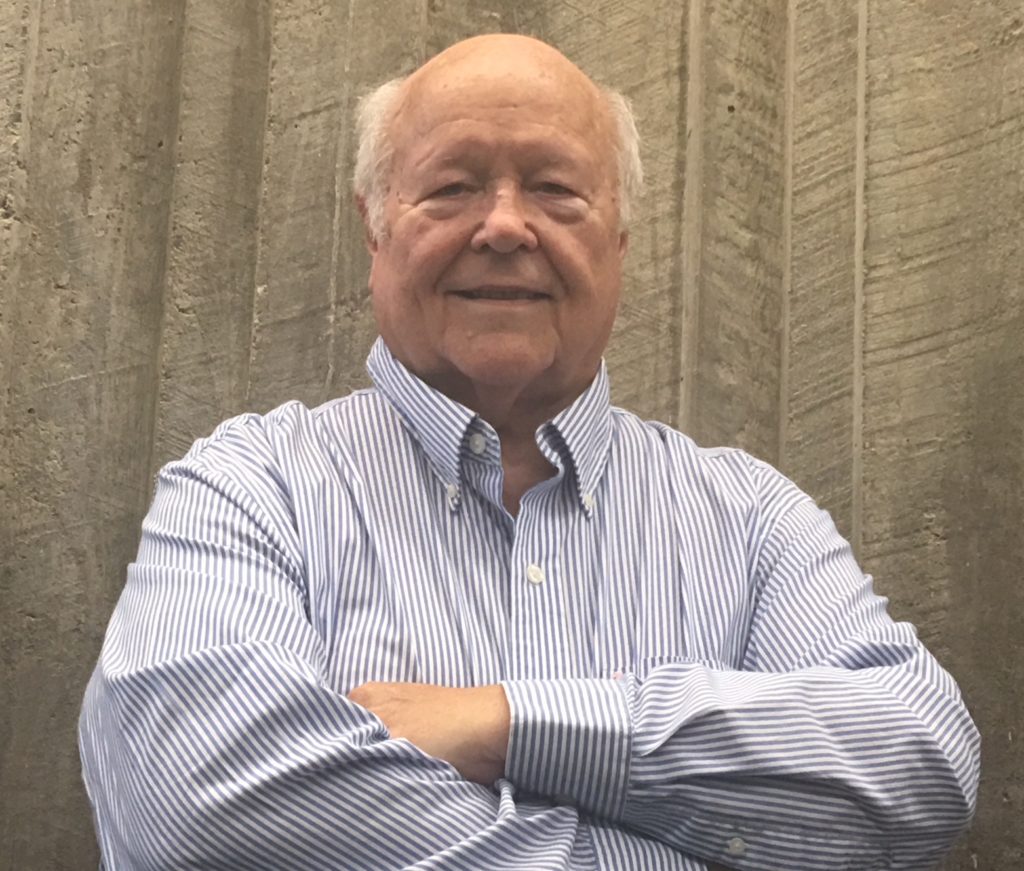 It was the 4th of July 1944.
Red, white and blue flags were flying at the old Muscogee County Courthouse but it was more than just another Independence Day. Soldiers from Fort Benning were crowding into downtown for the celebration. The country was at war and there were fleeting signs of victory.
It was also Election Day. Locals were coming to town to vote … at least white Democrats were anyway.
No one imagined that on that very day in that beautiful old courthouse in Columbus, the actions of an uneducated part-time preacher and barber would forever change Georgia's elections and, in many ways, the lives of its people.
For that was the day that the Reverend Primus E. King decided to crash an exclusive party.
King was not there on a whim. He was carrying out a detailed plan concocted by Dr. Thomas Brewer and other African American leaders in Columbus. Funding for the expensive legal effort that would follow came from Mrs. Walter Lunsford, the mother of current tax commissioner, Lula Lunsford Huff.
And all Primus King wanted to do was vote.
A Muscogee County deputy turned him away then escorted him out of the building. The barber knew what to do next. He walked straight to the office of the Honorable Oscar Smith, a white attorney who knew he was coming.
Thus began a historic lawsuit that after two years of serious legal maneuverings ended up in a courtroom in New Orleans. There a federal judge called for the end of Georgia's All-White Primary.
It was a revolutionary moment in Georgia politics for this was the generation of Eugene Talmadge, a suspender-popping race-baiting politician from rural Georgia who between 1926 and 1946 was elected Governor of Georgia FOUR different times.
An article in a 1942 edition of the Saturday Evening Post described him this way:
He is lean and raw, with cold suspicious eyes staring through horn-rimmed glasses. A shock of black hair hangs across his forehead. He has a jutting jaw and ham-brown complexion. His wide flat mouth clutches a black cigar and emits soothing words to the Georgia countryman. It's a sort of a lullaby for his poverty when he hears Talmadge shout."
People were either for him or AGIN him. (I knew where my mama and daddy stood for I wore a pair of Talmadge red suspenders to Sunday School every week when I was a kid.) That love affair did not include black Georgians, of course. We know where they stood.
This was a colorful period for campaigning and Talmadge knew how to put on a show. Old black and white photographs and a few crude newsreels show him in action. Often you can spot supporters who climbed up in nearby trees to cheer him on.
There was no statewide media hookups, no television and no gubernatorial debates. Most towns had low-power AM radio stations and small weekly newspapers. In many cases the local media was split on the issue of Gene Talmadge. It was that way in Columbus, where one of the two daily papers supported him and one didn't.
Talmadge supporters around the area — led by future federal district judge J. Robert Elliott — knew how to play the game. They drew lines in the sand. "If you weren't for him, you were a communist," it was said.
People in the Talmadge camp spoke to civic clubs and church groups. They bought air time on radio stations so the eloquent Elliott could make his case. If they needed help, they knew they could depend on support from The Trumpet, an anti-Negro newspaper published by Parson Jack, a radical Columbus preacher whose given name was Ezra Johnston.
####
When ole Gene came to your town, it was Woodstock on wheels.
Pigs were on the grill and the twang of country music was in the air. With him came a vaudeville troupe of roguish characters that knew how to work a crowd and pick a guitar. (One time in Carrollton, where an opponent was speaking, they set a grassy field near town on fire, knowing the crowd at the town square would follow the fire trucks when they raced to put out the blaze, leaving the speaker all alone.)
The headliner of the traveling road show — other than the candidate himself — was Fiddllin' John Carson, a hillbilly bard from Fannin County who played a 225-year-old fiddle while his daughter, Moonshine Kate, accompanied him on guitar.
The legendary duo and their band — many of whom worked in cotton mills around Atlanta — played front porch favorites along with catchy campaigns songs. Their most remembered political song was one about a campaign promise that Gene Talmadge made to drop the cost of a car tag in Georgia from 30 dollars to 3 dollars:
"I gotta Eugene dog, gotta Eugene cat
I'm a Talmadge man from ma shoes to ma hat
Farmer in the cawnfield hollerin' whoa, gee haw,
Kamain't put no thutty dollar tag on a thrtee-dollar car."
Gene also had a way with slogans.
"Sure I stole. But I stole for you."
And, of course, his most memorable one:
"You've only got 3 friends in the world — the Lord God Almighty — the Sears & Roebuck catalog — and Eugene Talmadge. And you can only vote for one of them."
This was before 24-hour cable news … smart phones … live streams … e-mail … Twitter … or YouTube. The word soundbite had not yet been coined. Neither Talmadge's tactics nor his personal style would be comfortable or effective on today's 6 o'clock news for candidates like him never made a speech that they thought they could shorten.
Eugene Talmadge died before taking office in 1946 — and even in death he stirred up a fuss. The young state Constitution was vague and untested on the topic of succession and after he was dead three men claimed to be the rightful governor:
Gene's son, Herman, had received the most write-in votes on election day — which was probably not an accident — The Georgia Legislature, pushed and prodded by Elliott and his group, declared him to be his daddy's successor.
Melvin E. Thompson, a high school principal and coach, was assistant state school superintendent. He won the state's very first race for Lieutenant Governor so he thought he should be governor.
Outgoing Gov. Ellis Arnall — a longtime adversary of the Talmadge crowd — said he would be available to keep the seat warm until the courts made up its minds.
The courts eventually ruled in Thompson's favor and he held office for two years until Gene's only son defeated him in a special election. Herman Talmadge was governor for seven years before beginning a distinguished and controversial career in the United States Senate. In 1962, Sen. Talmadge nominated old family friend J. Robert Elliott for a spot on the federal bench.
####
After World War II, Georgia was a rapidly changing state. Among those changes were its politics and its statewide campaign process. But even as the landscape changed, stump speaking was still an important piece of equipment in a politician's tool box.
This term referred to the days when candidates traveled the state making speeches at every stop — sometimes standing on a stump so they could be seen. Candidates used the same text wherever they went. The only difference came at the beginning of their text when they dropped the names of important local supporters.
Oratory skills had always been part of the political culture in Georgia and the South. Candidates needed that speech they could deliver on cue. But the good ones knew that if you were going to be a rising political star, you needed to perform with the fire of a visiting preacher making an altar call on the last night of a summertime revival.
Through the years, many candidates were blessed but none were better behind a podium than Zell Bryan Miller. He was a small-town mayor, a state senator, lieutenant governor, a two-term governor and a United States Senator. He was a Marine by God, and he was a serious scholar of country music lyrics and baseball.
Just give him a microphone and watch him roar.
Zell's speeches were works of literary art. They had an ebb and they had a flow. He put together words and ideas that no one thought would fit. In a single speech, he might quote Franklin D. Roosevelt and Merle Haggard. His mountain twang, with its layer of rough sand paper, only added to his appeal.
He could move to tears folks gathered at courthouse squares or mesmerize crowds crammed into Madison Square Garden. Seen above, his State of the Union address in 1993, reminding Georgians that he was about to change the state flag is a classic. At the end, he called out every single legislator in the House chamber that day. He didn't call them by name (though he wanted to do just that), but everyone of them felt that Zell knew who they were and what he expected them to do.
He was the last of Georgia's great stump speakers.
####
If Gene Talmadge had lived he would have had to reinvent himself, just as his son did later. One of the reasons for change was the Rev. Primus King's lawsuit. For the first time, black and white voters were working together in Georgia's electoral process. Women and Republicans were waiting in the wings and those farmers who loved Gene were moving into towns and finding a more sophisticated way of life.
Fiddlin' John Carson and his 78 rpm style of music were soon retired to the archives. Candidates grew tired of feeding people at campaign rallies for, as Talmadge protégé Marvin Griffin later learned, you could feed people barbecue, but that didn't mean they were going to vote for you.
Dirty tricks didn't go away though.
Carl Sanders was trying to make a political comeback in 1970. In the Democratic Primary, the former governor was running against State Sen. Jimmy Carter, a peanut farmer from Plains, Ga. Cufflinks Carl, as he was known in some circles, was part owner of the Atlanta Hawks, the NBA basketball team that had just moved into town from St. Louis.
When the Hawks won a conference title, pictures of Sanders were made in the locker room with Bill Bridges, a large black man built along the lines of Charles Barkley, and high-scoring Lou Hudson. They were pouring champagne on the politician's head.
Someone turned those images into controversial flyers that were circulated all over South Georgia. And when votes were counted, highly-favored Cufflinks Carl was sent back to his law firm in Atlanta.
Now it's 2018.
Brian Kemp (R) versus Stacy Abrams (D).
In Georgia, power has shifted toward the GOP. Candidates are becoming products of the Facebook generation. We've heard talk that in this year's Republican primary for governor it was all about who had the biggest gun, who had the biggest pickup truck and who could act the craziest.
We're besieged by live streams on social media … uninvited text messages … anonymous emails … and doctored images on Instagram. Worn out Hollywood stars try to tell us how to vote on certain issues and every Democrat in the Free World — or so it seems —is coming to the state to endorse a candidate. Overworked mailmen are delivering stacks of slick brochures that few people bother to read. In the old days, FDR came down from Washington to meddle in our elections. Now it's Biden, Pence and Trump.
We can only imagine how Eugene Talmadge might have used these high-tech strategies and tools. He would have had to turn down his volume and shorten his speeches by an hour or so. Handlers would tell him to stop tossing aside his suit jacket and popping his red galluses. Oh, and do something about that unruly hair.
Then again, maybe things wouldn't change.
I can just about hear Fiddlin' John Carson's twangy hillbilly voice singing on my iPhone right now …
"I've got a Brian Kemp dog and a Stacy Abrams cat … "