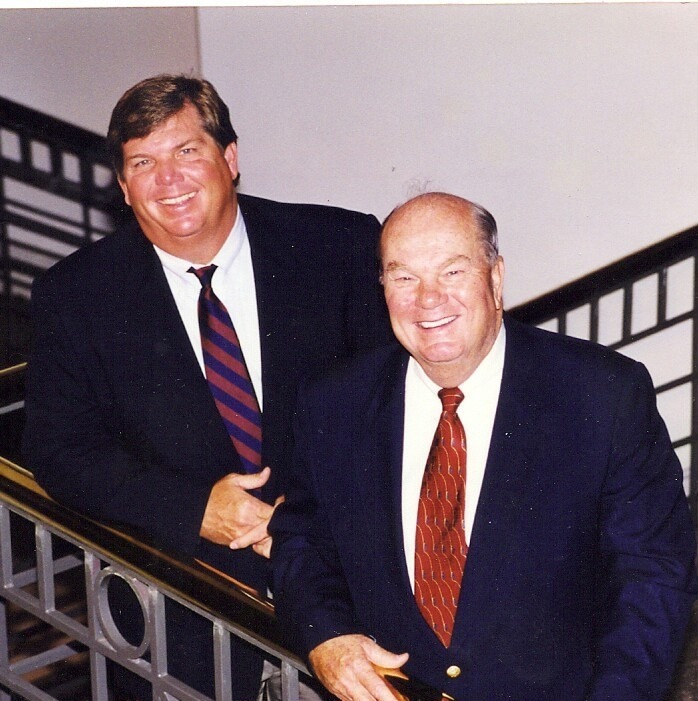 People who knew Lloyd Hall loved his imported tomatoes almost as much as they loved the gregarious immigrant from Lower Alabama.

He was many things to many people. To Lummie, he was her loving husband of nearly 65 years. To his three children — Gary, Reba and Gregory — he was a hero. To his seven grandchildren and five great-grandchildren, he was always there when something important was going on in their lives.
To the world, Lloyd was a salesman — a man who could sell anything that wasn't nailed down. His primary product was real estate, and he could somehow make clients think they were outsmarting him, even though he was a consummate deal maker.
He was a social animal, whether the setting was a monthly meeting of the original Columbus Jaycees, a Sunday School social or a real estate closing in some stuffy lawyer's office. Even meetings of the board of directors of the Salvation Army, where he joined other caring people trying to find ways to improve the lives of others.
A celebration of Lloyd Hall's life will be held Friday at 11 a.m. at St. Paul United Methodist Church in Columbus. Striffler-Hamby Mortuary is in charge of arrangements. Interment will follow at Parkhill Cemetery.
I met Lloyd when he was playing the role of a Jaycee. He was one of those people who talked about that organization being a game-changer. He was president at a time that position meant something in Columbus. He was active in Jaycee politics which, in those days, could be as lethal as a scrimmage between Liberals and Conservatives.
When there was a fund-raiser going on, he was always in the room, often serving as a fast-talking auctioneer who could make participants reach for their wallets. He was a life-member of the Jaycees, and to Lloyd that was something to cherish.
I never knew him as a cotton mill shift worker, a shoe salesman at J.C. Penney's or a Columbus Police officer. He was already in real estate by the time we met, for he had gotten his license to sell in 1963. That paved the way for a life membership in the Million Dollar Roundtable and a stint as president of the Columbus Board of Realtors.
When his son Gary was the catcher for Columbus State University's baseball team, I was often in the press box trying to tell a story and Lloyd was sitting in the grandstand, supporting Gary just as he supported Reba and Gregory in their personal endeavors.
Two years ago, I received an unexpected phone call from Lloyd, inviting me to come by his real estate office and pick up a sack of tomatoes. Not just any tomatoes, he explained. These were grown in Slocomb, Ala., which Lloyd assured me was important in the world of tomatoes.
When I dropped by Kennon, Parker, Duncan & Key, we sat down and visited for awhile. He talked. I listened. He told me about how every year he delivered ripe tomatoes, jars of Hellman's mayonnaise and fresh loaves of white bread to friends all over Columbus. Just because he could.
Last year, he called again. This time, he asked me to come by his house for my tomatoes. Doctors had diagnosed him with cancer, but his carport was still covered with ripe tomatoes from Alabama. When I rang the bell at his back door, he called me from inside.
Come on in, he said, explaining that he couldn't move around the way he once did. I couldn't believe how much he had changed. Instead of floating around town, he was relegated to an easy chair in his den holding court with the folks who dropped by.
Rennie Bickerstaff, his partner in the yearly tomato project, had driven his truck to Slocomb that June and returned with baskets and baskets of tomatoes.
It was a gesture of love for Rennie.
In the end, Lloyd out-talked cancer longer than  medical experts had predicted. Last year, I feared that would be the final time people would enjoy one of Lloyd's culinary delights — a mater sandwich. (Or as one person spelled it sammich.)
Not long ago, mutual friends told me that Lloyd wasn't doing very well. Cancer had returned with a vengeance, and the deadly disease was determined to prevent Lloyd from having the joy of sharing. Once again, Lloyd didn't make the trip to Slocomb, but Rennie did. That's why two or three weeks ago, Lloyd called, reminding me that it was time to pick up my tomatoes.
There was one big change.
"You'll have to ring the bell," Lloyd said. "I can't get out of bed anymore."
I let him down though. I didn't make it by his house.
Then I saw the sad news on Facebook Tuesday night. The Mater Man was dead. He was 82 years old and he was loved. He was admired by fellow members at St. Paul United Methodist Church. Other agents wished they could sell real estate like he did. And he was also celebrated by fellow Jaycees who still tell tall tales about a time when they were young.
Then there are the folks like me who love those delicious tomatoes. That's why I'll be going to Piggly Wiggly pretty soon so I can get me a sack of Slocombs. I'll fix me one (or two) and smile at the memory of a man who some how turned mater sandwiches into a ministry.