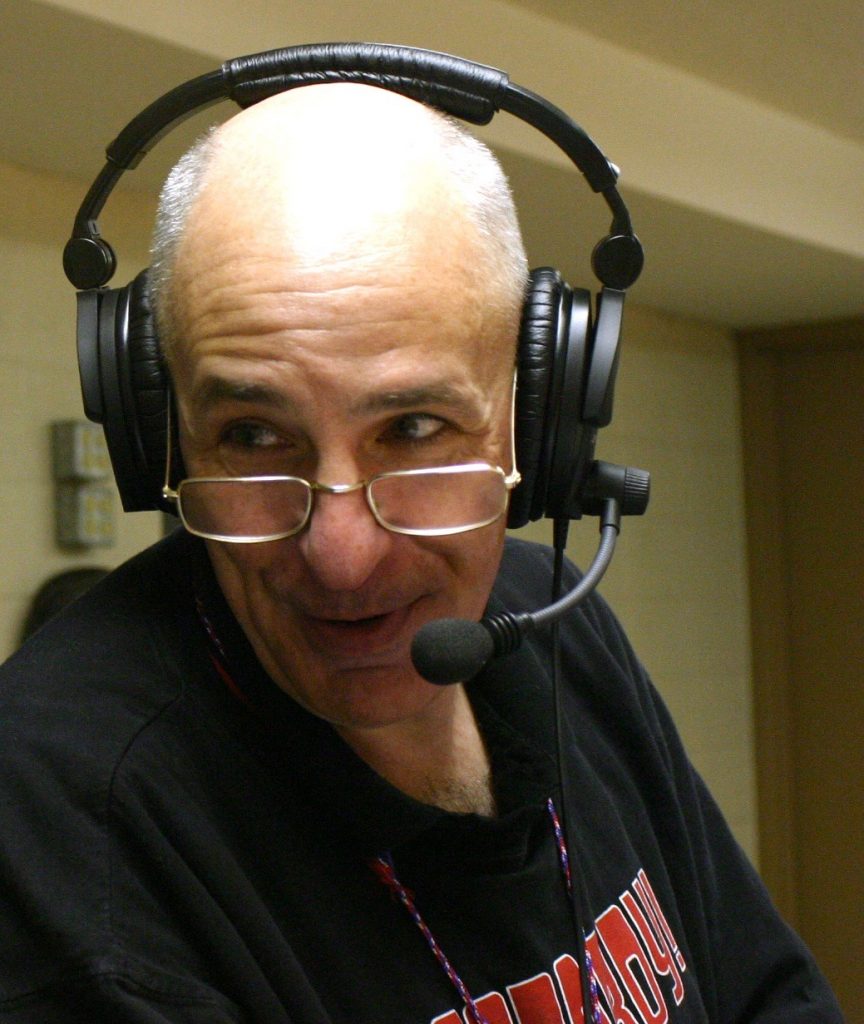 We have documented how Phil Scoggins and I came to work four months apart at WRBL News 3 in 1976 when we the station was known merely as TV3 News.

Phil and I both matriculated through the Bill Martin School of Broadcast Journalism at the University of Georgia. After graduation, Phil went to work for WALB in Albany where a news director named Jim Davis worked him far more hours without overtime than the federal wage and hour laws would allow.
Dick McMichael hired Phil as a sports anchor for the 11 o'clock news but big changes were coming to WRBL. An aging sports director was at a point in his career that he was rarely going out on stories and only aired filmed highlights of high school football if someone at the station volunteered to shoot footage. That had to change.
On his first night at WRBL, Phil entered the building at 2:30 to discover that the sports director was in bed with the flu. The producer, David Eisen, said, "Well, I guess you're going to have to go on tonight. Are you okay with that?"
Phil went on at 7:00 that night and demonstrated what people in Columbus have come to know over five decades. He was genuine, he was straightforward and he appeared to genuinely enjoy his job.
We shared many amusing moments during the time we worked together. Perhaps the most amusing was when Phil decided to shoot video of promoter Fred Ward's Wednesday night pro wrestling matches at the old Columbus Municipal Auditorium.
Up to that point, Saturday TV play-by-play announcer Jim Carlisle would call in a voice report of the results over a slide.
I told Phil, "Look, I know a good bit about wrestling and I know all about these guys. What if you toss it to me and I'll call play-by-play of the finishes?" Phil liked that idea.
As the film rolled, I called a thumb-to-the-throat, a back body suplex and a series of beautiful flying dropkicks. I tossed it back to Phil, who promptly tossed back to anchor Milton Lewis.
Fifteen seconds later, when we were into a taped package, Phil and Milton nearly fell off the set laughing at my hysterical impersonation of wrestling commentator Gordon Solie.
Phil was named sports director of WRBL in January 1977. In those days, we worked six days a week. For that sixth day, we were paid a $30 "talent fee," regardless of how many hours we worked. The company always won.
I have never forgotten the warm day when the two of us trekked to Callaway Gardens to cover the World Superstars, an international version of ABC's 'The Superstars,' Network cameras were recording the two-day competition but local media were given unlimited access to the competitors.
On the ride back to Columbus, Phil and I talked about what a kick it was to be "that close" for a day to the world's greatest athletes.
In 1979, he was recruited away to WYEA (now WLTZ) when AFLAC bought the station and went on a spending spree to upgrade its news operation. In addition to sports, Phil somehow ended up as the co-host of a one-time-only magazine show, "Guys, Gals and Grits."
What I would give to have a digital copy of that one.
Two years later, when AFLAC sold Channel 38 to the much weaker-funded Lewis Broadcasting. Phli returned home to WRBL.
In the mid-1980s, Phil left daily broadcasting to take the role as marketing director for Callaway Gardens. From there, he went on to helm his own video production company that turned out industrial and commercial films with Phil's guiding hand of professionalism.
In the summer of 1998, a reorganization of WRBL News was underway. Veterans of Columbus news were recruited to consider returning. Mitzi Oxford came back to do weather. Al Fleming offered commentaries.
On his first day inside WRBL in 1976, I doubt seriously if Phil fashioned himself as a news anchor. He was all sports and he had distinguished himself as one of the hardest-working sportscasters the city had ever seen.
WRBL's news management and Phil entered into conversations. He became the male anchor for what is now branded as WRBL News 3. What I enjoy is when Phil refers to the 6 o'clock broadcast as 'Evening Edition,' the original title for the station's early evening newscast when it launched in 1953.
This week marks 20 years for Phil in the news anchor chair at WRBL. That is the longest consecutive run on the same station for a male news anchor in 65 years of Columbus television history.
His Viewers in Columbus have come to know what I have known for decades. When Phil Scoggins delivers news, you can trust what he says because he is a man of total integrity.
He and his wonderful wife Judy have made a genuine home for their family in Columbus. Just as Rebecca and I have, they have had to grapple with the challenges of aging parents. They are also people of great faith.
Phil is the kind of man that would lay his career on the line for his Christian beliefs and principles. Above all, that is why I am proud to call him friend and a brother from another mother.
In the last 20 years, Phil has earned a spot on the Mount Rushmore of Columbus evening news anchors alongside the original Mr. News, Glen Broughman, Dick McMichael, Al Fleming and, with her longevity, Phil's long-time co-anchor Teresa Whitaker.
I look forward to my visits back home so we can enjoy those lunchtime laughs at Country's Barbecue. I love when people approach Phil as a local celebrity and he immediately sets them at ease by asking the other person's name and attempts to find out something about his viewer.
Thanks to Roku TV, I can sit in my den in Jackson TN and watch him and meteorologist Bob Jeswald deliver phrases that I can turn into an instant meme.
As well as a friend, I am a fan. That's the highest compliment I can offer. Congratulations on these 20 years, brother. You are the best!