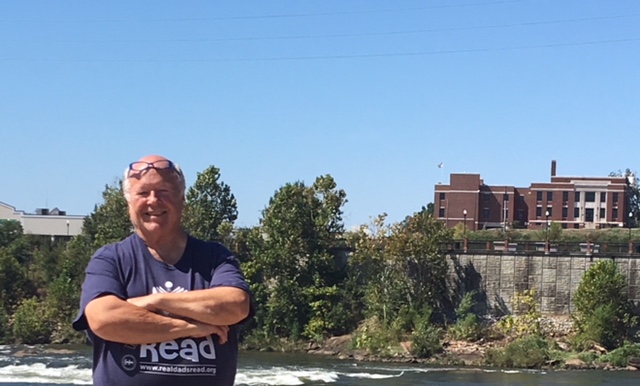 This wasn't Skip Henderson's first rodeo. He has probably been the face of more citywide campaigns than any candidate in the history of local politics. Only this time he was the headliner. So like the rest of us, he stayed up late Tuesday night wondering why it was taking so long to find out who the next mayor of Columbus would be.

People started calling to congratulate him long before the final tally was complete which he didn't understand. Reality began to sink in late Tuesday when he received a text message from Mayor Teresa Tomlinson. To her credit, she had stayed on the sideline during the campaign to chose her successor — and we all know that isn't her nature. She was texting to arrange a meeting between the mayor and the mayor-elect, hoping to ease the transition between her administration and his.
There are deeper transitions ahead for Henderson, who must decompress from a noxious campaign that tested his composure and the way he was raised. It's not that he's new to politics, for he has been putting out yard signs since 1996 — the year he was first elected as an at-large member of Columbus Council. It's the tone and the attitudes that have changed.
"It wasn't this way two years ago when I ran against Teddy Reese," he noted.
Theirs was a civil campaign that was free of drama. Reese, an attorney, waged a battle that Henderson would never forget. But the two of them left the mud in the ditch and forums were mostly spent discussing issues — particularly the fact that African Americans in Columbus deserved at least one at-large councilor who was black.
When the dust settled in 2016, Henderson had 9,420 votes to Reese's 6,594. Raw numbers were translated into a 58 to 42 percent difference. Margins were similar on Tuesday night when the mayor-elect garnered 13,481 votes (56 percent) to runner-up Zeph Baker's 7,656 (32 percent).
Remaining votes on Election Day were sucked up by the other four candidates.
MAYOR OF COLUMBUS
(Unofficial results)
Skip Henderson  13,481 56.5%
 Zeph Baker  7,656 32%
Danny Arencibia  1,140  4.8%
Beth Harris  1,106  4.2%
Charles Roberts  335  1.4%
Winfred Shipman Jr.  278  1.2%
Style became as important as substance. Candidates bought print ads in the black press, not the traditional media. Mostly they turned to direct mail, strategically placed billboards and digital advertising, believing it to be effective and far less costly. Henderson utilized on-line ads in which he personally delivered his campaign message through Facebook on the screen of a laptop.
"The first one we did on Facebook was produced by an ad agency and involved a professional video crew. We got several thousands hits. After that, I did them by myself with a smartphone and a tripod. I didn't put on makeup, which you could probably tell. We did those spots on different topics and we got more than 20,000 hits," said Henderson, a second generation Realtor who is used to selling.
Social media was a force in the 2018 race for mayor. New to the scene in this political season was a Facebook page known as the Columbus, GA Concerned Citizens Forum. Founded by attorney Charlie Miller, the forum quickly attracted around 15,000 members.
Miller's forum became a nesting site for many unknown candidates who joined the crowded ballot. Enjoying the attention, challengers used the social media site to jab and punch at the front-runner but the veteran councilor member refused to engage with Miller or his angry members.
That could have been a dangerous gamble for Henderson, who found himself in a mayor's race that eventually narrowed down to him and Baker — though the others never truly went away. More than once, Miller and his co-founders openly challenged Henderson to answer their questions but the candidate said nothing. He also ignored the self-destruction of the Baker campaign which was in constant turmoil in the latter stages of the campaign.
People who know Henderson say that low-key manner is the way he has always been. Many supporters thought he should take to his keyboard and fight back with words. "You should have seen the Facebook posts that I wrote and deleted," said John Stacy, a veteran campaigner who served as Henderson's chief advisor.
Henderson's quiet manner was an effective weapon. His social media messages were subdued, sharing his views about important local issues while opponents were trying to connect him with everything wrong that happened in Columbus during his 21 years on council — from crime to garbage pickup.
When Baker's critics and fellow candidates began to pile on after people questioned where he lived and how he treated his family. Henderson stayed out of the fray. In the closing moments of the campaign, when it was pointed out that Baker hadn't submitted campaign financial reports, Henderson ignored the charges.
The racket went beyond the mayor's race. Noise also came from various races for Columbus Council and the Muscogee County School Board.
After votes were counted Tuesday night, observers noted that the constant chatter online did not carry over to the voting booth. As Henderson told a local reporter: "Sometimes we confuse loud with many."
Months of intense campaigning were finally over. Candidates could stay home in the evening instead of greeting potential voters.
Henderson woke up Wednesday morning as mayor-elect, beginning a six-month period of political limbo before he takes the oath of office.
He continues to serve as Team Leader (think CEO)  at Keller Wiliams, a local real estate firm located next to a Dunkin' Donuts shop on Veterans Parkway. The mayor-elect may hold that position until October when he steps aside — though he might work for the firm in other capacities until January.
Tomlinson and Henderson followed up on her text message and on Wednesday afternoon they enjoyed a long phone conversation in which they discussed what they should do in the months ahead. The mayor-elect was impressed with how the two-term mayor reached out to him.
"With her permission I hope to reach out informally to City Manager Isaiah Hugley and other department heads — as long as I don't get in the way," he said. "Well before January, I may also put together some kind of transition team."
Though the volume of the campaign has subsided, the pace is still brisk. By Wednesday afternoon, callers to Henderson's cell phone were being told that his voicemail system was full and that it was no longer accepting messages.