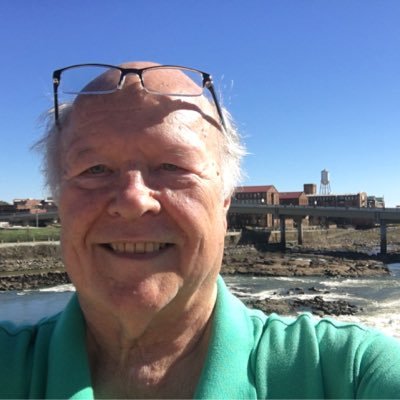 They were harmless gadflies. Monday through Friday, they sang in a crackpot chorus on talk radio. They stood in lines to speak at every political forum in town, wrote as many letters to the editor as the law allowed, made televised appearances at Columbus Council meetings and posted their opinions in every chat room and blog they could find.

I knew these people — their names, their return addresses, their handwriting and the sound of their voices, for at various times I handled the newspaper's editorial pages, was city government reporter, a regular columnist and the host of a daily talk show on AM 1420.
And I still haven't escaped this gaggle of naysayers.
That old crowd of players has passed away, replaced by a new generation that has adopted social media as their primary platform. And as a few of them did in the past, some of these angry people are running for higher office.
I thought of the past over the weekend when I waded through hours of bitter people making biter comments on a local political site. A mayoral candidate and his campaign manager had been banned from the site. A candidate was cajoled into confessing that he has been given a DUI citation since the mayor's race began. It got worse after that.
Things got so nasty that I felt like I needed to wash my hands after reading this malevolence.
This experience brought back memories of familiar names from the past: Ronnie Goodwin, Arthur Pue, Bud Bagley, Charlotte Taylor, Sgt. Lorenza Wilder, Mac the Mechanic, Pearl Lucier, Jim Rhodes, Rusty Houser, the Mayor of Smiths Station, Gerald Ludwig, Paul Olson and Bert Coker.
Then there was a woman who regularly came to council meetings and claimed X-rated cable stations to which she didn't subscribe were visible on her television and another lady who whined about a six-figure bill from the Water Works.
Some interspersed legitimate issues with endless complaints so you had to listen to their drivel so you wouldn't miss the important stuff. Some carried the sad burden of emotional problems that affected their outlook on life. Some were just mad at the world.
If you've been around this community very long, you might remember that some of these public tormentors made it on to our ballots on Election Day.
That was the case in 1974.
A Wild-Haired Sergeant
Vodka didn't help Arthur Pue forget. It made him remember.
He tried to forget the boyish faces of young soldiers whose remains he zipped into body bags in Vietnam, the ones he openly wept about when he was holding court at the old Speakeasy Pub in Dinglewood.
By then, he didn't look like an Army sergeant who served in three wars. His wild mane of white hair and unkempt beard made him look like Santa Claus on a seven-day bender.
Sundays were hardest. He would call and I would listen.
"People laugh at me," he sobbed one Sunday. "I know they laugh. But I'm serious. I'm just a wild old man who wants to leave a better world for my grand-kids."
"Tops," as he was affectionately called, loved the Army and hated officers. He enjoyed war stories, not war. Because of the things he had seen, he fought a war in his soul after he retired from active duty in 1972. He enrolled at Columbus College and because a familiar character on campus.
He pecked out poetry and angry letters on his manual typewriter and attacked authority. Radio listeners got to know his deep voice and crackly laugh. His philosophy was difficult to summarize but safe to say he believed the world would be a better place if there were fewer retired colonels.
In 1974, he formed his outrageous ideas into a political platform and announced he was running as a write-in candidate for Mayor of Columbus. His campaign manager was a French poodle named De La Poo-Kay.
He lived outside the lines but in his own way Pue was serious about running for mayor. When a TV reporter came to his small house near the airport to do a story, the candidate refused to show off his medals. He couldn't talk about his heroism without talking about days he spent in the stockade.
If elected he promised to blow up the trade center and I-185 and turn the airport into a garden plot. On Election Day, he received 44 write-in votes and spent $11.22 on his campaign. He believed he would have had more votes if it weren't for a scandal involving De La Poo-Kay.
"My campaign manager's expecting," Pue confessed. "And she's not married."
Four years later, his health rapidly failing, Pue ran for mayor a second time. He burst every trial balloon offered by front-line candidates Bill Feighner and Charlie Rector. "There are things that have to be said," he told me.
To most folks, he was an unwashed old man. He was irreverent, but not irrelevant. He wanted us to think. He wanted us to look past slick campaign brochures that were better at selling underarm deodorant than candidates.
Once again his campaign came up short and so did his life. He died four days after Christmas in 1982. He was buried in the Main Post Cemetery at Fort Benning — one hour after Bill Feighner was sworn in as mayor. J. Edward Wilson, then the host of Talk Line, delivered the eulogy.
I went to the funeral instead of the inauguration.
Bud's Opponents Didn't Laugh

There will never be another politician like Eli J. "Bud Bagley.
He laid tile for a living. His skin looked like leather and he was so small that he probably had trouble reaching a light switch. He lived in a frame house on Second Avenue in the 3500 block — or at least claimed he did.
His wife ran a booming flea market in Phenix City and there was talk that Bud also lived in Alabama. The newspaper tried to determine his true residency but never could pin it down.
(Does this sound familiar, Zeph?)
Folks around Columbus never saw much of Bud until a campaign came along. Then you would spot him all over town in a worn-out pickup truck that usually featured a large campaign sign in the back.
He might be running for the Georgia State Senate, the U.S. Congress or the U.S. Senate. He might be a Democrat or he could be a Republican. He wore cheap suits and a flat-topped straw hat decorated with his name on the front.

His slogan was unforgettable: THIS BUD'S FOR YOU.
It was easy for the press to poke fun at this harmless eccentric but opponents didn't always laugh. In races for the state senate against incumbent Ted Land of Columbus, Bagley twice got a third of the votes. In 1980, the year Republican Mack Mattingly pulled a historic shocker by upending the legendary Sen. Herman Talmadge in the general election, Bagley came in second out of six in the GOP primary with 12.9 percent of the vote.
Bagley enjoyed attention. On election nights at the Columbus Government Center, the Bagley family and some of their friends from church would set up tables full of home-cooked food that resembled Dinner on the Grounds at a church on Sunday morning.
The Bagleys invited every person present — politicians, candidates and reporters — to join their feast. If you looked at their smiling faces you would have thought Bagley was siting on top of the scoreboard, not bringing up the rear.
But he also had an edge. On one of his runs for State Senate, he held a press conference across from the former Columbus Ledger-Enquirer offices on 12th Street. Standing on the sidewalk, he announced he would decline the newspaper's endorsement — as if they would ever endorse him.
Here's an unedited quote from Bud Bagley's written statement: "The 12th Street Rag editor and news personnel is made of homosexuals and lesbians. I am afraid if they indorse me the people might think I am one too."
A Campaign Manager in Diapers
Bert Coker was one of 16 children and the only one of his siblings to earn a college degree. He was also the one who frequently wore bib overalls and the only person in his family to run for Mayor of Columbus.
He was a write-in candidate in 2006, which led to me calling him for a telephone interview. It was a tough interview, for while we were talking Coker's campaign advisor was crying his little heart out in the background.
"He's a good advisor," Coker said. "Course, I can't understand a word he says."
Seth Dylan Coker III was calling the shots. He wasn't potty-trained and he wasn't registered to vote. For one thing, he couldn't write yet, and for another the state of Georgia said anyone less than a year old couldn't vote.
That was Bert Coker for you.
For a long time, he seemed to be attached to the hip of Paul Olson, another off-beat politico. They were always together at Columbus Council. They showed up at every political meeting in town as a tandem. And if you listened to talk radio, they seemed to have a system where one of them called right before or after the other.
His buddy Olson was usually the one on his way to a floral delivery. Coker was the one in denim and often an oversized straw cowboy hat. He started showing up in overalls after he went to WTVM to rebut one of the General Manager's on-air editorials.
"Are you going to wear those," Channel 9's Lee Brantley asked.
"Sure am. I just came from work," Coker replied.
After that he wore blue denim overalls to just about every public event he attended around Columbus. It became a political statement more than a fashion statement.
That's why I did a double take one Saturday morning when Coker showed up at a Fraternal Order of Police candidate's forum wearing a suit and tie. Randy Robertson, the FOP President at the time, had asked him to dress up.
"I did it out of respect," Bert Coker said.
The Shooter Next Door
Most of his life John "Rusty" Houser pined for respect and longed for relevancy. Now he will be forever remembered as one of those crazed killers who lived down the street.
Growing up in Columbus, he lived off his father's name and reputation. Rembert Houser Sr. was the popular Tax Commissioner of Muscogee County. Everybody knew him and everybody liked him.
His son Rusty was a charmer. He could talk his way out of trouble and on the golf course he could play his way out of the rough, becoming one of the city's best young golfers. He was a popular student at Columbus High and Columbus College and folks overlooked his goofy antics because of his gift of gab and easy smile.
I knew him as the owner of Peachtree Pub, a popular nightspot near the college where Rusty featured live bands and cold beer. Later, as the host of Talk Line on WRCG radio, I got to know him as a lively caller who sounded like an expert on just about everything.
Friends began to notice his uncontrollable rants and off beat behavior but figured that was just Rusty. They didn't think anything about it when he said he was running for his father's old job as Tax Commissioner. During the campaign he was arrested for stealing an opponent's yard signs.
That was a silly beginning for serious problems that came later.
Rusty Houser slowly fell off the radar screen and nobody really missed him — until a Friday morning in July of 2015. I had heard news reports of a fatal shooting in a movie theater in Louisiana but made no connections to anything personal until a photo flashed up behind a cable news anchor.
It was Rusty Houser. Our Rusty Houser.
People here always thought he was unpredictable, but who would have believed he was capable of a bloody massacre in a Carmike Theater that far from home. News outlets finally identified the shooter who killed two moviegoers, wounded nine others and then turned the gun on himself. They said he was from Phenix City, that he was a drifter from Alabama.
We knew better.
A stereotypical part of such stories comes when a neighbor talks about how quiet the shooter was. No one said that about Rusty. A network news crew came here to interview me about him after I wrote an article in the newspaper. I talked about Rusty's daily calls to my talk show and about how nice his mother and brother were. But I never connected the gadfly with the shooter.
What About Today's Crackpots?
We stand on the sidelines today watching the politial noisemakers and assume they're  harmless. I did that over the weekend and into Monday as current political figures made fools of themselves on social media.
It was an ongoing debate that nobody cared about. Was the candidate and campaign manager muted or not? Who cared? One moment a site would ban them — for the second or third time — and before you knew it they were back. By the time you read this column he may have rehired her again.
Supporters on line spend more time attacking the character and past of an opponent than they do bragging about what their favorite candidate would do if he or she were elected. The constant chatter soon becomes nothing but background noise.
We look back and tell lighthearted stories about Bud Bagley or Arthur Pue and his poodle but we have to consider that shootout in Louisiana and the man who fired the gun. We laughed at Rusty Houser and thought he was harmless too.
The pieces to the puzzle that we cannot understand are the social media sites that we visit every day on our laptops, iPads and smart phones. These sites grip our days, prolong our nights and impact our point of view.
These figures from the past never had to live or run for office in this political climate. We ask out loud what those candidates would have done if Facebook and other social media sites had been part of their campaigns.
And I'm not sure I want to know the answer to that question.