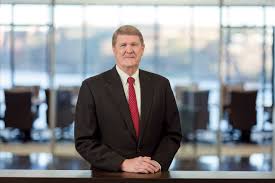 Steve Melton has enjoyed a long and distinguished career in banking but when people remember him they wonder how tall he is and they chuckle about a memorable TV spot where he's walking around with a kindergartner's desk dangling from his legs.

Those who know him well bow their heads and say a grateful prayer for a Friday morning in 2014 when his wife Faye showed the depth of her love by donating a healthy kidney to her 64-year-old husband who had been fighting End Stage Renal Disease for more than a decade.
How appropriate it was that the delicate surgery was performed on Good Friday, a sacred holiday that celebrates sacrifice for it was a day of giving for both Faye and Steve.
Her courage and her generosity saved his life and helped him continue an impressive professional career that ends this month when he retires as executive vice president and general counsel of Ameris Bank and its parent company Ameris Bancorp.
Melton joined the Moultrie financial company in 2011 after serving 13 years as president and chief executive officer of Columbus Bank and Trust Company and regional chief executive officer of Synovus.
Commenting on Melton's upcoming retirement, Ameris president and CEO Dennis J. Zember Jr., the company's president and chief executive officer, talked about his impact on the company's culture.
"On behalf of the board of directors and our executive team, I congratulate Steve on a very meaningful tenure with our company. Steve's impact on our culture and our staff will last for quite some time and we wish Steve and his family much happiness in his retirement."
Melton, a 1975 graduate of the University of Georgia School Law, has spent most of his career in banking and finance. He talked about the opportunity that Ameris Bank offered him after he left Synovus.
"It has been my privilege to be on the Ameris Bank team. I am going to miss all the wonderful people who worked with me. I am grateful to the executive team and the board of directors for the opportunity I've had, and I know they will enjoy a successful future," Melton said.
He officially retires on Sept. 30th.
Melton has spent most of his life with a diseased kidney. From the time he was 9 years old he suffered from nephritis — a chronic inflammation of the kidneys — that kept him in bed his entire fourth grade year.
He recovered and managed to play college basketball at Georgia Southern University where he was also involved in campus politics. After college and law school, he started and banking. His gift with numbers helped him understand the risks that were ahead as he got older.
His kidney problems didn't keep him on the sideline. While at CB&T, he was involved in one of the bank's most successful ad campaigns. Even now a photo hangs in the hallway of the main bank building showing the lanky Melton folded up in a grade school desk. The whimsical TV spots showed another side of Melton and his profession.
His health worsened around the age of 50 and continued on a downward spiral. Vacationing in Florida, he suffered a stroke in 2013. "It affected my balance," he said. "I started carrying a cane so people wouldn't think I was drinking," he said, managing to laugh at a very serious issue.
This led to dialysis, forcing him to go to Emory University three times a week for three hours of treatment. A kidney transplant was inevitable but the odds of finding a donor were high. Melton knew that every year 4,000 patients die while waiting on a healthy organ.
The odds of his wife's kidney being compatible were slim but she passed every test. Love overcame those staggering odds and as people of faith, they concluded that it was the Good Lord more than medicine.
God and a woman named Faye.
####
About Ameris Bancorp
Ameris Bancorp is a bank holding company headquartered in Moultrie, Georgia. The Company's banking subsidiary, Ameris Bank, is focused on creating a distinctly unique way of helping customers manage and make the most of their money, offering a full range of services, including traditional banking and lending products and solutions, treasury and cash management services and mortgage and refinancing solutions.