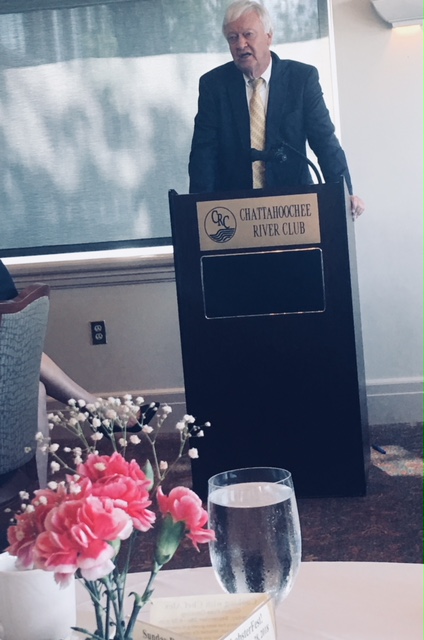 The muzzle was off, and listening to Bill Smith tell a mesmerizing story that for nearly 30 years he was not allowed to share, there were uncomfortable moments that made his audience fear we were intruding on a dreadful slice of his life. Maybe we shouldn't even be there. Maybe his account was too private or intimate. Then again, as the interminable story unfolded, there was no doubt that the former Superior Court judge intended for every one of us to be right where we were.
It was around noon on Thursday when he began, and the bright sun was rushing in from the Chattahoochee. How appropriate, for he was there to shine light on the life and death of Carlton Gary — a topic that higher authority once warned the onetime prosecutor not to talk about until the brutal saga that Columbus thought would never end was finally over.
The end came on March 15th of this year. At 10:33 p.m., without making a final statement, Gary was put to death by the state of Georgia at a prison in Jackson, Ga., where he had been on Death Row since 1986.
His execution brought to a close the legal marathon that had locked Bill Smith in a prison of his own. On Thursday afternoon, he was allowed to step out of that personal cell.
"I'm free at last," he said.
Smith was speaking to members of the Columbus Bar Association. Two of the three judges who were assigned to the case years ago joined him at the Chattahoochee River Club. A few attorneys who were involved in the 32-year appeals process were also in the audience.
Before starting his speech, Smith asked for a show of hands and nearly half of the attorneys in the dining room that Thursday were too young to remember Carlton Gary or his nasty resume.
Given the makeup of the crowd and the long history of the case, it should be pointed out that during a death penalty case that stretched over 41 years, there was only one prosecutor — the Honorable William J. Smith.
Smith had been preparing these remarks for decades. He originally wrote them as a guest editorial for the Columbus Ledger-Enquirer until a well-being colleague — thinking he was protecting his friend — shared Smith's intentions with a higher legal authority who quickly interceded. Smith was slapped on the wrist and ordered to keep quiet until the case was over.
Gary's death amended that order, allowing the prosecutor to publicly proclaim:  "I'm free at last."
### 
FREE TO TALK about the day in 1977 that he joined a small army of lawmen and walked through the residence of 89-year-old Florence Scheible whose home had become a crime scene. On his way home from Mrs. Scheible's, he thought of his own mother, who lived across the street from the district attorney and his wife. He drove into her driveway and went inside.
"Come on, get your stuff," Smith told her. "You're going with me. You might not be afraid but I am."
His intuition was solid. Four days later Martha Thurmond, 70, was raped and strangled to death. Like Mrs. Scheible, she lived on Dimon Street, only a short distance away from the Smiths.
###
FREE TO TALK about state officials organizing a special Task Force and then showing up to assist the police and sheriff's department as they investigated the case and vainly tried to calm a terrified neighborhood.
"I was told that this was the first time the GBI had ever come into a community without being called," Smith said.
###
FREE TO TALK about the first time that he heard the name of Carlton Gary. Gary's name was mentioned in May 1984 by Columbus Police Chief Jim Wetherington, who called to tell the prosecutor that three local police detectives — Ricky Boren, Charlie Rowe and Mike Sellers — were on their way to Albany, Ga. to help apprehend Carlton Gary and bring him back to Columbus.
Smith would waste no time. By the following afternoon, the District Attorney was presenting the historic case to a grand jury — a decision that many legal minds have always doubted.
###
FREE TO TALK about the protracted wait between Gary being arrested and charged three of the seven slayings in May 1984 and the day in August 1986 when the alleged killer at last went to trial. Smith outlined reasons for the delay.
"We had a trial date early on but on that morning a deputy came in and said Gary wouldn't get dressed. 'He's lying naked in his cell,' we were told. Three-hundred potential jurors were waiting."
###
FREE TO TALK about the eight-hour opening statement that he delivered to the trial jury after a change of venue was granted in August 1986. Smith's remarks were methodical and at the same time emotional.
"I had to educate a jury from out of town (Griffin, Ga.)  that didn't know Wynnton Road from Buena Vista Road," he said.
###
FREE TO TALK about issues that continue to haunt the community — even after Gary was given a lethal injection last spring, ending a life in which he spent only four years out of a lockup of some time during the last three decades of his life.
This week, it had been 41 years since the last victim was strangled and 32 years since the endless string of appeals began. Even after Gary's execution there are unanswered questions which Smith tried to tackle.
° What was Gary's motive? — "The answer is there was no motive."
° How did Gary select his victims? — "We will never know the answer to that question."
° Why did Smith chose to try only three of the seven murder cases? — "How many death sentences was he going to get?" he said in a whimsical manner.
Smith only tried the three, but in the five-week trial he cleverly connected several other cases in Columbus and similar ones in Albany, N.Y., and Syracuse, N.Y., along with others along the Eastern Seaboard
###
Over the years, Bill Smith has been the constant — wading through oceans of controversy and debate and in the end against the strongest defense team Gary had been able to assemble.
During the years of appeals, judges sitting on the bench frequently changed and defense attorneys were hired and fired. Fifty-eight different judges were involved in the appeal process. While things were in flux Smith was always there,
Remembering the disappointment he felt in 2009 when an execution date for Gary was postponed at the last minute, Smith did not go to Jackson, Ga. in March. He left that duty to a group from Columbus led by current District Attorney Julia Slater and Police Chief Ricky Boren. Smith and his wife stayed home and followed the events on the telephone and the Internet.
Carlton Gary was executed in the waning hours of March 15. His death brought to an end the unlikely connection that grew between two widely diverse men who only met in courtroom settings. Until Thursday, Smith tried to appear he was comfortable waiting in the shadows letting others make the statements.
When the time for him to speak did come Smith was ready, sharing moments that were important to him, clearing up misconceptions and throwing credit where it was due. The person he talked about most on Thursday was the late Gertrude Miller — a person that he calls "the heroine of the case." On Sept 11, 1977 — long before that date became so important — the man that history refers to as "The Stocking Strangler" attacked the 64-year-old former day care operator in her own home.
"She survived by the Grace of God," Smith said.
Mrs. Miller survived to look at thousands of photographs shown her by the police. She never identified her attacker — until she saw Carlton Gary on television. Her comment was short and simple: "That's the one."
"She repeated that statement in court, and she stood firm. Her identification held up for 32 years," the grateful prosecutor said.
Smith also praised Al Miller, a former federal investigator who formerly worked for the District Attorney's office, along with detectives Ricky Boren (now the chief of police in Columbus) and Charlie Rowe.
On their way back from Albany, Ga., Boren, Rowe and Sellers engaged Gary in a non-stop interview all the way from South Georgia to Columbus after his arrest in 1984.
Boren and Rowe also traveled to Albany, N.Y. and Syracuse, N.Y., to explore the similarities between two murders there and the cases in Columbus.
Smith also singled out Detective Mike Sellers, now retired from the police department in Gwinnett County. In 1977-78, Sellers was a young officer working the Pawn Shop detail in Columbus. He memorized the serial number of a pistol taken in a burglary in the Wynnton neighborhood during a busy time for the strangler.
Ten years later, when reports from Michigan of a pistol from Georgia came across a Teletype machine, Sellers recognized the weapon. His discovery proved to be a vital piece of evidence that linked Gary to the Wynnton neighborhood at the time the seven women were murdered.
Smith also cited his assistant District Attorney, Doug Pullen. "During the trial, he would gently take my arm when I would start to get up from the prosecutor's table." Using his gregarious personality, Pullen and Boren helped assemble the cases in the state of New York.
Soon after Gary's arrest and on through his trial, a pattern began that continues even after Gary's execution that Smith tried to explain. It began in Albany, where Gary admitted he was in the retirement hotel when 85-year-old Nellie Farmer was murdered. He was there, he said but he claimed the killer was John Lee Mitchell. In Columbus he also said he was innocent. That time, he fingered a close friend, Malvin Crittenden.
Gary's bobbing and weaving kept the prosecution team busy chasing leads that he provided. He also threw out the name of a troubled young man whose adopted father was active in local media. His name also surfaced in Atlanta but was never seriously by investigators in Columbus who knew the backstories.
"The Big Eddy Club," a 2007 book by British newsman David Rose, turned gossip into theory. Rose originally came to Georgia to write about the American death penalty. After writing articles about Gary's case, he began to openly champion Carlton Gary's cause. By the end of the appeals process, Rose was openly sitting at the defense table during hearings. Rose says he became defense attorney Jack Martin's investigator on the case in 2001 as an unpaid volunteer.
From the beginning, there were people who doubted that Gary was the strangler. They believed the killer had to be white to be able to move freely through the heavy dragnet that covered the area. Many of these naysayers adopted Rose's beliefs, ignoring the author's role on the defense team. It was the author's push to save Gary's life that found its way into failed mayoral candidate Charlie Roberts' campaign platform in 2018.
Smith refused to let these distractions deter his assignment during the original investigation or during the years of appeals. He trusted the work of his investigators and he believed in himself. That confidence never waned even during the regular barrages of doubt that the defense team kept presenting right up the night of March 15th.
What Gary did to the community is something Smith can't push aside.
"We will never forget what this case did to our city," he said Thursday, And like it or not, Bill Smith will always be part of this life-altering case and will always be linked to The Stocking Strangler —Carlton Michael Gary.
"In 18 years in the District Attorney's office, this was the strongest case I ever presented to a jury."