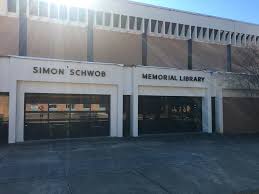 Simon Schwob's aging home is about to get a new face.
With Gov. Nathan Deal's signature now attached to the 2019 fiscal year state budget, Columbus State University is moving ahead with plans for a $5 million renovation of the Simon Schwob Memorial Library.
A faculty committee has been working on concepts for the renovation since last year. With $4.95 million now appropriated for construction, the project will move into the next phase — finalizing plans, and selecting a contractor.

Work is expected to begin this fall so the project can be finished by the fall of 2019. The 85 thousand square foot facility is located near the center of CSU's main campus.
The academic library opened in 1959 and was renamed for Schwob in 1973. A wealthy industrialist and philanthropist, he was an early supporter of what was originally Columbus College.
"Once again, we owe a great deal of thanks to our local legislative delegation," said Columbus State University President Chris Markwood. "Each of them is a strong advocate for CSU, and we greatly appreciate their efforts to help us better serve our students and this community. My thanks also to Gov. Deal. Lt. Gov. Casey Cagle, and Speaker of the House David Ralston for their support of this project."
The renovation will include:
Complete replacement of heating, ventilation and air conditioning systems.

New entrance and glass exterior to better match recent renovations of other nearby buildings originally built more than 40 years ago.

Creation of a learning commons space that will centralize campus advising.

Upgrade of the third floor space that houses the University Archives
The expansion and and the renovation is desperately needed, said Dean of Libraries Mark Flynn, who noted a recent leak in the roof that damaged irreplaceable materials stored in the University Archives — an important part of the library that opened in 1975.
"The original building opened that same year when the student body of the college was roughly half the size it is today," Flynn said. "Since that time there has been increased demand each year for additional flexible collaborative student study areas as well as additional 'quiet' study spaces, and new library services."
For more information, contact Flynn, flynn_mark@ColumbusState.edu, 706-507-8681.