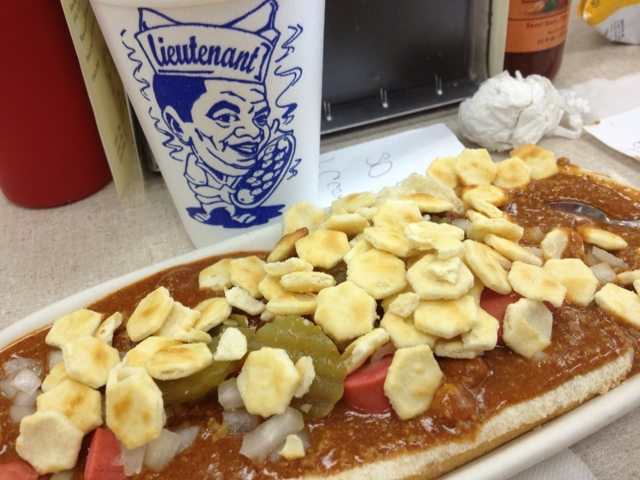 The Scrambled Dog is older than the neighborhood drug store that serves it, but don't believe a local legend that claims the cooks haven't washed the chili pot at Dinglewood Pharmacy since Lieutenant Stevens first reported for duty in 1944.

Dinglewood Pharmacy is celebrating its 100th birthday right now, but the Scrambled Dog is even older. At another local address, in around 1908, an almost forgotten figure named Firm Roberts created the unusual dish that over the past century has become comfort food for diners all around Columbus.
It was Lieutenant — the cook, not the rank — who turned the Scrambled Dog into a lunchtime ritual for anyone who has lived in Columbus more than an hour. And it was the Scrambled Dog that transformed the pharmacy into a malt shop that could have been a hangout for the Fonz and the cast on "Happy Days."
Dinglewood Pharmacy is celebrating its centennial at its familiar location under the AFLAC towers at 1939 Wynnton Road. Workers at the insurance giant eat there several times a week. That includes Dan Amos, the adopted father of the AFLAC duck. Amos regularly sends aides over to pick up a Scrambled Dog and it is delivered to him in a signature banana split dish. He collects a few bowls then returns them to the drug store. Washed, of course.
Most cities would cringe if their signature dish was a gussied up chili dog but Columbus long ago accepted that chapter of its culinary history. A local chef also created Country Captain, a delicious entree that Gen.George Patton discovered when he was stationed at Fort Benning around the start of World War II. The chicken and curry dish is frequently featured at finer dinner parties, but it is the Scrambled Dog that keeps folks coming back for more and keeps washing machines busy washing chili stains off of shirts and blouses.
So think you Firm Roberts.
It is said that around World War I, Roberts ran a downtown cigar store and newsstand at 1908 Broadway. By the 1970s Firm Roberts was doing business and serving up home-style meals at a cafe on Cusseta Road. He served the usual meat and three dinners, but regulars depended on his Scrambled Dogs to feed their soul.
Early owners of Dinglewood turned out to be better promoters than Firm Roberts, and customers of the pharmacy on Wynnton Road soon learned to love Sport Brown's special hot dogs. Sport was the Lieutenant of another era. Old-timers still talk about him with reverence. Only Sport didn't truly originate the secret chili recipe. Every morning, he would go to pick up pots of chili from a Mrs. Hill, who lived near the drug store. Her chili would cover that day's Scrambled Dogs
From that grew the legend of the Dinglewood chili. The story is that only Sport knew that chili recipe and that he passed along instructions to Lieutenant. Dinglewood chili is as secretive as Dr. John Pemberton's formula for Coca-Cola. No one knows how to make it but Lieutenant, old timers claim.
You better not tell Earnestine Poole that. These days, she's the friendly face behind the counter who seems to know everybody's name. Lieutenant has retired more than once. Earnestine stays. But please don't ask her to whisper what the chili recipe is.
You know the drill. If she told you, she'd have to kill you.
(WHAT IS A SCRAMBLED DOG?To the uninformed, who aren't from around here, an original Scrambled Dog is served in a deep-dish banana split bowl. It contains a hot dog bun, a sliced wiener (or two), yellow mustard and chopped dill pickles. It is covered with chili (with or without beans) with a hand-full of oyster crackers on top. These items are optional: ketchup, coleslaw, chopped onions, grated cheese and Tabasco sauce.)
After nearly 75 years, Lieutenant — Lieu to his many friends — is the face of the Scrambled Dog and the pharmacy. He started in 1944, when the drug store was still wedged into the building located where Buena Vista and Wynnton roads meet.
He was born in 1931 on the 12th of November — the day after Armistice Day, which may have inspired his name. He lived down Wynn's Hill in an area known as The Bottoms. He was going to the old Spencer High School on 10th Street when he started working for Sport Brown, at a time that Scrambled Dogs cost only a dime. Lieutenant was 14 and he proved to be a teenager who did what he was told to do — all for $9.50 a week.
Lieutenant worked behind the counter inside and, when asked, he would deliver a bag of hot dogs to a regular customer waiting at the curb. This is the only job he's ever had and even in his 80s he can be seen dolling out chili and making conversation with people that honestly believe he remembers them when they were students at Columbus High, sneaking away from the school cafeteria for a homemade chocolate shake.
"I got a little ham in me, and I do like to talk," he said.
A little ham is an understatement. The man likes to talk and he enjoys getting his picture taken. Just look at the framed photographs on the wall behind the counter. His face might just be the best-known face in town. When people see him around town at an eating establishment other than Dinglewood, he's often asked if he'd like a Scrambled Dog.
"I don't eat a Scrambled Dog anywhere but Dinglewood," he says.
Truth is, he does eat them other places.
"I like to check other places out," he admits. "And none of them compare to mine."
His boss is one of his best friends. Terry Hurley has owned the drug store for more than 40 years. He's the chief pharmacist. but he means more to the store than the prescriptions he fills. Hurley owns the oldest eating establishment in town and his pharmacy is one of the few locally-owned stores left in Columbus. People in the neighborhood depend on Hurley and on Dinglewood. They even deliver.
He cares for customers like a member of their family. He could have long ago turned Dinglewood into solely a place to eat Scrambled Dogs, but his heart hadn't let him. He cares too much for the customers and neighbors who depend on him.
Hurley raised his daughters there. Now his grandchildren are often seen running around the store. When his first wife, Kathy, was diagnosed with cancer, customers were concerned about her and about Terry. They rallied around him when Kathy passed away. Terry has had serious health issues of his own in recent years that have inspired lots of prayers. That's the kind of place Dinglewood is.
Not long ago, he remarried. And the store has welcomed his bride, Mary Shirah, into the family too.
Several years ago, Terry became worried about his customers' collective health. Every day he watched them wolf down Scrambled Dogs that were lathered with his trademark chili and then he overheard customers laughing about the red dye stains left behind on the buns by his wieners.
Without making a major announcement of the change, the concerned owner switched to a healthier, higher-class brand of hot dogs. Before long, loyal customers were whining about the change. To heck with their health, they didn't want anybody messing around with their Scrambled Dogs.
Not even Terry Hurley.
You just don't mess around with tradition and foods that people have been eating since they were a kid. When a customer of long standing walks into Dinglewood Pharmacy, they're not just hungry. For just a moment, they want to go back to another time and another Scrambled Dog.
People are sentimental and nostalgic. If Lieutenant happens to take their order, they remember the first time he waited on them, the time their Daddy brought them there as a rite of passage, or the day they dined with departed friends at that old marble table Terry retrieved from Spano's. People are glad to see Earnestine of course. They're fond of her, but she will tell you that even today most of the old customers ask her about their old friend Lieutenant.
And despite what you may have heard, hey do wash that chili pot.