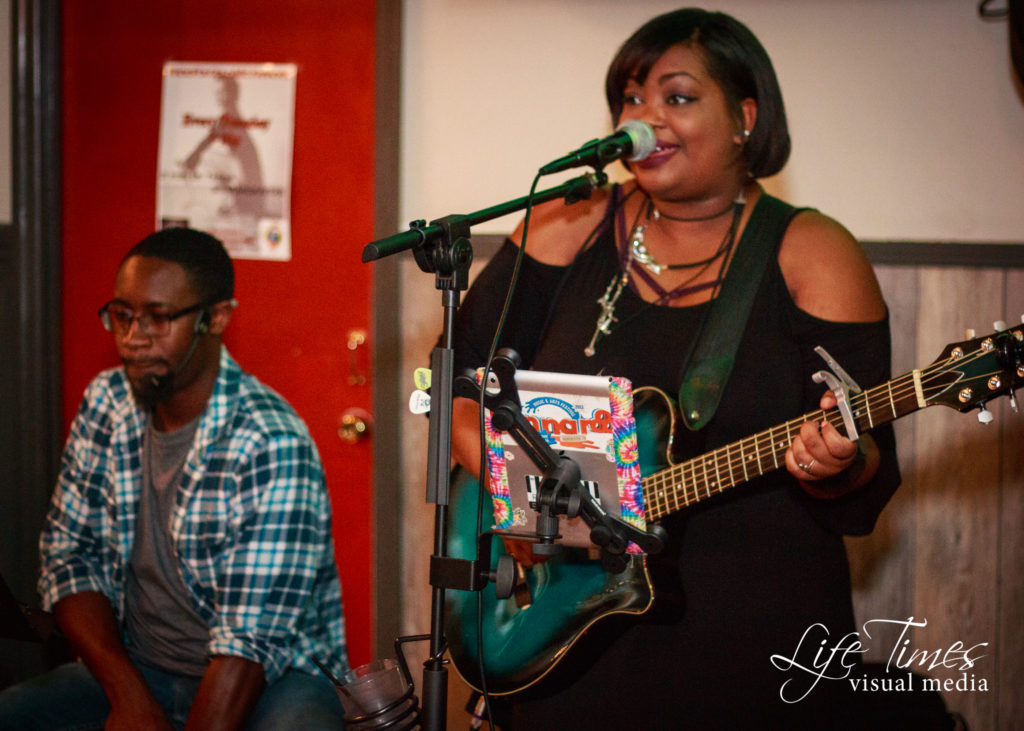 (The following article is an opinion piece by Kim Baxley Wilson. It represents the views of the author not necessarily those of All On Georgia.)
9:45 p.m. — We arrive at Hangouts to see Alexandra Merritt and Henry B play some originals to another packed house. I stand by the bar and take pictures of them playing. You definitely need to check them out when you get the chance. Very laid back and super talented!
We have been gone for almost three hours and we have two more venues and bands to sample before we call it a night! So back to the car we go.
Kim: What kinds of tours do your offer?
Victor: I offer the Downtown Columbus Georgia Tour, Midtown, and the Phenix City Story Tour. I also have three distinct Foodie Tours, each stopping at five local "Mom & Pop" food dives. So you can try 15 places on three tours!
PART TWO: Magical Musical Tour
Kim: Do you have any new tours coming up that you are excited about?
Victor: Yes! We have two great tours this summer! "A Local Artist Tour" on June 9th, featuring 4-5 artists at their studios, including Najee Dorsey. August 11th will be a "Local Music Historical Tour" spotlighting most, if not all, of the talents from this area who have received national acclaim. Mike Childree, from American Guitar Boutique, will work with me on compiling the list. I believe he's also in the band we're on the way to see!
10:00 p.m. We drop into Wild Wing Cafe for a few minutes to hear 10 Cent Cigar. I'm so excited to see Mike Childree on stand-up bass. Mike usually plays with Groove Monkey, so I'm going to have to interview him soon for that upcoming article. We also run into the soon to be married Mark Burkett and Lori Crowell, as well as my favorite drama teacher Heidi Platz with her friend Sid Regan.
Column and Photographs by Kim Baxley Wilson
10 Cent Cigar promises "Acoustic Rock Without the Aftertaste" and they do not disappoint. Wild Wing Café continuously presents quality entertainment and an amazing atmosphere for a fun evening. However, we have 15 minutes to get to our last venue and fulfill my promise to show Victor five bands in four hours.
(Are you counting?)
Kim: What one thing do you wish everyone knew about Columbus and Phenix City?
Victor: Another HARD question!!
Kim: Of course! We have a few minutes if you need to think about it!
Victor: No. I've got this. My favorite place is the Phenix City side of the Riverwalk. I love both sides but my favorite quiet spot is on the Phenix City side because I can sit on the bench in the shade and enjoy the view of Columbus.
Kim: Good answer! It really is a beautiful sight!
Victor: And the thing that I wish more people knew, is that we have such a rich culture and that Black History is not just a month. We have so many people in our history who have made such amazing contributions. I want everyone to know those names and those stories.
Kim: I can tell how much you love Columbus. I see your posts on Facebook daily. How many different pages or groups are you involved in?
Victor: The main one that you probably see most often is "Today In Columbus Georgia History — Columbus Tours.
Kim: Yes! You always have such great information and people seem really engaged in your posts! So are your tours designed for visitors or can anyone join?
Victor: There is something for everyone. I have done tours for people who are thinking of moving to the area, as well as tours for people who have lived here their whole lives who just want to see things and hear stories from someone who has researched and knows the details they might have forgotten over the years.
Kim: We are back at our starting place! How did you enjoy your tour?
Victor: I can honestly say that I've never bar hopped before!
Kim: (Laughs) Well now you have! You've been to five venues and heard five bands in just under four hours. And now we're going to go back in and finish the night off with Sleazy Mona at the Tavern. Are you ready?
10:45 p.m. — We arrive at the Tavern to find the band preparing for their final set. I snag a glass of water from the bartender and take the camera up to the stage to get some images to finish off the night. I see Victor standing by the table. He's smiling. My heart is happy.
12:30 p.m. — The band is done. I say my goodbyes. This is my family. These musicians I love and respect and do my best to protect and promote. I may not agree with them on everything, but I will defend them to the end. Portugal. The Man — "Feel It Still" is on the radio. It has been a good night.
12:45 I pull into the driveway listening to "Radar Love" by Golden Earring. Stay tuned…there's more to come.
Coming Soon: Ultimate Girl's Night Out. You'll know it's us when you see us coming, but you won't know what hit you when we're done!