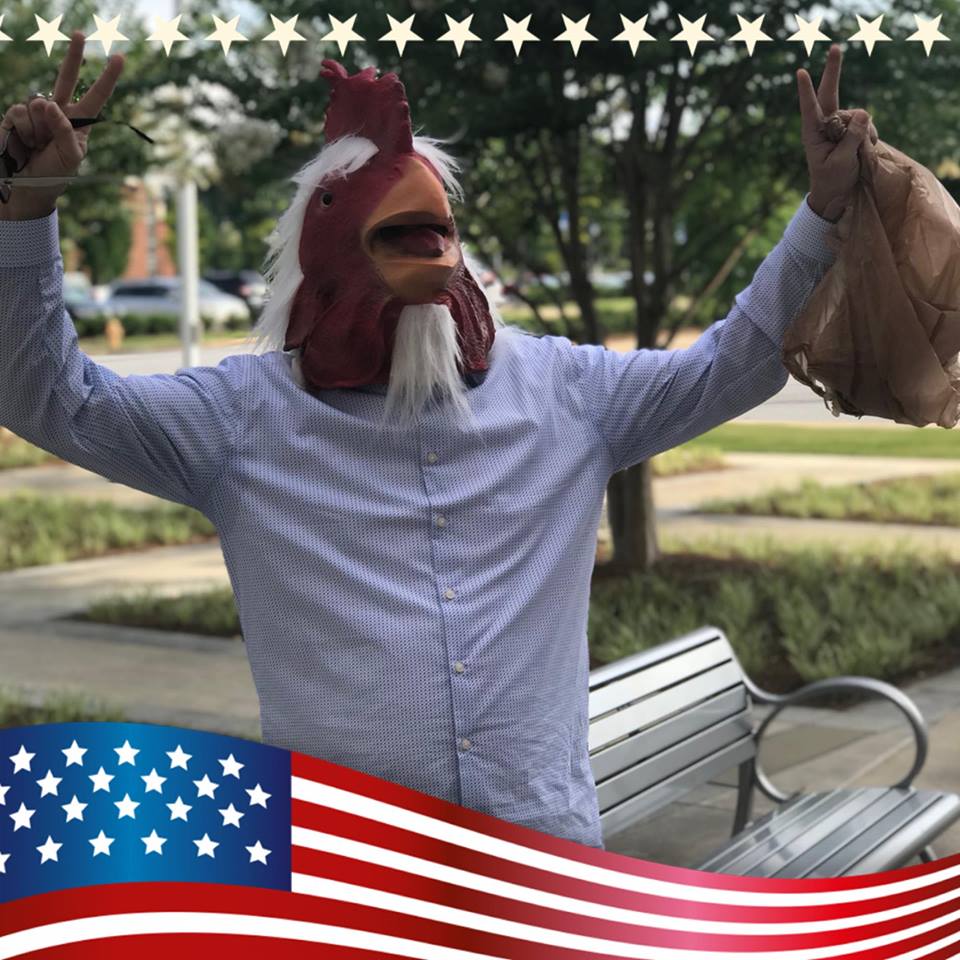 Q: Why did the chicken cross Macon Road?
A: To see if that cuckoo cluck J. Nathan Smith was going to put on a chicken head again.
# # # #
That's no joke.

Speaking on the public agenda at Monday night's meeting of the Muscogee County School Board, outspoken activist J. Nathan Smith spoke on a variety of topics — most of them serious.
He talked about board members disrespecting board members. He talked about laws being potentially broken. He talked about removing the school superintendent. He talked about people wanting to talk about someone calling a person a chickenhead instead of discussing more valid issues.
He called out board members Pat Hugley Green and Cathy Williams by name.
"As long as they act like chickenheads, they should be called out," he said.
That's when board chair Kia Chambers warned him that he was almost out of time.
"Can I have just 45 more seconds," he begged.
Chambers gave him the time and during his extra 45 seconds, Smith laid his deviled egg.
Reaching into a plastic grocery sack that had ominously sat on the podium during his remarks, Smith reached inside the bag and produced a chickenhead. Then he put it on, which would be enough to cause the Chick-fil-A cows to make a mess in the pasture.
At the risk of ruffling official feathers, here's the one and only J. Nathan Smith.
While we're on this subject, I've wondered about all the fuss over the use of the term chickenhead. You'll have to find out this out this definition for yourself. Trust me. It's British slang and it's not a term you should use around the family chicken coop.
On J. Nathan didn't stop with the final gavel.
Shortly after Monday night's meeting ended, a new Facebook page suddenly appeared on the horizon. It had his fingerprints all over it and Chickenheads of MCSD promised to be a beacon for chickenheads everywhere.
The digital chicken was stuffed with foolishness but the site also talked about unreported public money being spent on items like Chester's barbecue and a long list of purchases that were made at Barnes & Noble. The Facebook post even includes an altered photo where  it appears that Superintendent David Lewis is patting the head of a chicken wearing striped leggings.
J. Nathan's performance in an official public building destroyed decorum and solemnity, but when a man puts a chicken head on in front of a live school board meeting with dozens more watching at home, you have to laugh.