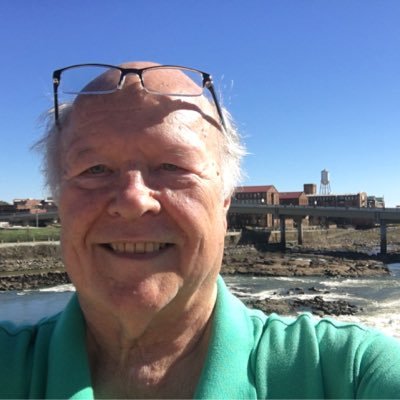 A lot of baseball has been played on the beautifully manicured diamond at Randy Jordan Field, named after one of Columbus High School's biggest fans. State Championship rings have been earned on that impressive natural turf and a member of Major League Baseball's Hall of Fame first sparkled on that layout wedged between trees, streets and bungalows in a historic neighborhood near the heart of the city.
Now, with little warning to residents who live nearby, the Muscogee County School District quietly voted to install lights on that attractive playing field, a plan that neighbors see as a sincere lack of forethought, planning and inclusion in the decision making within the school board.
John and Jackie Nix live close enough to the action to lead cheers for the Blue Devils. He calls "the installation of lights a solution in search of a problem. There is not a problem to be solved with lights," says Nix, an active member of the Peacock Woods Neighborhood Association.
"Columbus High has played for 20 state baseball championships and won 12 of them — all without lights," he pointed out.
John and Jackie are part of a group of neighbors that went to Monday night's board meeting, believing they were proactive in voicing concerns about the installation of lights —a proposal that threatens to disturb the tranquility of a historic part of town that has coexisted with the high school since 1925.
The neighborhood found out about the lights by accident. Jackie Nix was out walking in the neighborhood when she saw a surveyor working near the baseball field. She asked what he was doing and the surveyor told her he was deciding where to put up light poles.
Because it was kept so quiet the neighborhood didn't realize the proposal was being considered Monday night as part of the "Action Agenda." A move to consider the entire package was made by board member Cathy Williams and seconded by Naomi Bucker.
There was a brief discussion about the entire package but not specifically about the Columbus High project. The vote was 7-2, with board members Frank Myers and John Thomas abstaining.
The CHS proposal was found in item 5:04 on Monday's agenda. Tagged "Athletic Improvements," the item offers support for athletic projects at three local high schools: Columbus, Hardaway and Shaw. Installing lights at CHS was not mentioned in either the item or an attachment.
Here's the official language:
The Board is requested to approve the additional budget for Athletic Field Improvements for Columbus High School, Hardaway High School and Shaw High School (funded by 2015 SPLOST) in the amount of $1,733,021

Nix and the members of the neighborhood group have been told that the idea of lights comes out of a need to equalize the treatment of boys baseball and girls softball at the high school. By installing lights the field can be shared by both sports. The softball team currently plays at Lakebottom Park.
He shared a copy of an internal email exchange in August between Superintendent David Lewis and board member Cathy Williams.
"This is in relation to the lighting of the combination baseball/softball field at CHS. If approved in September, work will commence as planned in October with completion early next year (January/February). (Citywide Athletic Director) Jeff Battles has worked with the school administration and coaches  as well as the neighborhood captains (Libba Russell and Ed Burdeshaw). The only time lights will be used is for games, not practice, which will be less than 30 days a year. In addition, the lights are LED so they are much more directional and will not have the spillover into the neighborhood that the older lights would."
(Clarifying the message, Nix says Libba Russell does not support the proposal.)
Lewis added factors behind the call for lights.
"We are the only district of our size not to have lighted fields which are a requirement of the  GHSAA for hosting state-level tournaments and will also will eliminate players having to leave school early to play games."
Nix and the members of the neighborhood group have sent an email to school board members spelling out their concerns about lights being installed in their neighborhood. Since residents were not considered, they ask the school board to reconsider their decision and to table it for now. They point out a variety of ways that lights will impact their homes:
Safety – traffic will be reduced to one lane in many of the neighboring streets.

Trash along streets.

Noise Level at night.

Light Pollution from fields entering homes.

Decreased resale value of homes in the neighborhood.
"Currently, all Columbus High games and practices end at sundown, If lights are installed, there will be 30 or games played at night. That is a full month of games at night. Today, there are none," Nix points out.
Nix wants the school district to consider other improvements at Columbus High.
"There are other visionary ways to improve the facilities at CHS, and we ask that MCSD reconsider and employ the funds to make CHS unique and take advantage of what is already in place."
If the proposal to put up lights isn't withdrawn, installation is scheduled to begin in October, according to Nix. Meanwhile, Peacock Woods and other neighborhood groups plans to seek relief from Columbus Council. Nix isn't sure when that will be but he knows their appearance must be soon.
Nix feels out of place being on this side of the dugout. His family is a longtime supporter of the CHS baseball program. His son Jack is a former Blue Devil ball player under the legendary Coach Bobby Howard and his successor, Chad Mathis.
"I'm a fan of the baseball team, not the lights, he says.