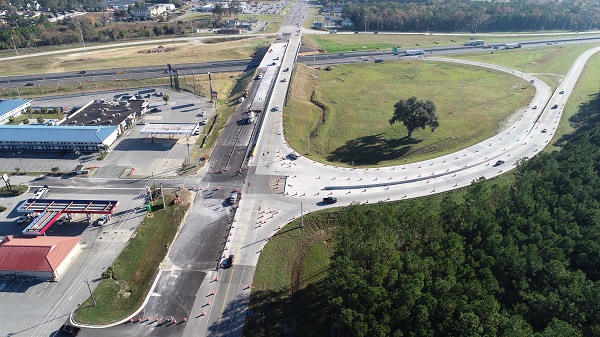 Traffic is scheduled to shift Jan. 21 to the new bridge of the Interstate 75 Exit 22 interchange in Lowndes County to allow the contractor to complete concrete paving on the adjacent side.

Once that work is done (roughly two weeks) traffic will be swapped again to the outside lanes in permanent lane designations, The inside lanes will not be open because the contractor has to pour the concrete median.
Also at the Exit 22/U.S. 41/State Route (SR) 7 interchange near Valdosta, the right/slow lane of I-75 North will be blocked as of Jan. 22. This is to allow for completion of the shoulder and is not expected to take longer than two weeks.
The $49 million Georgia Department of Transportation project to reconstruct interchanges at this exit and Exit 29/SR 122/Main Street at Hahira is scheduled to be complete this year. Work began in 2017 and  was staged to avoid closing the busy interchanges during construction. The project is expected to improve traffic flow and capacity and improve visibility for drivers exiting the ramps. The old bridges were built in 1960 and the design was outdated for current and projected traffic. The contractor is Reames and Son Construction Co. Inc.