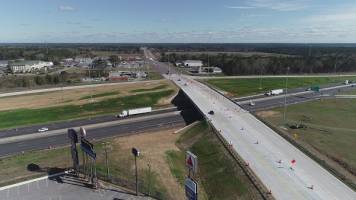 Traffic is scheduled to shift Feb. 4 to the outside lanes of North Valdosta Road at the Interstate 75 Exit 22 interchange near Valdosta.
This means drivers will be traveling in their permanent lane designations, but only on the outside lanes while the center medians are constructed. Once the center medians are finished the contractor will begin placing final asphalt topping throughout the exit.
The $49 million Georgia Department of Transportation project to reconstruct interchanges at this exit and Exit 29/SR 122/Main Street at Hahira is scheduled to be complete this year. Work began in 2017 and was staged to avoid closing the busy interchanges during construction. The project is expected to improve traffic flow and capacity and improve visibility for drivers exiting the ramps. The old bridges were built in 1960 and the design was outdated for current and projected traffic. The contractor is Reames and Son Construction Co. Inc.