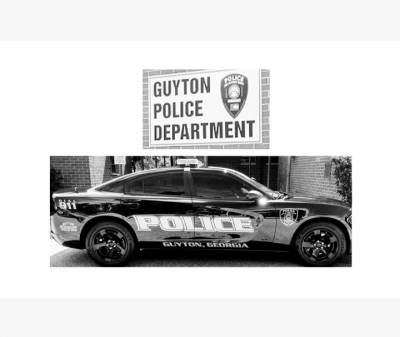 The winds of uncertainty continue to blow in the City of Guyton as the revolving door of personnel turns without ceasing. While the position of city manager may be in a close second, no department in the city government has seen more turnover than the Guyton Police Department. In the last four and a half years, the PD has been lead by five different Chiefs and/or Public Safety Directors. 

In the most recent absence of a permanent chief, Officer Joseph Coppola, a three year law enforcement veteran, was appointed in March 2019 to serve as the interim chief after every other officer in the department either resigned or was terminated. But Coppola's tenure in Guyton has been jolted by dissension, division, and discipline. Over the summer, he was demoted from his position as interim chief by Mayor Lariscy after a series of documented infractions – which included insubordination, inexplicable missing documents, and an inability to recruit additional officers – before council voted to override the demotion by the mayor and reinstate Coppola as interim chief. 
The reinstatement all but settled the seas.  In the early fall, Coppola announced his intent to sue the City of Guyton and during an October meeting, council members gathered in executive session to discuss potential litigation. They ultimately returned to vote publicly to decline Coppola's request for a legal settlement ahead of litigation. The point of contention was the city's failure to consider Coppola for the position of chief. 
At the time, citizens expressed their dissatisfaction of Coppola's decision, which was only compounded by council's disregard of the recommendation by then-Mayor Lariscy and a panel of citizens charged with interviewing and evaluating candidates for police chief. Though Lariscy was persistent in suggesting 30+ year law enforcement veteran Richard Zapal be hired, council members voted not to hire Zapal four times in two different meetings.
Council's lacking consensus has left Coppola, who was hired by disgraced former chief Stacy Strickland after a minimal background investigation three days after he interviewed, at the helm for nine months. But a detailed paper trail of documents from law enforcement and former employers may cloud Coppola's hopes of ever landing the permanent appointment to the chief's position.
The question, however, is 'why': What could compromise an application for Chief of Police and, most importantly, is Coppola qualified to hold the position? 
Spotty Past 
Coppola, who did not complete high school in a traditional setting, had a number of run-ins with law enforcement before he reached adulthood. Public records indicate that Effingham County Sheriff's deputies responded to the Coppola residence to address reports of an unruly juvenile seven times between the time Coppola was 14 and 16 years old. A total of 14 different ECSO deputies responded to various  Coppola-related incidents, two of which included turnover to investigators. Notable responses include then-ECSO deputy Stacy Strickland who would later go on to hire Coppola, an incident involving other juveniles in which an older man was hit with a pipe, and a domestic dispute where he assaulted his stepfather (as an adult) but no charges were sought at the request of his mother. Coppola has also had reports filed against him with the ECSO and the City of Rincon by the mother of his minor child. 
The most notable case involving Coppola dates back to when Coppola was 16-years-old and friends with convicted child molester Joseph Floyd in Clyo, Ga. Coppola was staying with Floyd, who provided him pornography, drugs, and alcohol in exchange for his entertainment of friends at Floyd's house. Friends of Coppola frequented the Floyd house where young girls were given prescription drugs and alcohol and, according to reports, were assaulted when they were under the influence. Victim statements from the case file show that when the female juveniles reported to Coppola that Floyd was touching them inappropriately, Coppola told the girls to 'go along with it.' 
Of the four 15 and 16-year-olds listed in the case, Coppola was the only one not listed as a 'victim.'  Instead, Coppola was listed as a witness in exchange for his cooperation with the state's case – a common practice – and most information on Coppola's involvement is sealed under juvenile record protections. 
AllOnGeorgia contacted the Georgia Peace Officer Standards and Training Council (POST) regarding whether or not juvenile cases are included during the certification process background search. Public Information Officer Ryan Powell said that candidates can choose to include the information but that state law prevents employers from using criminal records of juveniles as a disqualification for employment and said POST is not responsible for the background checks – academies and hiring agencies are. 
Now Missing Documents from Personnel File 
Coppola's city personnel file is missing a number of components, including discipline and training records, as notated by city officials. The records reportedly disappeared after Coppola took the reins as chief. In a letter of reprimand in Coppola's file, Mayor Lariscy cited 'Personnel File Status' as one of the reasons for demotion. 
"In reviewing your personnel file, Mr. Hofman found no reprimands. However, prior to former Public Safety Director McDonald's resignation, I was made aware of at least two (2) incidents that were reported to have been documented in your file; one for punctuality and one for insubordination. It is rather concerning that these are not in the file at this time,"  the letter read.
Coppola was responsible for PD activity when Kenny McDonald' resigned in February 2019. The city's response to the records request by AllOnGeorgia also noted missing documents from the file and provided a secondary set of copies of documents in which Coppola was advised to remove a sticker and a screen background he placed on his vehicle computer which read "Obey and survive."
Also absent from the file was any job performance evaluation of Coppola after January 2018. 
In October 2019, AllOnGeorgia filed an Open Records Request with the City of Guyton seeking the training records and certifications of Coppola as the file was missing current training records after mid-2017, but after more than two months, the city had still not complied with state law requiring production of documents. A complaint was filed with the Georgia Attorney General's Office, which opened an inquiry and yielded the training records from City Attorney Ray Smith, who said the request 'slipped through the cracks.' Those records show the City of Guyton paid for Coppola to attend chief school in mid-2019.
Demotion from Interim Police Chief Over Leadership Concerns
Coppola was demoted from the high ranking position on June 25, 2019 after, among other things, body camera footage revealed Coppola inadequately approved a report completed
by former Officer Trey Hester related to a property theft case and, according to Lariscy, failed to include documentation about drugs found at a residence in the same report. Other law enforcement officials have voiced concerns over the highly publicized incidence, saying dishonest statements by Coppola could compromise future cases in the event that an attorney challenge the integrity of his testimony based on what the body camera footage and personnel hearing testimony revealed.
In a letter of reprimand, Lariscy also cited disrespect of the mayor during an open meeting, failure to provide requested information, failure to attend scheduled meetings, failure to adequately address personnel issues, and 'integrity, leadership recruitment and general direction of the police department' as justification for the demotion. According to city officials, Coppola became aware of another officer's use of a city computer for 'long periods of browsing the internet that included pornographic material' but did not reprimand the officer or notate the findings in a personnel file. 
Story continues below.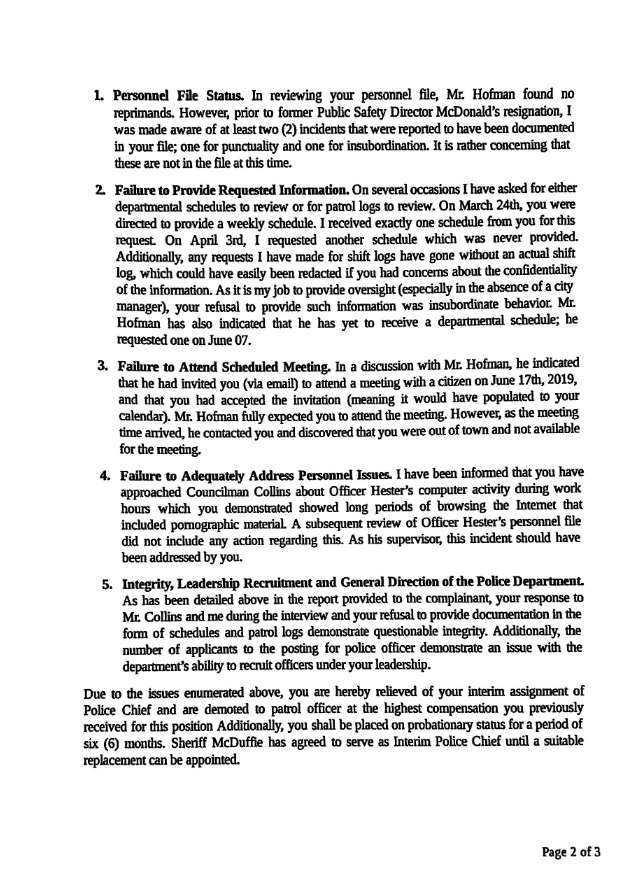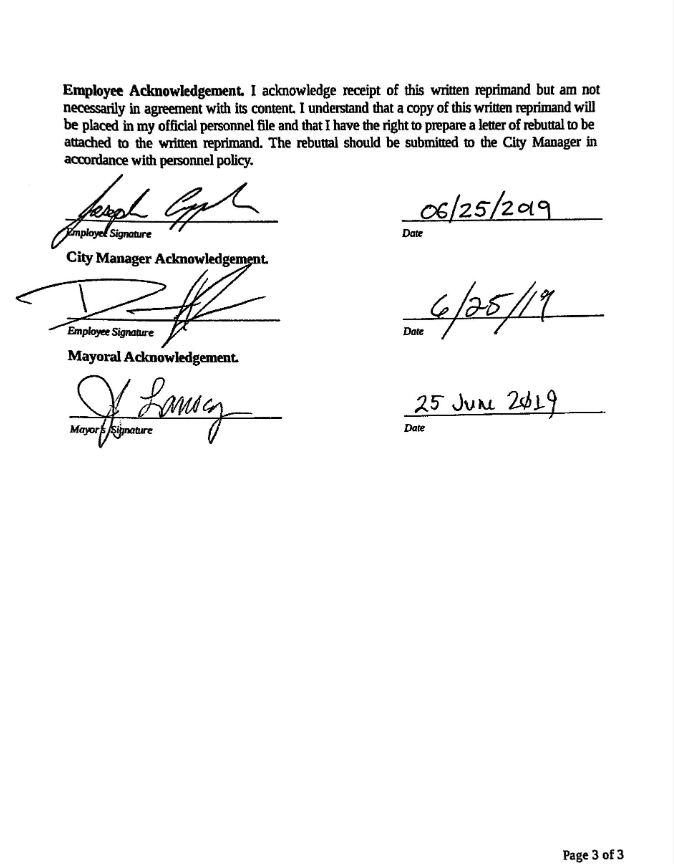 During the time without an interim police chief, the city worked out an agreement which put Effingham County Sheriff Jimmy McDuffie over city law enforcement needs. 
Despite Lariscy's thorough documentation and testimony, when Coppola filed an appeal of his termination, the council voted 3-0 to override the previous decision by the mayor.
Councilman Steve Collins said after the reinstatement, which he opposed, that he believed
Coppola "should have been fired" and Lariscy, in his letter to Coppola on August 29th, described the move as one he made 'reluctantly' because of the council vote. "What part of the public is better off because Coppola is here? Somebody needs to explain that to me because I don't understand it," Collins said at a public hearing on an unrelated matter. 
Story continues below.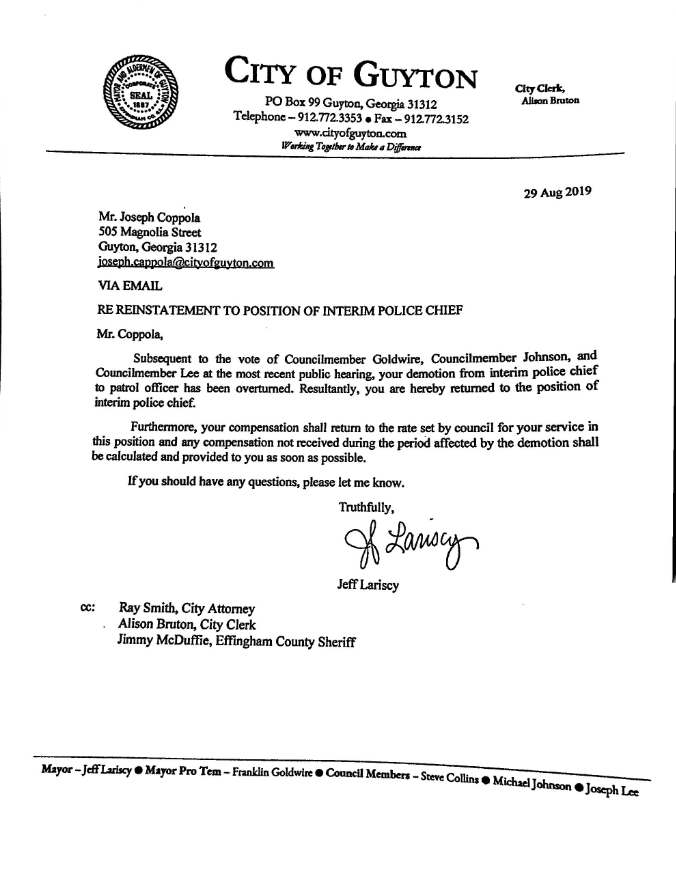 Recruitment 
The City of Guyton has struggled to hire anyone under Coppola's chiefship, hiring only two officers in the last year despite heightened efforts for recruitment. While agencies all over the state and nation have struggled with recruitment, Guyton's limited coverage led to the reduction of coverage hours for citizens, who are still funding a full police department, and shifted additional responsibility to the Effingham County Sheriff's Office. 
Conflicting Statistics on PD Activity 
In a September 17, 2019 article, the Effingham Herald reported that the Effingham County Sheriff's Office had responded to 945 calls in the city limits since January 1, 2019, including 176 traffic stops.  The same article reported one arrest and three citations in June, July, and August 2019 by the Guyton PD, which scaled back to part-time when Coppola was charged with policing the city on his own. 
But in October and November council meetings, Coppola reported considerably lower numbers by the Effingham County Sheriff's Office to city officials. In October, Coppola's report during an open meeting showed significantly less reliance on the county law enforcement with 9 calls handled by ECSO deputies in September and in November, said 5 calls were handled by ECSO in October.  The numbers vary greatly from those recorded by Effingham 911 and the Sheriff's Office. No report was given in December as Coppola was not present. 
Questionable Handling of DUI Stop 
On April 23, 2019, Coppola was notified of a possible drunk driver after a concerned citizen notified him of a driver stumbling in the parking lot of a Guyton gas station and then swerving erratically as he left the business and began traveling on Highway 17. Coppola subsequently initiated a traffic stop just after 10:00 p.m. with the driver of a black pick-up truck identified in 911 dispatch audio as Christopher Hollis. Coppola called the tag information and driver name into dispatch with the stop location and after several minutes, reported back to dispatch that he issued two citations and was following the driver to the address on Old Louisville Road. Public records show Hollis lives on Old Louisville Road – almost three miles from the Parker's and roughly two miles from the basketball courts at Highland Park where the traffic stop took place. 
But inquiries with the City of Guyton and Effingham County Clerk of Courts show no record of any citations issued to Hollis by Guyton police during the month of April or for any traffic offense on or around that date.
Almost one month later on May 22, 2019, the same driver – Christopher Hollis- was just
outside the city limits of Guyton on Old Louisville Road when he smashed into the back of a school bus transporting children and was transported to a local hospital. ECSO jail records later revealed that Hollis was charged with driving under the influence of alcohol, following too closely, weaving over roadway, and a seatbelt violation. 
The May 22nd DUI made for the second DUI arrest of 2019 for Hollis, the other which occurred on February 2019 and also resulted in an arrest and booking in Effingham County jail. For reference, under Georgia law, a habitual violator is a person who has been arrested and convicted of DUI three or more times in five years. 
Tenure in the City of Rincon
Coppola's personnel file from both Guyton and the City of Rincon states that he voluntarily resigned from the Rincon PD in April 2017, submitting a letter to then-Chief Scholl on April 20, 2017 to take effect three days later on April 23, 2017. The resignation came three days after Coppola was told by PD administrators that his disciplinary action for excessive tardiness and an at-fault traffic crash would be taken before the city council for a decision because he was still on probation, having not yet served one full year with the City of Rincon. Coppola had previously been suspended for 16 tardies in eight months, one of which involved him leaving his service weapon at home. Coppola's Rincon file showed a letter of commendation for his efforts during Hurricane Matthew in 2016 and had not additional comments on his disciplinary status due to his resignation. Ultimately, Coppola's tenure in Rincon was approximately two weeks shy of one year. 
When he applied for the job in Guyton in June 2017, he claimed his time in Rincon concluded in May 2017 and he resigned because he heard about a job in the City of Guyton. 
Job Description 
Coppola graduated from the police academy at Savannah Tech in 2013 but worked as a private security officer for three years before he was hired in a position of law enforcement by the City of Rincon. Coppola, who is 27-years-old, completed the academy three years after he finished his GED. 
During a June 2019 council meeting, council members Johnson and Lee both expressed their concern that Coppola wasn't considered for the chief's position, stating the city had already invested in him. Lariscy, saying he would not discuss the matter in an open meeting, did not mention that Coppola did not meet the standards as defined by the city. 
The job description on the City of Guyton website requires a Bachelor's degree in Police Science, Police Administration or management and 40 hours of education from an accredited university, but Coppola's highest education listed in his personnel file is a GED. Additionally, it requires 12 years of experience in law enforcement generally with six years of experience in command or leadership positions. When Coppola was appointed to the interim post, he had less than two years of law enforcement experience.  
The training records in his file show that limited continuing education classes were taken in calendar year 2014, 2015, or the first four months of 2016, which led to a waiver for training by POST because he wasn't employed by an agency. He spent much of 2017 and 2018 making up for previous years of training.  
……….
On January 14th, a new mayor and two council members will assume their posts with the City of Guyton. What they plan to do in terms of hiring a chief permanently and with the police department as a whole remains to be seen. 
---
Information was compiled through documents provided through Open Records Requests filed with the City of Guyton, the City of Rincon, the Effingham County Sheriff's Office, and Effingham County 911, as well as public records available in the Clerk of Court's Office in Effingham County.