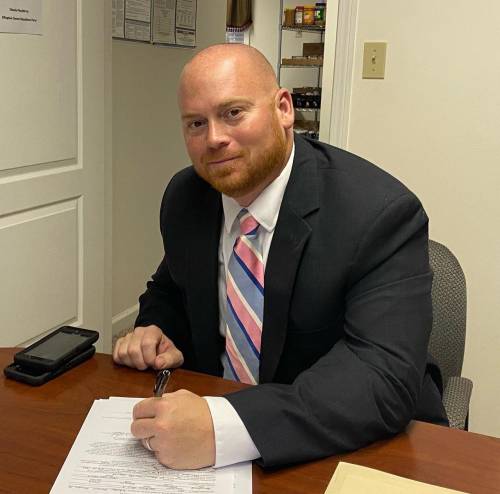 Due to the social distancing guidelines, we have converted our traditional AllOnGeorgia candidate video interviews into short questionnaires. Each candidate in the race was provided an identical questionnaire with the same deadline. Answers were not edited in any way.
The Primary Election was moved to June 9th.
The last day to register to vote in the primary is May 11th.
Early voting begins May 18th.
To sign up to volunteer as a poll worker, click here.
---
Please

 

provide

 

a

 

brief

 

bio

 

on

 

yourself.
When I think back and reminisce, my whole life has been Effingham County. I was born and raised in Guyton going on to marry my high school sweetheart, April Morgan. After marriage, we spent another 14 years in Guyton where we started a family, Tyler (9) and Morgan (4, soon to be 5). In 2018 we purchased land on the north side of the county and in 2019 built a home on it. It is nothing spectacular, but it is ours and we are proud of it. You see though, my life has been more than just living in Effingham. 
My life, and desire, is about working and giving back to the county that I love. I started at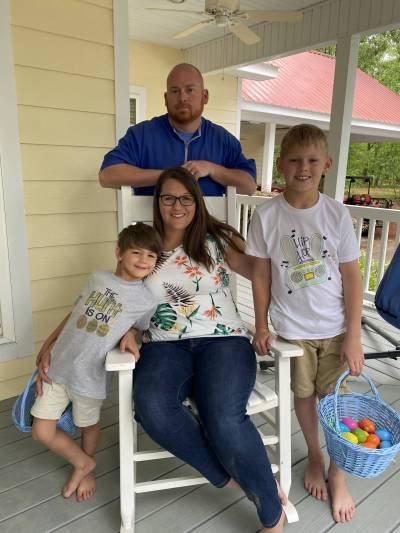 a young age by riding my bike around Guyton cutting yards with a push mower. At the age of 15 I got my first "real" job at Thompson's IGA, working there through high school. The deli breakfast always made working Saturday mornings a little bit easier…LOL! After graduating from ECHS, I attended and graduated from Ogeechee Technical College with a degree in Networking. Upon graduation, I had the fortune of gaining a job with the Effingham County Board of Education as an I.T. specialist. I absolutely loved my nine years there and the people that I worked with. In 2013, I had an opportunity to better my family and took a job with the Effingham County Board of Commissioners. I worked there as an I.T. specialists until 2014 when Sheriff Jimmy McDuffie called me into his office one day and offered me a job that would have me transfer and become their IT admin, a position that had just been created. Knowing Mr. Jimmy most of my life, I immediately jumped on board. I have been at the sheriff's office for the past seven years and in 2015 was sent to the academy to become a certified law enforcement officer, adding deputy to my title. 
That's not the end of my story in Effingham County….anyone who knows me knows that I love to give back, whether it is through sports (which I love) or helping someone in need. For the past 18 years I have officiated multiple sports for Effingham County Recreation and Parks. I have also spent the last six years as a volunteer coach in Football, baseball and basketball. There are very few things more rewarding than seeing something click in a child when they gain self confidence in what they are doing. No matter what your situation may be, I have always been an advocate to help someone when they are down on their luck. I have volunteered with, and organized, several charity events over the years helping those that may be in need. These are things that I love to do and will continue to do as long as I am able. 
I could take credit for all of this but I would be wrong. In my opinion, I was the luckiest person in the world to be put on the path that I have been on in this life. It started with my grandparents, Charles and Ruth Dickerson (Rincon) and Wilson "Peck" and Uldine Lawson (Guyton.) For years, they were and have been an example of integrity and good Christian values. Then  have my parents, Walter and Roseann Lawson. Both have worked tirelessly for our family for as long as I can remember, making sure we had a great childhood and even still as adults. They raised my siblings and me in church, also showing us by example how to be a good hard working Christian. If I had to say one thing I miss about my childhood it would be riding around small town Guyton and being "Walter's boy" or "Pecks grandson"! Then there are my in-laws, Clarence E. and Pam Morgan. They have been a second set of parents to me for the past 20 years. Accepting me and loving me for who I am. For years, Mr. Clarence has set an example not only to me, but to our county on how much someone can love their community and unselfishly give back. 
Whether it is through the school system, recreation department, volunteer charity, the list could go on and on! He has spent more than fifty years now helping to better Effingham County and its people. I love my family, my upbringing and Effingham County. I look forward to continuing to raise our family here.
What

 

experience

 

do

 

you

 

have

 

that

 

properly

 

equips

 

you

 

for

 

the

 

position

 

of

 

Clerk of

 

Court?
In today's world, everything is becoming technology dependent. I have 17+ years of technology experience as an I.T. specialist and admin, nine of those being in the Effingham County School System and the last eight being in the Effingham County Admin Complex, Courthouse and Sheriff's Office. In that role I have installed, trained and supported some of the same software used today, as well as supported its many users.
On top of being in an I.T. support role, I have been a certified law enforcement officer for the past five years. I also spent several years being a business owner\co-owner (Lawson Technology\Envision I.T. Solutions).
We need someone that is going to be comfortable with changes, as they inevitably are going to happen. I think if you add all of my experience together, especially with my technology and law enforcement background, I am the most qualified candidate to continue to lead the clerk's office into the future.
How

 

do

 

you

 

view

 

the

 

day-to-day

 

role

 

of

 

the

 

Clerk

 

of

 

Court?

 

(The

 

balance between

 

managing

 

the

 

office,

 

working

 

with

 

other

 

elected

 

officials,

 

and

 

general public

 

servant

 

work;

 

daily

 

duties

 

and

 

responsibilities;

 

etc.)
Being the clerk of superior court is a huge responsibility. You are tasked with maintaining the daily operations of the court system. Along with that, you are also responsible with maintaining Superior, State and Juvenile court records. The clerk of superior court is also responsible for recording public records, such as deeds, mortgages, charters, personal military records and notaries public. Along with records, the clerk of superior court is responsible for receiving and maintaining funds. They receive, collect, manage and disburse all court fees, fines and costs. 
The day-to-day role as clerk of court is something that you have to take with adjustments. Every day is not going to be the same. Each day is going to require you to work with different types of people, whether it is elected officials, employees of the court or the general public. It is a position that you have to treat with humility, honesty and integrity. It's not a job that you come in Monday-Friday, 8:00-5:00, and go home leaving it at the office. You are an elected official serving the citizens of Effingham County. You have to go into this position realizing that you are the Clerk of Court when you are at work, when you are at home and when you are out in public. So not only will you be running the day-to-day business side of the courthouse, but you need to be okay with being out of the office, knowing that you are going to have constituents approach you with questions and concerns.
What

 

practices

 

are

 

in

 

place

 

in

 

the

 

Clerk's

 

Office

 

that

 

you

 

think

 

are

 

important

 

to

 

carry over into a new administration?
As I have continuously said, the retiring clerk, Mrs. Elizabeth Hursey, has done a superb job in her time as clerk of superior court and has set a precedent on how the clerk's office should be ran. She has set a tradition of excellence and it would be my goal to keep things on that same track. Mrs. Elizabeth has always made herself available to the public and I admire that about her.
If elected, I would maintain the same open door policy that she has always had, making myself easily accessible to the public. I want to be there for those that have trusted me in the position I am in. I think whomever is elected would be very wise to do so! 
How

 

can

 

the

 

Effingham

 

County

 

Clerk's

 

Office

 

be

 

more

 

efficient?

 
Along with keeping and practicing the same standards and procedures that have already been in place. I plan to use my experience in technology, as well as law enforcement, to make sure the clerk's office in Effingham stays up to date and runs as efficiently as possible. Effingham County has been one of the fastest growing counties in the state for some time now. We need to make sure we are properly staffed and prepared to continue to be able to support that growth. I don't think a lot needs to be changed or a lot of tax dollars spent that doesn't need to be. We just need to make sure we are trained and prepared as much as possible. We also need to continue to be accessible and available to the people we serve. 
How

 

can

 

the

 

Clerk's

 

Office

 

be

 

more

 

transparent

 

about

 

activities

 

and

 

finances?
As said before, today's world is a world of technology and almost everyone has smart devices now. Our clerk's office currently does a superb job with sending out notifications and keeping the website up to date making information available.
I would like to continue doing that, as well as look at a social media or an app based approach. A large number of citizens are connected with social media in today's time. I think they would be more likely to see something that is posted in that way than to just browse to the county's website to see what is going on.
For those that choose not to use social media or are not as comfortable with a computer, I would like to look at having an app developed that would make it more effective to browse to what is being desired or needed. We have used these practices at the Effingham County Sheriff's Office and it has been very popular. 
What

 

types

 

of

 

practices

 

do

 

you

 

plan

 

to

 

implement

 

to

 

advance

 

the

 

office

 

technologically?
As said above, I would love to look at the possibilities of using social media and other given technologies, such as an app, to help keep our citizens stay in the know. I would also like to use my professional experience to make sure we continue on a path that simplifies and makes things as convenient as possible for the citizens of the county. If you go to the county website, you will find that you have access to almost any information or forms that you may need. I would like to look into a way to make sure that the public knows they have access to these resources. Not everyone is comfortable with technology so we need to keep that in mind and make ourselves easily accessible for everyone. 
We have to make sure we are staying connected with everyone!
Will

 

any

 

other

 

employment

 

or

 

business

 

venture

 

in

 

which

 

you

 

are

 

vested

 

present

a conflict of interest for you as Clerk of Court? Please explain your answer.
If elected, I plan to put 100% of myself and my efforts into serving the constituents of Effingham County. I will continue to volunteer my time in youth sports in our county as well as other programs and charities. Make no mistake about it though, serving as the Clerk of Superior Court will have 100% of my attention. I want to serve in this position and make the county that I have called home my entire life proud!
Why

 

do

 

you

 

want

 

to

 

be

 

the

 

next

 

Clerk

 

of

 

Court

 

of

 

Effingham

 

County?
I think anyone that has a servant's heart, truly cares about people and wants to do for others will always wonder and question if they can do more. That is something that, as an adult, I have always questioned myself. I have made a life that I am very proud of by living and serving in Effingham County. From volunteer work to working for the school system and then the judicial complex and sheriff's office. I have always loved doing for Effingham County but want to do more. I have always had an interest, dating back to high school, in the judicial system. I have enjoyed my time working in it and think with my background and drive that I would be a great asset to the county. 
Is

 

there

 

anything

 

else

 

you

 

would

 

like

 

the

 

public

 

to

 

know

 

about

 

you?
I think the main thing that I want people to know about me is that I do not consider myself a politician. I'm just a boy from Effingham County Georgia that was raised to work hard, do right by people and treat them fairly. If you know me, or talk to anyone that does, I think you will learn that I have tried my best to live by those standards. Something I have always said and done is to always be willing to help someone in need, no matter your personal situation. You may never know when the shoe could be on the other foot. 
Mrs. Elizabeth has done a great job in her role as the clerk of superior court for a long time now. I promise you there will be a transition period, no matter who is elected! I will not make a bunch of promises that sound good just to not be able to follow through on them down the road. One thing that I can guarantee you is that as a hard working child of Effingham County, no one will work harder than I will for its people. I love this county that has made me who I am. While in office, if you came to see me or called me, you would not just be another constituent. You would be someone that I have invested my life in. Someone that there is a good chance I have known for some time and someone I would make it a priority to serve.  A lot of you have grown up with me or watched me grow up. I fully believe that all of this, along with my background, will help make me a valuable asset to Effingham County and its people. I would love nothing more than to serve you as the Clerk of Superior Court and help keep our county the great place that we all know it is! 
Below are links to my personal Facebook page and Campaign page. Please feel free to browse and friend request me. My life is an open book that I am proud of!