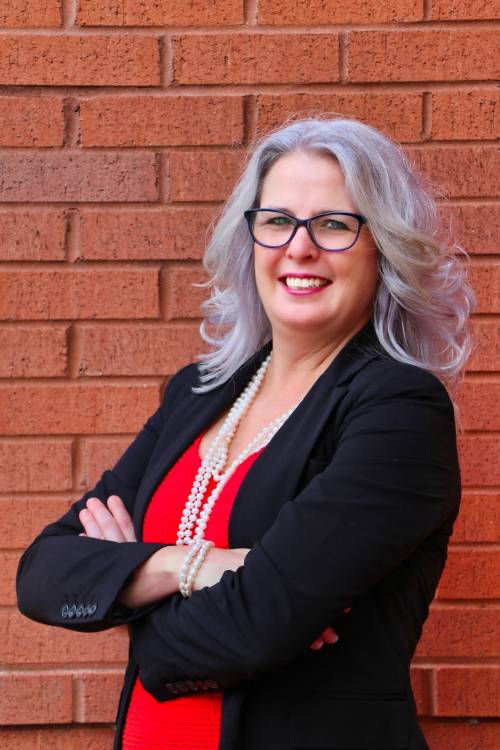 Due to the social distancing guidelines, we have converted our traditional AllOnGeorgia candidate video interviews into short questionnaires. Each candidate in the race was provided an identical questionnaire with the same deadline. Answers were not edited in any way.
The Primary Election was moved to June 9th.
The last day to register to vote in the primary is May 11th.
Early voting begins May 18th.
To sign up to volunteer as a poll worker, click here.
---
Please

 

provide

 

a

 

brief

 

bio

 

on

 

yourself.
My name is Audra Battle Jennings and I am a native of Effingham County and the daughter of John and Jelane Pevey Battle. I am a graduate of Effingham County High School and continued my education in Southwest Georgia where I lived for over 20 years before returning home to care for my parents and uncle. I am the mother of 2 young men who also graduated from Effingham County High School and are both continuing their education at UGA and Ogeechee Tech.  
What

 

experience

 

do

 

you

 

have

 

that

 

properly

 

equips

 

you

 

for

 

the

 

position

 

of

 

Clerk of

 

Court?
I spent my entire 30+ year career in public service and my chosen path has been the court system. For the last decade I have worked in courts that are in a larger jurisdiction. This affords me the experience that is not easily achieved in smaller counties with less staff. Being a supervisor and part of the administrative staff in a larger court provides the opportunity to experiment. Some ideas work while others do not on the day to day operation of the Clerk's Office. My knowledge and experience also includes working with county budgets, personnel management, court processes, and systems configuration that are all key in getting the job done.
How

 

do

 

you

 

view

 

the

 

day-to-day

 

role

 

of

 

the

 

Clerk

 

of

 

Court?

 

(The

 

balance between

 

managing

 

the

 

office,

 

working

 

with

 

other

 

elected

 

officials,

 

and

 

general public

 

servant

 

work;

 

daily

 

duties

 

and

 

responsibilities;

 

etc.)
The responsibilities of the Effingham County Clerk of Courts includes Superior, State and Juvenile Court. The Clerk is a constitutional officer whose primary responsibility is maintaining and preserving all records pertaining to the courts. These records include Real Estate documents, financial transactions, and civil and criminal court records to name a few. I believe in putting commitment to the highest moral principles and upholding the constitution first and foremost. Establishing and fostering good working relationships with court personnel, elected officials and other departments in the county is key to supporting the integrity and transparency of the operation for the citizens of Effingham.
What

 

practices

 

are

 

in

 

place

 

in

 

the

 

Clerk's

 

Office

 

that

 

you

 

think

 

are

 

important

 

to

 

carry over into a new administration?
I am looking to succeed the retiring Clerk who is known state-wide for her devotion and hard work for this county. The office is known for its commitment to compliance with the Uniform Rules of Superior Court, state laws, state reporting requirements and providing excellent customer service to the public. I will work diligently to maintain the current practices that have made the office a success.
How

 

can

 

the

 

Effingham

 

County

 

Clerk's

 

Office

 

be

 

more

 

efficient?

 
I believe to make the office more efficient, you must first evaluate the office and determine what works well and what can be improved upon. That will range from court appearances, real estate filings and oversight of tax appeals. The Council of Superior Court Clerks provides many resources that can be implemented in less populated counties to reduce risk and provide checks and balances for accuracy. Other clerks organizations can also assist such as the Training Council, The Clerks Authority, the Association of Superior Court Clerks and the National Center for State Courts. The challenge will be effective implementation of these changes and ideas. This is where my experience gives me an advantage in affecting those changes more judiciously and can bring more opportunities for training and promotion to the office staff.
How

 

can

 

the

 

Clerk's

 

Office

 

be

 

more

 

transparent

 

about

 

activities

 

and

 

finances?
I plan to actively participate in the annual audit with Effingham County as well as any state agencies that require record audits. The office financial records will be open to auditors on demand. I will be open to meeting with civic groups and neighborhood associations at their request.
What

 

types

 

of

 

practices

 

do

 

you

 

plan

 

to

 

implement

 

to

 

advance

 

the

 

office

 

technologically?
Part of making the office more efficient is evaluating the current technology that is in place. Changes are forthcoming as new laws from the state legislators are passed. The current system being used is MicroPact (formally Iron Data) and is now a division of Tyler Technologies. I will look to the company first for new enhancements and improvements in the court management software package that will be more cost effective. Then I will be an active participant in teleconferences, customer feedback and suggestions offered by the customer support team to continue with updates that may come from new legislation.
Will

 

any

 

other

 

employment

 

or

 

business

 

venture

 

in

 

which

 

you

 

are

 

vested

 

present

a conflict of interest for you as Clerk of Court? Please explain your answer.
No, I have no other business interest. I am a professional public servant.
Why

 

do

 

you

 

want

 

to

 

be

 

the

 

next

 

Clerk

 

of

 

Court

 

of

 

Effingham

 

County?
I've spent the last 30 years in public service and the last decade has been in the court systems of Chatham County. I am not a politician, I am a public servant. I love my career and wish to continue forward, by serving the citizens in the county where I grew up and live.
Is

 

there

 

anything

 

else

 

you

 

would

 

like

 

the

 

public

 

to

 

know

 

about

 

you?
Effingham County is growing and the office needs to be prepared to grow with it. My knowledge and experience in working with county budgets, personnel management, court processes, and systems configuration are key in getting the job done. My commitment is to you, the citizens of Effingham County.
If you would like to know more about my qualifications, I encourage you to contact me. You can reach me by email, message or phone at the following:
https://www.electaudrabattlejennings.com/
https://www.facebook.com/ElectAudraBattleJennings/
Address: PO Box 418, Guyton, GA 31312
Phone: 912-777-8391