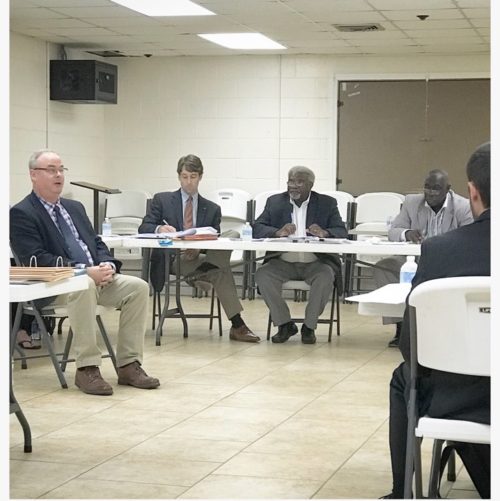 After four hours of testimony and another forty minutes of deliberations in closed session, the Guyton City Council voted to reinstate City Manager Daniel Hofman. Monday's reinstatement will include the issuance of more than $12,000 in back pay – for the 12 weeks Hofman did not work for the City – and reimbursement of his attorney's fees, which total $8,420. The 3-1 decision ends a three month dispute over the employment of the City Manager and illustrates the roller coaster of differing viewpoints on personnel matters by elected officials in Guyton. 
In question was Mayor Jeff Lariscy's termination of Hofman in July 2019 and whether or not it was done with cause. 
City Attorney Ray Smith greeted the half-full Leisure Services Center in Guyton Monday evening before announcing that he would be leaving due to his previous advice to all of the impacted parties. Instead, Attorney Ben Perkins of Oliver Maner, LLP in Savannah sat in as the hearing officer. Marcol Harvey of Edenfield, Cox & Bruce in Statesboro represented Mayor Jeff Lariscy and Ellen Schoolar of Lowe & Schoolar, PC represented Daniel Hofman. Mayor Pro Tem Dr. Frankling Goldwire, and council members Michael Johnson, Joseph Lee, and Steve Collins served as the administrative hearing panel.
Addressing Conflicts of Interest
Marcol Harvey told the panel that ahead of the commencement of opening statements, he wanted to voir dire – or conduct a preliminary questioning of – council members Johnson and Lee to ensure that the panel was truly impartial. Hofman's attorney objected to Harvey's inquisition and said that she would be open to any evidence they already had to offer, but was not willing to go forward with voir dire due to the hearing being administrative. She also argued that Lariscy was aware of the hearing for several weeks and could have made motions earlier. Hearing officer Ben Perkins agreed with Schoolar and Perkins instructed the council members to avoid prejudging the evidence and agree to be fair and impartial. 
Testimony 
During the opening statements, Harvey argued that Larsicy objectively terminated Hofman on July 29th for noncompliance and poor decision making during his probationary tenure as city manager. Harvey said the decision was made on several instances, in the best interest of the city, and because Hofman was not suitable to be city manager.
Schoolar argued that the termination was a violation of the city charter and city personnel policy, claiming that Hofman was not granted due process rights with regard to the appeal process, that the decision was made without council input, and executed without adequate written documentation and specific details. Schoolar admonished the mayor's request for Hofman's resignation, which was purportedly followed by a text message termination by Lariscy, and said the mayor's attorney only sent documents as evidence the day of the hearing. She objected to the majority of the evidence, citing the lateness, but Perkins recommended to council members that they accept the evidence and consider the presentation of it during deliberations. 
Councilman Joseph Lee questioned if the evidence should be allowed to be considered and if the Mayor, by and through his counsel, presented the documents too late, but Perkins, citing the personnel policy, said the procedure was not clear, calling it "grey area." "There is no express statement" dictating when the mayor must provide evidence, Perkins told council members, who heeded his advice and moved on with the hearing. 
Councilman Steve Collins questioned the rights of a probationary employee and at what point a mayor can intercede and terminate an employee, which was echoed by Perkins recommendation to move forward and weigh the timing of the evidence during deliberations. 
Lariscy answered questions from Harvey and Schoolar for more than two hours, elaborating on a number of issues ranging from wastewater treatment plant maintenance and surplus equipment to payroll administration and insubordination. 
Lariscy testified that Hofman surplussed three lift station pumps, two of which were used and one of which was new, on GovDeals without the council's approval to do so and leaving the city without a backup lift pump. He told the panel that Hofman doing so yielded $303 for all three pumps, of which the new one would cost $12,000 to replace. Lariscy also testified that the City paid $10,520 for the pump in 2012, evidence Hofman later challenged during his testimony, stating there was no proof the invoice presented was for the pump in question. Lariscy, however, maintained that getting rid of all of the lift station pumps was not in the best interest of the city – financially or in terms of preparation. 
Lariscy also testified that: 
Hofman did not follow instructions to keep the mayor and Councilman Steve Collins informed of any wastewater treatment issues;

Hofman improperly ran payroll which created a host of problems for employees with deductions from their paychecks;

Hofman did not meet expectations for the management of other city employees;

Hofman provided incorrect information to a collection agency which resulted in at least 80 correct letters needing to be issued to account holders who were wrongly notified they had delinquent accounts; and 

Hofman denied sewer applications without the proper authority, and in conflict with the personnel policy. 
Throughout his testimony, Lariscy maintained that there were a number of incidents demonstrating poor judgment which led to the termination of Hofman.
Schoolar argued on behalf of Hofman that her client was never given any written or verbal warnings on job performance and noted that his performance evaluations did not reflect any of the matters brought up by Lariscy. Schoolar also challenged Lariscy's claims about the lift station pumps, asking if he consulted on the pumps or had them tested. Hofman later testified the pumps were 'scrap metal' and he would have taken them off the bidding site if he knew City didn't want to sell them. 
But before Hofman took the stand, Schoolar asked the panel to consider a directed verdict – or a ruling in favor of Hofman without Hofman's testimony based on the Mayor's failure to demonstrate cause for termination. Council opted not to take that route and instead had the hearing continue. 
Hofman's appeal, however, did not focus on his alleged mistakes but rather the procedures surrounding his termination. Schoolar questioned Lariscy on why he did not have a performance evaluation for the city manager, why there were no written complaints, and did not indicate Hofman's job was in jeopardy. She chalked it up to a lack of communication on behalf of the City and said the mistakes were 'growing pains.' Hofman testified he would like his job back and if he's doing something wrong, he would just like the opportunity to redeem himself. "I'll try my best to do the right thing, I really will," he said. 
Schoolar asked Hofman if he could work with Lariscy, the council and city employees he once supervised. Hofman answeed, "Absolutely."
In closing, Harvey hammered Hofman's claims that the payroll issues and acts outside the scope of his authority were mere mistakes while imploring the panel to uphold the termination. 
Before going back to executive session, Councilman Collins reminded his colleagues, through a line of questioning, that the Mayor was responsible for day to day operations of the City and was within his bounds to terminate a probationary employee.
Decision
Council met in closed session for 40 minutes before returning to the main room to announce their vote one by one. Councilman Steve Collins said he supported Lariscy's decision and voted to uphold the termination while Lee, Johnson, and Goldwire all voted to overturn the decision. The meeting adjourned just before 11:45 p.m.