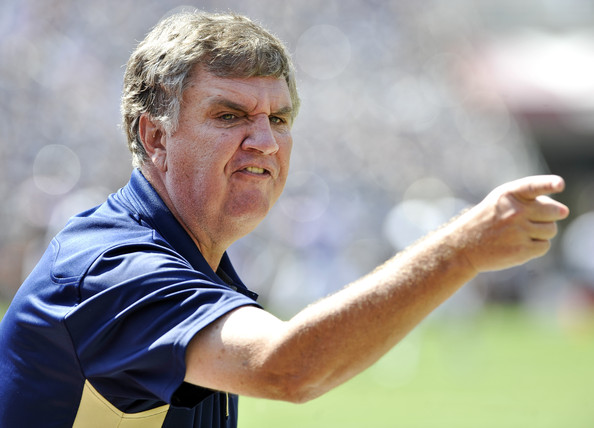 Today, AllOnGeorgia releases the final installment of "You Tell Me, MP" featuring legendary Glynn County-based sports writer Murray Poole. In this weekly summer series, current AOG writer Kevin Price has asked Poole a series of questions and the longtime Brunswick News sports editor and 2016 Glynn County Sports Hall of Fame inductee has answered them each week. Price's goal was to capture the opinions, thoughts and especially the memories that Poole has from yesteryear in local athletics. This week, the county's unofficial sports historian answers all football questions before returning to Bulldawg Illustrated to cover another University of Georgia football season.
---
The high school football season is about to start. As for the local coaches, what impresses you about Glynn Academy's Rocky Hidalgo, Brunswick's Sean Pender and Frederica Academy's Brandon Derrick?
First, Rocky Hidalgo. I think, in his first four years at the Red Terror helm, Rocky has accomplished more than any coach in Glynn Academy's proud history. His teams have advanced at least to the state playoff quarterfinals every year he's been here with the 2015 team losing tough to Allatoona in the state championship game in the Georgia Dome and last year's team dropping a heartbreaker to eventual state champion Lee County in the semifinals. This season's Glynn team is loaded with young players who will be making their first start in a varsity game but you can bet Hidalgo will again shape them into a formidable team by playoff time.
And in Sean Pender I feel like the Pirates have one of the top offensive minds in Georgia guiding their team. Pender, after shaping Pierce County into a perennial playoff contender with his quarterback, Stetson Bennett, ringing up new passing records, steered Brunswick High to a share of the Region 2-6A regular-season title in his first year at BHS before the 2nd-seeded Pirates also lost a heartbreaker to Northside-Warner Robins in the state playoffs. Like the cross-town rival Terrors, the Pirates were decimated by graduation — especially in the skill-player ranks — but you can also look for Brunswick to be making some noise in the postseason this year.
And Brandon Derrick has simply done a stellar coaching job in his short time at Frederica Academy thus far. The former Glynn Academy offensive coordinator under Rob Ridings, Derrick has brought a fast-paced spread offense to the Knights and does a good job of getting the ball into his playmakers' hands … namely Auburn-bound Jashawn Sheffield and Jaylin Simpson. Derrick had Frederica knocking on the door of the GISA state championship last season when the Knights fell in the semifinal round but with a strong cast to go with Sheffield and Simpson, I'm looking for Frederica Academy to win all the marbles this fall.
You like Georgia to win the SEC East, but have them losing to Alabama in the SEC title game. A lot of folks are forecasting a perfect regular-season for Georgia. Do you think that will happen?
Certainly, Kirby Smart's third Bulldog edition has the talent, depth and everything else to run the table in Georgia's regular-season slate this season. But going unbeaten in the gauntlet that is the Southeastern Conference is akin to walking through a minefield unscathed. Ask eventual national champion Alabama …. the Tide were whacked by state rival Auburn in the regular-season finale before then getting a second opportunity in the college football playoffs and making the most of it by dispatching Clemson and Georgia.
So right now, I'm calling for the Bulldogs to go 11-1 in the regular season with the only loss coming in Baton Rouge on Oct. 13 or three weekends earlier in Columbia, Mo. when the Georgia defense will be confronted with the SEC's top passing quarterback in Drew Lock and an explosive Missouri offense. Still, this Bulldog offensive unit should be good enough to outscore every single team they face so, yes, a 12-0 record entering the SEC championship game against Alabama is certainly possible.
There are Georgia Tech and Georgia Southern fans here, as you know. How do you think their Yellow Jackets and Eagles will do this season?
Well, it's a good bet Yellow Jacket and Eagle fans are hoping for a vast improvement over last season's losing records. Paul Johnson's Tech team went 5-6 on the season and it was the second losing season in the last three for Johnson, who is entering his 11th year on the flats and has guided the Jackets' triple-option offense to four division championships and one ACC title.
But Tech looks to be sounder all-around for the coming season as senior quarterback Taquon Marshall will be running the attack again after having some up-and-down performances, especially throwing the football, last fall when the converted running back had to follow in the big shoes of Tech standout field general Justin Thomas.
And with junior B-back KirVonte Benson leading the ground game after rushing for more than 1,000 yards last season while being complemented well by Nathan Cottrell and A-backs Qua Searcy and Clinton Lynch, look for the Jackets to buzz much more frequently on offense this season. Defense still remains a question mark after the Jackets surrendered plenty of yards and points last year but Johnson is looking for new coordinator Nate Woody, who has installed a new 3-4 defense at Tech, to right the ship on that side of the ball.
And the fall of 2017 was a disastrous one for the Georgia Southern Eagles. Under coach Tyson Summers, the Eagles lost their first six football games; subsequently, Summers was fired after that 0-6 start and replaced by assistant Chad Lunsford. Lunsford fared only slightly better the rest of the schedule, going 2-4, but he clearly established his print on the GSU program. And with an experienced offensive line, leading rusher Wesley Fields back and quarterback Shai Werts figuring to be much more solid than he was as a freshman starter at the position last season, look for the Eagles' offense to start resembling the potent GSU offenses of yesteryear once again.
Putting new life into the Eagle offense will be new coordinator Bob DeBesse, who came to Statesboro from New Mexico. The Eagle defense, what with nine starters returning, should also be much more formidable in slowing opposing offensive attacks this season.
When it comes to pro football, people here are Falcons fans, but also a lot of people follow the Jacksonville Jaguars. How do you think both of those teams will do this season? You got a won-loss record prediction?
I wouldn't hazard a guess on a professional football team's final record but I do look for both the Falcons and Jags to be solid playoff teams once again, with either making a bonafide run to the Super Bowl if the breaks fall their way.
Both teams went 10-6 last season but it was a different 10-6 for Atlanta and Jacksonville. The Falcons and quarterback Matt Ryan couldn't recapture the offensive magic of the 2016 season when then MVP Ryan led the birds to the Super Bowl, only to blow a 28-3 lead and succumb to a Tom Brady-led Patriots comeback. With Alabama All-America Calvin Ridley joining the Falcons' Julio Jones-led receiving corps this season and Steve Sarkisian faring much better in his second season as offensive coordinator, I'm looking for Atlanta's offense to snap back greatly this year.
But likewise, a greatly reshuffled Falcon defense will have to also show marked improvement. Last season, if you recall, the Falcons beat the Rams in the wild-card game before then going under to eventual Super Bowl champion Philadelphia in the NFC divisional round.
Last season, the Jaguars made much more of their 10-6 season, winning the AFC South title then beating Buffalo and the Steelers in the playoffs before falling just short of the Super Bowl by blowing a 20-10 fourth-quarter lead against Brady and the Pats in the AFC title game.
But the NFL's top defense from a year ago is ready to go again after the Jags allowed the fewest yards and points per game in 2017 and were second in the league in sacks. And offensively, behind rookie back Leonard Fournette, Jacksonville led the NFL in rushing yards per game with a 141.4 figure last season. Key this year will be whether or not quarterback Blake Bortles continues to improve his game, especially his short-to-medium passing accuracy.
 Murray, this is the last week of our summer Q and A. I've really enjoyed this and would like to thank you for your cooperation and all the great insight each week. I hope the readers have enjoyed it, too. And I hope you have had fun with it and would consider doing it again. Anything you would like to say to everyone before we wrap it up?
I've thoroughly enjoyed answering the good questions you have thrown at me this summer. They have brought back many fond memories for me, in talking about not only some of the favorite teams I covered through the years but also remembering the many great individual players I got to witness in action.
And also digging into some of the questions concerning our present teams and athletes has enabled me to keep up to snuff on them. Writing for Bulldawg Illustrated, I'm pretty well fixated on Georgia's football program and the Bulldogs' fortunes each fall but this series has gotten me involved with all sports and all teams and like I said, it's been a pleasure this summer to be able to do it.