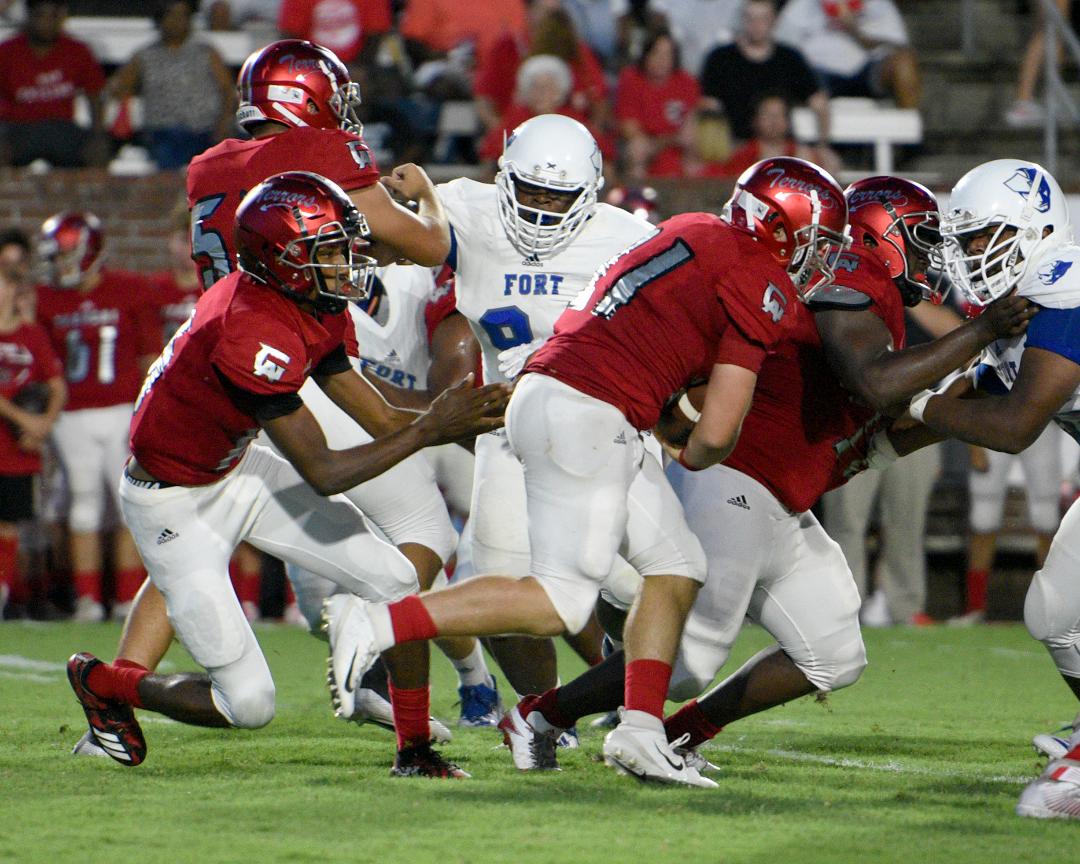 The Glynn Academy Red Terrors dropped their season opener Friday night to Fort Dorchester (S.C.) 37-21 at Glynn County Stadium.
But though disappointed with the loss, Glynn coach Rocky Hidalgo says the Red Terrors will eventually become a good football team in this 2018 season.
"What did you expect? We were playing a lot of sophomores. There's gonna be ups and downs," he said.
"This is a fun team to coach. It's gonna be fun to see us develop, but we just have to be patient. It's going to be frustrating. We're going to be inconsistent. But, we're gonna be a very good football team. Five or six weeks from now, this game might be different."
The contest was a matchup of ranked teams in their respective states. Glynn is ranked No. 8 in Georgia's Class 6A while Dorchester is fourth in South Carolina's Class 5A, the largest class in the Palmetto State.
Both teams played in the state semifinals last season and lost several starters from those teams, but it was evident that Dorchester is starting this season with more experienced players who got on the field last season while the Terrors were starting nine sophomores in the opener.
Dorchester jumped ahead 21-0 before halftime as the Glynn offense sputtered due to penalties and negative plays.
The Patriots scored early in the second quarter when they marched 45 yards in nine plays, getting a 3-yard touchdown run by junior quarterback De'Andrae Sabb.
They would go up 14-0 moments later following a 64-yard punt return by sophomore Keith Desaussure which put them at Glynn's 6-yard line.
Three plays later, after a lost yardage play and two penalties, Sabb hit Chaz Jones in the left corner of the end zone for a 14-yard scoring pass on third down.
In the closing minute of the half, the Patriots struck again with a 55-yard drive highlighted by a 37-yard pass from Sabb to Jones to the GA 19.
Again, they scored on third down when Sabb's deflected pass was caught in the middle of the end zone by Antoine Parker for a 15-yard TD pass, making it 21-0 at the half.
Glynn would battle back after falling behind 28-0 early in the third quarter after misfiring on a fake punt from their own 44. Sabb finished off a 4-play drive with a 14-yard scoring scamper.
The Terrors, with their triple-option offense now in a rhythm, would proceed to march 67 yards late in the third, getting a 1-yard scoring run by sophomore Alan Partin to make it 28-7 following the point-after kick by Chase Gabriel.
Dorchester's Kobe Shelton put the visitors up 31-7 with 8:23 to go on a 28-yard field goal.
Then, it got interesting.
GA sophomore Jaiden Miller returned the Patriots' kickoff 67 yards to the Dorchester 27.
A 25-yard pass on fourth-and-16 from sophomore TJ Lewis to senior Sam Wagner gave Glynn a first down at the 8. From there, Partin scored again to make it 31-14 with 5:34 left.
Glynn forced a 3-and-out after trying an onside kick, and the Patriots had a high punt snap that gave the Terrors the ball at Dorchester 17.
GA would strike instantly on a throwback pass from Wagner, the backup quarterback, to Lewis, for the 17-yard score which cut the lead to 31-21.
Glynn nearly recovered its ensuing onside kick, but with the Patriots starting with good field position at the GA 49, they would put the game away on a 36-yard dash for six by junior Kahlil Jenkins who hurt the Terrors up the middle the night long.
Senior Quantavious Bostic, who had several big runs for Glynn after halftime, did score in the final seconds, only to see his touchdown wiped out by a penalty.
There were more than 25 penalties in the game, and Glynn had two players ejected on personal foul infractions.
"We have to play better on defense. We have to get off the field," Hidalgo said. "We didn't tackle well, have to get better at linebacker. That's a big issue. Our kids played hard, and we'll get better there.
"We didn't play well defensively. They made plays, they're good. But our defense is about run fits and we didn't fit well on the ball. We've got fundamental issues to correct."
Hidalgo is confident those issues and others will get fixed.
"It's a learning experience," he said. "If its not a learning experience, then you and I are going to have the same conversation over and over again. They're going to learn how to do it right, or they're going to hate life."
Glynn is back at home next Friday against Washington (Atl.)
In other games involving Glynn County teams on Friday night, the results were as follows:
Charlton County 28, Frederica Academy 21
The Indians returned an interception for the deciding touchdown in the final minutes of the game to escape St. Simon Island with a victory.
The game was a matchup between the Georgia High School Association and the Georgia Independent School Association. Charlton is ranked sixth in the GHSA's Class A public-school division, while Frederica is a top contender for the GISA Class 3A state crown.
Charlton was the first-ever public-school team to visit Frederica, making for a historic night that featured a game that was nip-and-tuck until the wire.
"I don't take a lot of moral victories, but our kids played hard and did a good job. At the end of the night, we definitely showed we belong," said FA coach Brandon Derrick.
The second-half displayed the teams' big-play abilities as there were three straight scores on kick returns.
Down 7-6 at the half, the Knights got a 85-yard return on the opening kick from Patrick Brunson for the 13-7 lead after the point-after kick.
The Indians countered with an 80-yard return by Seaquon Clark to to go back in front, 14-13.
The Knights finished off the wildness with an 85-yard return by Isaiah Jackson for a 21-14 lead with less than a minute coming off the third-quarter clock.
Charlton answered with a scoring drive that tied the score a 21-all.
The scored stayed deadlocked until Charlton's Randy Nelson picked off a third-down swing pass as the Knights were playing close to their own end zone and ran for the game-clinching score with just 1:35 to go.
"It was a great game. Our defense played a great game," Derrick said. "They had one solid drive. Our kids did a great job, our coaches did a great job. We have five coaches, they have 15.
"They have a good football team. They came over here with 70 kids to our 34, but our kids played as hard as they could play."
Frederica will host GISA rival Valwood next Friday. The Knights lost to Valdwood in the state semifinals last season with the Valdosta school going on to claim the state crown.
Coffee 20, Brunswick 7
The Trojans, ranked second in GHSA Class 6A after playing in the state title game last fall, led from start to finish against the rebuilding Pirates.
At Jardine Stadium in Douglas, Coffee raced out to a 13-0 first-quarter lead and led by that margin at intermission.
Brunswick missed two scoring chances before halftime including a field-goal try that was off the mark.
Neither team scored in the third quarter, but Coffee made it 20-0 early in the fourth when fullbak Josiah Killiebrew, also a defensive tackle, plowed into the end zone from 6 yards out.
The Pirates avoided the shutout late in the game when sophomore quarteback KJ Lee connected with Xavier Bean from 7 yards out for the team's lone score of the night.
Lee was intercepted twice in the first half, but also was victim to several dropped passes which was an issue throughout fall camp.
Brunswick will be back on the road next week at Bartram Trail (Fla.)