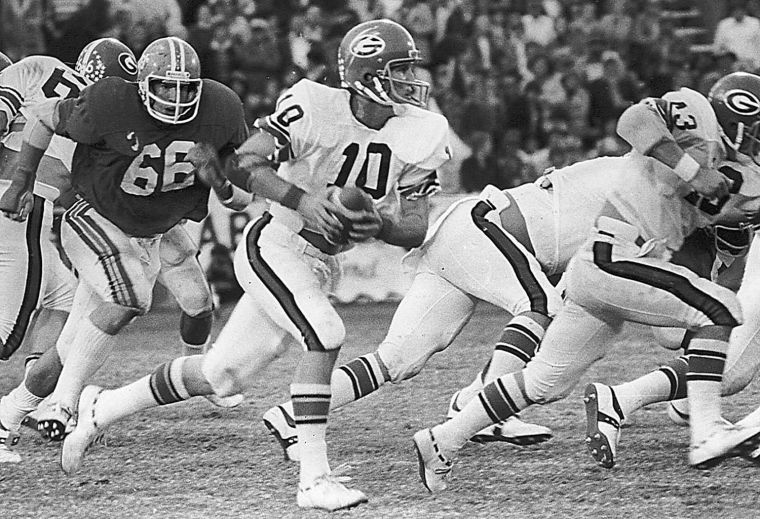 Today, AllOnGeorgia releases the eighth installment of "You Tell Me, MP" featuring legendary Glynn County-based sports writer Murray Poole. In this weekly summer series, current AOG writer Kevin Price will ask Poole a series of questions and the longtime Brunswick News sports editor and 2016 Glynn County Sports Hall of Fame inductee will answer them. Price's goal is to capture the opinions, thoughts and especially the memories that Poole has from yesteryear in local athletics. This week, the county's unofficial sports historian answers several high-school football related questions.
---
You called your column in the newspaper Poole Shots. Is there a story behind how that name came about?
Yes, when Dave Spriggs left the Brunswick News in 1966, I was named sports editor that June after earlier serving as a reporter/sports writer on the News staff. As I remember, my column was first going to be called "Pooleside Chatter," but then Howard Leavy III, who worked in advertising at the time and was the son of the newspaper's president and editor, Howard Leavy, Jr., suggested the name "Poole Shots" for my column.
I always appreciated Howard — also a UGA graduate and an avid sports fan who would soon assume the role of president and editor of the paper — for quickly coming up with a column title that would stick from that point in 1966 up until I retired from the Brunswick News on Dec. 23, 2005.
As I've mentioned previously in these weekly answers, Georgia coach Vince Dooley, upon seeing me through the years, never said, "Hey Murray," but rather, "Poole Shots!"
Obviously high school football games used to be played at old Lanier Field before Glynn County Stadium was built in the 1980s. What do you remember about covering games on Friday nights at Lanier Field?
Joining the Brunswick News in September of 1965, I missed the two historic games at old Lanier Field the previous year, when Glynn Academy got a miracle play (Van Dora-to-Tullos) in the final seconds to nip Columbus High 14-7 in the state AAA semifinals and then wrapped up the school's only state championship by toppling the Avondale Blue Devils 21-18 in the championship game here.
But from 1965 through 1986, when the new Glynn County Stadium was dedicated, I witnessed many, many great football games at Lanier Field, which sat adjacent to the old Hercules powder plant and always had that familiar Hercules aroma when the ball was kicked off on Friday nights.
Both the Red Terrors and Pirates fashioned exciting, down-to-the-wire wins there through the years and so many great high school players performed on Lanier Field , many of which went on to outstanding college careers with some even playing in the NFL.
And truly outstanding prep teams came to town here, the aforementioned Columbus and Avondale squads that the Terrors whipped in the playoffs in 1964 and the powerhouse Valdosta team of legendary Wright Bazemore that conquered Glynn Academy in the 1968 state playoffs just to name a few.
And, also, Lanier Field was where the tradition of halftime food for the media began, a tradition that schools athletic director Steve Waters still carries on today. I always looked forward to those "Big Macs" from McDonald's when I was figuring those halftime stats back then!
We've talked about several past local teams already this summer. A lot of people think the 1949 and of course the 1964 Glynn football teams were the best of all-time. What was the best Glynn team you covered? And most people think the 1999 Brunswick football team was the best in school history. Was that the best BHS team you covered?
Like I said, I didn't get to see those 1949 and 1964 Red Terror powerhouses in person but the first team I fully covered as sports editor, the 1966 Glynn team, was pretty special. Those Terrors of Ed Woodruff, led offensively by the passing combo of Billy Watson and Harold "Red" Roberts and defensively by a terrific defensive end named Joe Roberson, rolled to a 9-1 season record with the only loss being a 24-14 setback to Jenkins High in Savannah.
Remember, only the region champion advanced to the state playoffs in those days and really, there's no telling how far those Terrors could have gone if the playoff situation of today had been in effect, where the top four teams in the region go to state.
The 1968 Terrors of J.B. Roland were also very good, winning the region title and beating Laney in the playoffs before falling to that Valdosta juggernaut I mentioned in the South Georgia championship game, and so were Charles Pruitt's GA region champs of 1972, who beat Waycross High for the region crown before then falling to Ray Goff and the Moultrie Packers in the state playoffs.
And then, the 1983 Red Terrors of David McKnight, who like the 1966 squad didn't win the region title, were one of the most explosive high school teams I've seen, what with Bobby Wilkes setting a state passing record that fall while throwing to electrifying sophomore wide receiver Randy Fisher. The 1985 Terrors were also very strong, in Fisher's senior season, when they defeated Effingham County in the playoffs before losing to a John Stewart-led Bradwell Institute team.
But, yes, John Willis fielded some very, very good Brunswick High teams in the 1990s, the best of course being the powerful 1999 Pirate edition which rolled unbeaten to a 14-0 season record, including a rout of Chattahoochee High in the state semifinals in the Georgia Dome before stunningly being upended 17-0 by Lowndes in the state championship game in Valdosta.
Not only was that the best BHS team I ever covered but, also, the strongest high school team I covered here in my 40 years at The News. Those Pirates owned tremendous speed on both sides of the ball, especially on offense with Reshard Lee at quarterback, Ernest Palmer at tailback and James Fuller at wide receiver. Palmer was something special with his cat quickness running the football and was the only 2,000-yards plus rusher I covered in my sports writing days here.
We've also talked a lot about local players from days gone by. Just to toss out a few names, how good were Glynn Academy's Jimmy Howe and Robert "Moose" Morris. And how good were Brunswick's James Williams and Billy McCoy.
Jimmy Howe, who would later go on to be head coach of Glynn Academy, was simply one tough football player. Playing running back for the Terrors in the early 1970s, Howe ran with both power and quickness. Jimmy wasn't one to say much in his soft-spoken manner but was a tremendous leader by example for those Glynn teams he played on.
And Robert "Moose" Morris played for those McKnight-coached teams in the 1980s and was truly a force in the Terror defensive line. After the 1985 season, both Morris and teammate Randy Fisher originally committed to the University of Georgia but after not meeting the qualifying standards, went on to Valdosta State College where they both became star players for the Blazers.
And in the Pirates' Williams and McCoy, you alluded to two of Brunswick High's all-time running backs. James Williams owned really outstanding speed and could get to the corner on sweeps before the defense could react properly. I remember James running for 300 yards even one time in a big Pirate victory at Lanier Field. And Billy McCoy, who teamed in the backfield with Carwin Pinkney to give BHS a prolific 1-2 running punch, ran with power inside the tackles but also had enough "make-em-miss" moves to get outside and do some damage when he got into the secondary. Williams, McCoy, Pinkney, Kenny Dawson, Gary Shavers, Armis Stokes, Ernest Palmer … boy, the Pirates had the great running backs through the years!
I've asked you already about the best prep basketball and baseball players you saw play against Glynn Academy and Brunswick. When it comes to football, who was the best offensive player and best defensive player you saw play against the local squads.
There were so many who fit these categories, it's really difficult to pinpoint just a few. But as far as quarterbacks go, I would have to put Ray Goff of Moultrie in here. In that 26-8 1972 playoff win against Glynn Academy, the future SEC player of the year at Georgia not only threw the ball well but also, proved difficult for the Terror defense with his running ability, flashing the ball carrying skill he would display in Athens in leading the Bulldogs to the 1976 SEC championship.
Another outstanding quarterback who went against GA and BHS was Raymond Gross of Bradwell Institute, who went on to stardom leading Georgia Southern's triple-option attack. The aforementioned John Stewart was a powerful running back for Bradwell, in the same backfield with Gross, and in the mid and late 1960s, the Savannah High duo of Harry Harley and Julian Smiley were very tough running backs, as was Coffee County's early 1980s pair of Andre "Pulpwood" Smith and big George Smith.
Defensively? Again, there were so many good ones that came here with opponents of the Pirates and Terrors, I don't think I can single out any specific players as being  head and shoulders above the rest. I guess, with the passing of time, the offensive guys stick out in your mind the most even though it's those guys on the defensive side of the ball who, in the end, mean the difference in winning and losing the football game.